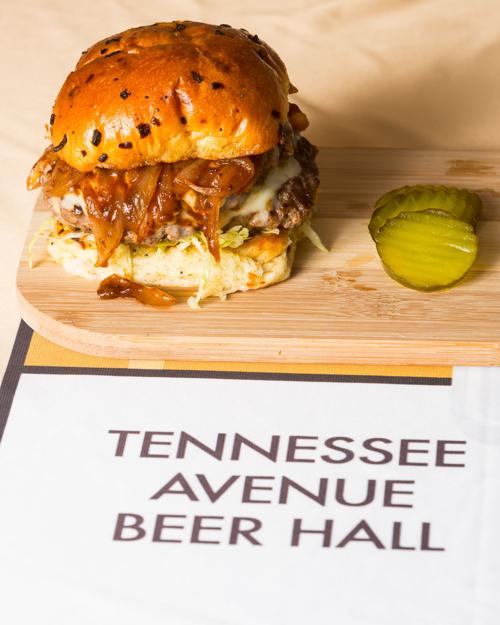 THE COMPETITION IS FIERCE
While it may seem like a friendly group of restaurateurs serving burgers on a warm spring day, Burger Bash 3 on Saturday is a day of serious competition. Each restaurant will bring the best burger in their arsenal, with a plan to take home the trophy. Everything from bacon-topped burgers to a turkey burger that will make you think it's Thanksgiving will be on hand, and only the tastiest will reign supreme.
The third Friday in May is widely regarded as National Pizza Party Day, which falls this year on May 18. As per usual, with these wacky, weekly holidays, there are many ways to celebrate. Certainly, you could order one for delivery or make a pie yourself, but it almost certainly won't turn out as good as the pizza at Tony Boloney's.
COME HUNGRY
Although the burgers at Burger Bash 3 will all be slider sized, very few people have the ability to eat 18 sliders. So we suggest pacing yourself. Come hungry, have four or five, take a break, have a drink or two, have a few more sliders and repeat. Take your time, because if you think 18 burgers is rough to get down, you don't wanna see what it's like when they come up.
IT WILL ROCK
What kind of party would Burger Bash be without great music? This year we bring in one of the best party bands in the area, Eleven Eleven. Now all you need to do is learn the subtle art of dancing with a burger in your mouth.
The Elephants for Autism festival was started by Jerry Ryan, inspired by his son who is on the spectrum. Now in its seventh year, the festival raises money for different charities supporting people with autism. This year's proceeds will go to MUZIQUE, a program that focuses on music therapy. Normally a multi-day festival, this year's show will be condensed to one day, held from 10 a.m. to midnight, Saturday, May 19.
YOU CAN BE A VIP
While most people will trudge through the doors of The Deck at Golden Nugget at 1 p.m., those in the know will opt for the VIP experience. For a few extra bucks you can get in a whole hour early and avoid the big crowds while you have uninterrupted access to all of the heavenly burgers that will be up for grabs. Plus, it comes with a free T-shirt! Buy your VIP passes at ACWeekly.com/BurgerBash.
YOUR VOTE MATTERS
With 18 restaurants firing up grills, someone has to decide who has the top burger. And that someone is you. Here is how it works — everyone who attends Burger Bash 3 will receive a chip. When you have sampled as many burgers as you can, simply drop the chip in the bucket of the place that made your favorite burger. The restaurant with the most chips in their bucket will be awarded the People's Choice trophy. To be extra fair, we'll have legit burger judges on hand, too.