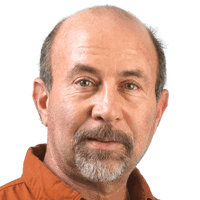 Ray Schweibert
Bio

Grew up in southeastern Pa. Has lived in Brigantine since May 2000. Attended Temple University. Worked at Montgomery Newspapers in Ft. Washington, Pa. for 14 years and AC Weekly since 2008.
The Ecto-1A from the movie "Ghostsbusters" will be one of the famed vehicles in the Atlantic City Boardwalk Con Garage.
Jim "The Singing Lifeguard" Craine will be broadcasting his WOND 1400 AM "Weekend Party" radio show 8 to 10 p.m. Saturday from Resorts Casino …
The Somers Point Jazz Society is hosting Cape Bank Jazz @ The Point 2016 from Thursday, May 12 through Sunday, May 15. The four-day event feat…
Guitarist Dennis McCorkle will be among the special guests Saturday at Resorts.
Guitarist Dennis McCorkle will be among Saturday's performers at Resorts Atlantic City's Screening Room.
Amos Lee will perform at Borgata's Music Box on Saturday, May 14
Although at this point in his career, Chris Isaak may seem an elder statesman in the music industry — and he is, his first record came out 31 …
View all