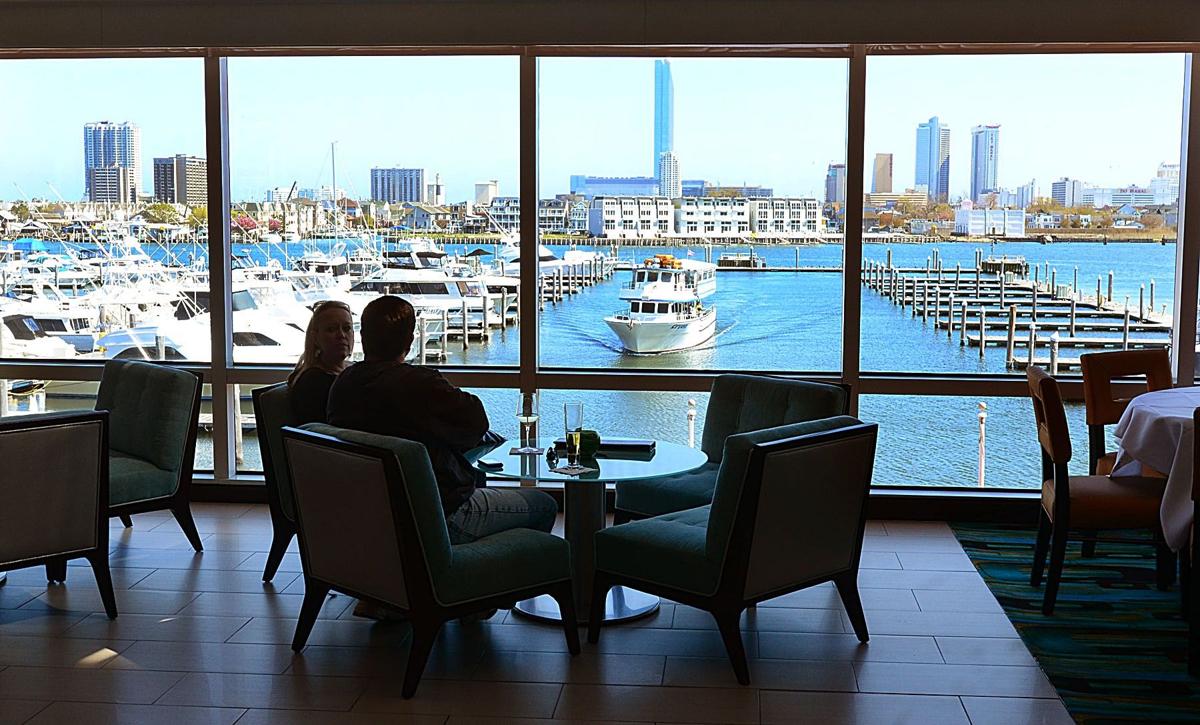 Eating at the shore offers a range of options, from
casual food to fine dining. But no matter where you go, you are practically guaranteed a breathtaking view of the water,
be it the ocean or the bay.
If you need help deciding on a place to grab food, we've mapped out a few choice spots for you.
Somers Point
Baia has perhaps THE most enviable view around. Situated directly on the bay in Somers Point, Baia not only has a gorgeous inside dining room with a large, energetic bar, but three outside decks — upper, lower and side — all of which face the water, the Ninth Street Bridge into Ocean City and the O.C. skyline. On the upper deck, guests can enjoy the full menu in a more refined atmosphere, while on the lower and side decks, guests can pick from a lighter bar menu while enjoying live entertainment. 998 Bay Ave. BaiaRestaurant.com
Think of Crabby Jack's, a seasonal, covered outdoor bar, as the more casual little sister of the Crab Trap. It has practically the same incredible view of the bay that Baia has, but on the opposite side of the bridge. Crabby Jack's offers a simple and informal food and bar menu and frequently hosts acoustic artists. Watch the boats pass by as you drink a cold beer. 2 Broadway. CrabbyJacksNJ.com.
Ocean City
Café Beach Club is located at the Beach Club Hotel, right on the Boardwalk, with unobstructed views of the beach and ocean. Breakfast is the big meal here, with some of the best pancakes, omelets and home fries around. It's also terrific for people watching. 1282 Boardwalk. CafeBeachClub.com
Avalon
The Windrift Hotel in Avalon has two great spots with views: the Tiki Bar, a chic, seasonal outdoor bar, and the swanky Level 2, with super cool lighting and bright blue, silver and wood décor, large windows facing the beach and ocean and a neat outdoor section with metallic silver tables and umbrellas. 105 80th St. WindriftHotel.com
Stone Harbor
The eye-catching Water Star Grille at The Reeds at Shelter Haven Hotel is an outdoor restaurant and bar where you can have breakfast, lunch, dinner or drinks and late-night bites. It's seated on the bay, where you can witness stunning sunsets and look out over the dock, where patrons can park their boats. 9601 Third Ave. ReedsAtShelterHaven.com.
CAPE MAY
Built in the 1950s — and historic in its own right, with four generations of ownership — The Lobster House overlooks Schellenger's Landing in Cape May Harbor. The Lobster House's dockside deck and raw bar boast authentic Cape May memorabilia throughout, recalling the resort town's historic past. Views include the Training Center Cape May — the birthplace of the U.S. Coast Guard Enlisted Corps — and the 130-foot-long sailing vessel Schooner American, which is moored alongside the Lobster House and serves as an outdoor cocktail lounge. 906 Schellenger's Landing Road at Cape May Harbor. TheLobsterHouse.com
Located across from the beach at Decatur Street, M'Ocean has been touted as "a second-story restaurant with a first-rate view of the water." Formerly Martini Beach, the seasonally operated M'Ocean is one of the few establishments in Cape May offering elevated, panoramic views of the Atlantic Ocean. It is the more formal, upstairs dining component of Cabanas Beach Bar and Grill. 429 Beach Avenue in Cape May. MOceanCapeMay.com
Ocean County
Tuckers Tavern is back and better than ever. Hit hard during Hurricane Sandy, the new owners of this Long Beach Island favorite did an awesome job of healing it into a part-seafood restaurant and part-English pub with outdoor seating and a view of the bay.
They also added plenty of flat screen TVs, a solid brunch and a happy hour 3 to 7 p.m. daily. Their signature menu item is the wood-grilled angus pub steak with bacon-braised Tuscan kale, cheddar-ranch twice-baked potato and brandy green peppercorn sauce ($27). 101 Southwest Ave. in Beach Haven. TuckersTavern-LBI.com
Leeds Point
Oyster Creek Inn is a family-owned seafood restaurant on the bay in Leeds Point where you can leave the car at home and arrive by boat. House specialties include grilled fish, steaks and pasta. There's also an early bird menu 4 to 5:30 p.m. Tuesdays through Fridays for $17. Select from a full service bar with a variety of tap and bottled beers and nine selections of wines. 41 Oyster Creek Road. OysterCreekInnNJ.com
Upper Township
Back Bay Café at Tuckahoe Inn will is a lively seasonal haunt where customers can get fresh air, yummy bites, snacks and lite fare. Live music is played Wednesdays through Sundays, so you can dance or relax with the breeze in your hair while enjoying cool drinks on its waterfront deck overlooking the bay. 1 Harbor Road, Beesley's Point. TuckahoeInn.com.
Margate
Ventura's Greenhouse Restaurant offers fine dining in a cozy cafe or on the heated rooftop deck overlooking the ocean and the world-famous Lucy the Elephant. Happy hour is 3 to 6 p.m. Mondays through Fridays. Pair a cocktail with a signature entree such as the chicken Roberto ($28), boneless chicken stuffed with jumbo lump crabmeat, served with mixed vegetable medley and red bliss potatoes. 106 S. Benson Ave. VenturasGreenhouse.com
Strathmere
Deauville Inn is the best of all worlds — a sports bar with live music and waterfront views. Located in tiny Strathmere between Ocean City and Sea Isle City, locals come for daily specials in truly relaxed environment. Happy hour runs from 4 to 6 p.m. Mondays through Fridays. Try the delicious surf 'n' turf with an 8-ounce filet mignon and 6-ounce lobster tail ($45). DeauvilleInn.com.
Atlantic City
Not only does Capriccio purvey the finest in gourmet Italian dining in an exquisite, old-world atmosphere, the view of the Atlantic Ocean from its porch and balcony, adjacent to the main dining room, is among the best in the city. Located at Resorts Casino Hotel, 1133 Boardwalk. Reservations are recommended. ResortsAC.com
It may have become the 30th Chart House to join the Landry's Restaurant conglomerate, but it is a safe bet the Golden Nugget Atlantic City site is among the Top 5 for vistas. There is not a bad seat in the house, all overlooking the Farley State Marina, the bay and Absecon Inlet beyond. Huron Avenue and Brigantine Boulevard in A.C.'s Marina District. GoldenNugget.com/AtlanticCity
As its name might imply, FIN is a seafood destination and one of the finest in town, with most of its menu consisting of fare harvested by New Jersey fishermen and farmers. It also features what it dubs a "sea chic" dining room with a spectacular view of the ocean. Tropicana Casino and Resort, 2831 Boardwalk. Tropicana.net
The LandShark Bar & Grill adheres to the high standards of all the establishments under the name brand of its famous creator, music luminary Jimmy Buffet. Unlike his others, though, the Resorts location is the only one built right on the beach, with sweeping views of the ocean and horizon. LandShark is also A.C.'s only year-round beach bar. Resorts, 1133 Boardwalk. ResortsAC.com
Designed with a Key West motif in mind - right down to the sunset toasts — Back Bay Ale House is Gardner's Basin gem. It has a large upstairs porch — enclosable in foul weather — and a smaller porch off its main entrance to complement outside seating during the summer months, all of which allow guests to take in the abundance of nautical sights. 800 N. New Hampshire Ave. BackBayAleHouse.com
With windows stretching floor to ceiling, Blue Water Grille boasts a panoramic view of the Absecon Inlet and Brigantine beach from the seventh floor of Flagship Resorts. The restaurant is open daily to the public, and serves breakfast, lunch, dinner and drinks. 60 N. Maine Ave. FantaseaResorts.com
The Chelsea Hotel's Dining on the Fifth is a 1920s-themed supper club sited five stories above the Boardwalk, that offers exceptional ocean views to match its fabulous fare. Live piano music often rounds out the top-notched ambience, and if you get there between 4 and 6 p.m., happy hour features $5 app selections. 111 S. Chelsea Ave. TheChelsea-AC.com
Vagabond Kitchen & Taphouse has some exceptional water views, but this might be one case where the pub fare — and certainly the craft beer selection — exceeds whatever eye candy you'll garner by looking across the street at Lake's Bay. Many, locals particularly, appreciate the amazing job the owners did transforming a tired little neighborhood watering hole into an enjoyable destination. 672 N. Trenton Ave. VagabondAC.com
Tucked along the Intracoastal Waterway, the Wonder Bar comes to view when driving over the Albany Avenue Bridge. With ample parking and floating docks that make it accessible by boat, the Wbar's tiki hut and ample outdoor deck provide a great hangout during the warmer-weather months. Too chilly? Take refuge in the Sunset Room, with floor-to-ceiling bayfront windows. 3701 Sunset Ave. WonderBarAC.com
Do you enjoy the ocean views while strolling the Atlantic City Boardwalk? If so, you'll flip when you get a gander from the Ocean Reef Bar & Grill. Sited at the far end of the Steel Pier, literally 1,000 feet off the Boardwalk and hovering above the ocean, the Ocean Reef Bar & Grill provides panoramic water and A.C. skyline views with great food, live entertainment and much fun. 1000 Boardwalk. Steel Pier.com
For years Gilchrist Restaurant was a treasured, locals' hideaway on the bay side of Maryland Avenue. Now sited not far from its original spot, smack dab in Gardner's Basin near the A.C. Aquarium, people still flock to the family-run hot spot for great breakfast and lunch. And while the quality of the food remained stellar, the views at Gilchrist were elevated even higher, as Farley State Marina, Absecon Inlet and an expansive nautical landscape are in sight. 804 N. Rhode Island Ave. GilchristRestaurant.com
Naturally Souzai Sushi & Sake offers a diverse menu of hand-rolled sushi, sashimi and traditional Japanese dishes along with Japanese sake and beer, but its stunning views of the beach, ocean sunsets and cityscape make it a favorite among diners. Its vistas also make it a place staked out in advance during the Atlantic City Air Show. The Playground (formerly The Pier Shops), 1 Atlantic Ocean. SouzaiSushi.com
While its inside view might surpass that of its outside, Hard Rock Café at Trump Taj Mahal Casino Resort nonetheless sports an outdoor patio that's an ideal for taking in all Boardwalk activities. Inside the establishment is like an ever-evolving museum of rock-and-roll history. And in keeping with the rock-star lifestyle, happy hour begins as soon as they open at 11 a.m., and features a slew of discounted cocktails, beer and wine specials until 4 p.m. 1000 Boardwalk. HardRock.com/AtlanticCity