Few things spread holiday cheer better than a sweet treat.
Whether it's cookies, a slice of pie, a piece of cake or a wedge of buttery toffee, holiday desserts are sure to put a smile on your face.
For this special issue of Taste, we spoke to two esteemedpastry chefs to learn more about holiday desserts and the ingredients that make Christmas all the sweeter.
"When I think of holidays, I think of specific ingredients," says Deborah Pellegrino, executive pastry chef at Harrah's Resort "These ingredients take me back to my childhood. Easter reminds me of chocolate. Pumpkin and apple remind me of Thanksgiving, and gingerbread definitely makes me think of Christmas."
Indeed, gingerbread is a traditional Christmas ingredient that can take the form of cookies, houses and figures, which first found their way into the court of Queen Elizabeth I in the 16th century.
Following the tradition of gingerbread figures, Pellegrino and her team at Harrah's make giants that are 2 feet high and ¾ feet wide. These gingerbread boys and girls are decorated fancifully, capturing the hearts of admiring patrons.
"People just love them and want their names written on them," Pellegrino says. "They get so excited, which is wonderful to see."
Along with gingerbread, pumpkin carries its clout from Thanksgiving into Christmas. At Harrah's, pumpkin bread is a huge seller, as are pumpkin cupcakes with cream cheese buttercream icing, Pellegrino says.
The riffs on pumpkin desserts are nearly endless: chocolate pumpkin marble cheesecake, a pumpkin trifle, pumpkin spice cookies, and need we share the most popular of them all? Pumpkin pie, thanks to the pilgrims, who brought a version of it to America in 1621.
Fancy fruitcake
Believe it or not, fruitcake is also popular.
"Fruitcake gets a bad rap," laments Thaddeus DuBois, executive pastry chef at Borgata Hotel Casino & Spa. "In fact, that old fruitcake people don't like sits on every holiday table."
The version most people love to hate is a derivative of English Christmas plum pudding, which is heavy and dark, says DuBois.
But not all fruitcakes are the same. Some, in fact, are light and delicious.
One is Christmas stollen, a German bread that's made with dried or candied fruit, nuts and spices. When it comes out of the oven, it's usually lathered with unsalted butter and rolled in powered sugar. DuBois says Christmas stollen pairs perfectly with a fresh cup of coffee in the morning.
Panettone is another delicious fruitcake, an Italian version that contains candied oranges, citron, lemon zest and raisins.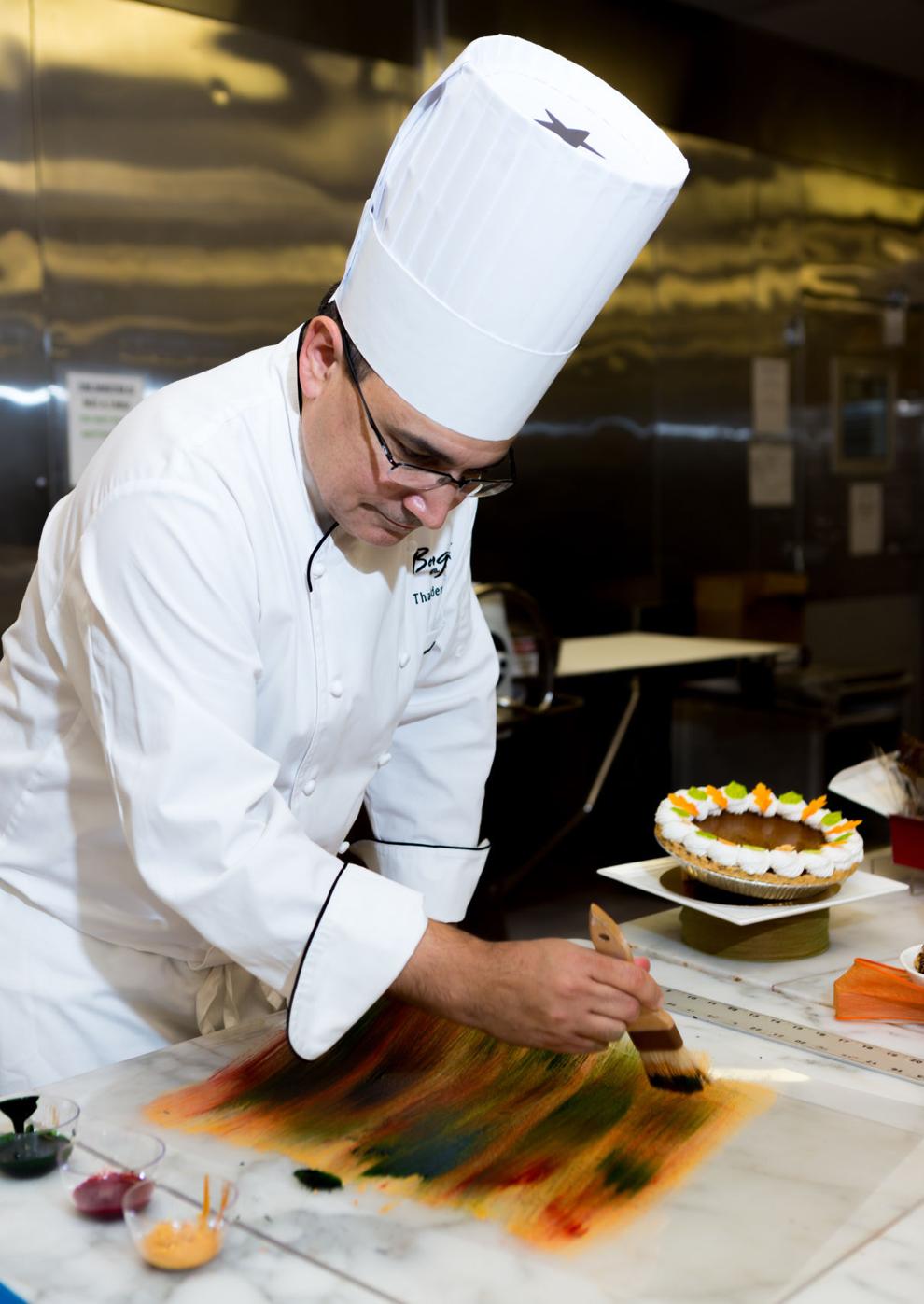 "Panettone is light and airy because it's made with a yeast dough," DuBois explains. "It's almost like challah bread with citrus fruits."
The yule log cake is another festive dessert at Borgata, made with sponge cake that is rolled around a creamy filling, meant to look like an actual log.
Cookie crazy
In addition to fruitcake, cookies are all the rage at Christmas. And they take all forms: sugar, spice and everything nice. While people bake all sorts of cookies during the holidays, the most popular, as you might have guessed, is chocolate chip.
At Borgata, the chocolate chip cookie reigns supreme during the holidays and all year round, in fact.
"During the holiday season, we make cookies by the thousands," says DuBois. "But the sales of chocolate chip cookies outdistance all of our other cookies combined."
Aside from being a perfect treat, the dough of the cookie is versatile, DuBois says.
Therefore, it can adapt to any additions, such as nuts — another popular holiday ingredient — dried cranberries, dried apricots, peanut butter chips and butterscotch chips.
Chocolaty delicious
Chocolate, too, is a must-have at Christmas, and any time of year, for that matter. As Pellegrino rightly attests, "Chocolate is an everyday holiday."
She and her husband will soon open a local bean-to-bar chocolate shop, and the pastry chef has since become a devotee of the cocoa bean.
"Chocolate is a great complement to vanilla and pumpkin," says Pellegrino. "It's great with fruit and herbs, like tarragon. With chocolate, the sky is the limit."
Pellegrino lists the possibilities of chocolate desserts: a chocolate cherry torte, a chocolate pumpkin flourless torte, a white chocolate raspberry pate, a white chocolate cranberry pie with a hint of orange and a chocolate cake with orange-flavored icing or white chocolate orange genache.
At Borgata, the sky is literally the limit. For the holiday season, DuBois and his pastry team will build a 12-foot chocolate tree that will greet patrons when they walk into the casino.
"Chocolate can be built into giant shapes," says DuBois, who's made numerous chocolate sculptures at Borgata. "We've had chocolate sculptures in the past. And when people realize they're chocolate, they all want to take a picture in front of it. The sculptures are always a big hit."
If you plan to bake holiday desserts and give them as gifts, think about presentation.
"Packaging is a big thing for Christmas," says DuBois, who recommends boxes with cellophane windows so the dessert can be viewed. Wired ribbon, too, adds a nice touch because it won't lose its shape.
Cellophane bags are another festive option, as well, says DuBois, who prefers boxes and bags to tins. "They're just more elegant."
Whether you give or receive a dessert this season, celebrate with some honeyed holiday feasting. It's just one of the many sweet things in life.