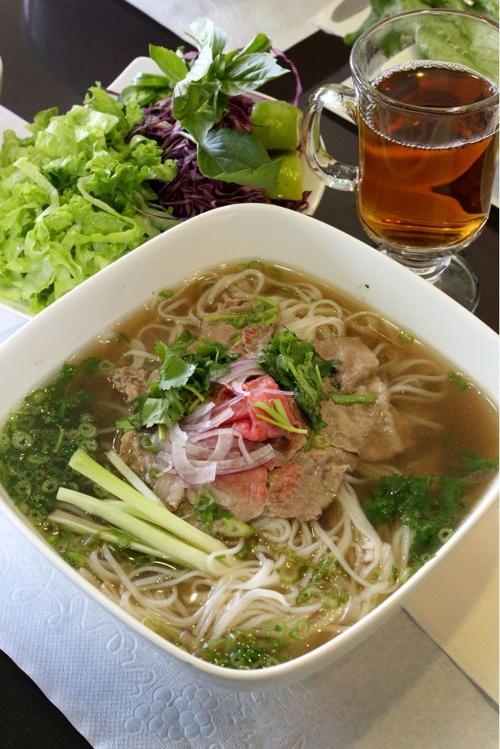 The latest trend in Asian cuisine is a Vietnamese noodle soup called pho — pronounced "fah." Although the soup seems simple, hours of preparation create the flavors in this dish that's traditionally served in a broth base with rare beef and rice noodles.
Each cook has his or her own recipe for pho. At Pho Life in Mays Landing, it takes 24 hours to make theirs. Owner Rosita Nguyen says pho became a popular item because, "It's homemade and everything is made from scratch. We use a lot of herbs, that's what gives pho its flavor and smell."
Pho Life is not the only pho place popping up these days to offer this popular dish. Below you'll find a list of other restaurants serving this dish that is quickly becoming the new sushi.
Atlantic City
iPho A.C.
Although iPho A.C. has only been open for two years, this spot quickly became one of the most popular pho restaurants in town. Owner Van Nguyen could not reveal the ingredients that make his dish so popular, but seek out this ph-an favorite. Open for lunch and dinner 11 a.m. to 10 p.m. Closed Sundays. 3808 Ventnor Ave. Find on Facebook.com
Little Saigon
For pho made like your grandmother made it — well, at least the way Lien Pham's grandmother made it — try Little Saigon. Owner and Chef Pham says the recipe has been passed down for generations. Open for lunch and dinner daily noon to 10 p.m. Closed Tuesdays. 2801 Arctic Ave.
Pho Sydney
Not far down the street from The Walk you will find Pho Sydney, which has one of the largest selections of pho around. They serve theirs with rare beef or almost any other type of meat you can imagine. Pho ranges in price from $6.99 to $9.25. Open daily 10 a.m. to 10 p.m. 2323 Atlantic Ave.
Casino Pho
Eastwind Noodle Bar
Resorts Casino Hotel's Eastwind Noodle Bar offers a variety of Asian foods including great pho. Don't be fooled though — on the menu pho is labeled Vietnamese Rare Beef. 4:30 p.m. to 1 a.m. Fridays, noon to 3:00 a.m. Saturdays, noon to 10 p.m. Sundays. 1133 Boardwalk ResortsAC.com.
Kwi
At Caesars Atlantic City, fill your pho craving at Kwi, which serves pho for $16 for Total Rewards (TR) members and $17 for non-TR members. 10:30 a.m. to 10:30 p.m. Mondays through Thursdays, 12:30 p.m. to 1:30 a.m. Fridays, noon to 6 a.m. Saturdays, noon to midnight Sundays. 2100 Pacific Ave. Caesars.com.
Lillie's
Gamble then gulp down a bowl of noodle soup at Lillie's at Golden Nugget Atlantic City. They offer Asian cuisine and three types of pho: fish ball, beef ball and rare beef, a bowl of any pho costs $15. 4 to 11 p.m. Mondays, Tuesdays and Thursdays; 2 to 11 p.m. Fridays; noon to 11 p.m. Saturdays and Sundays; closed Wednesdays. Golden Nugget, Huron and Brigantine Blvd. GoldenNugget.com.
Noodles of the World (N.O.W.)
Trendsetting Borgata Hotel Casino & Spa has Noodles of the World — aka N.O.W — which now serves pho ($15), among other yummy fare. Noon to 2 a.m. Mondays through Thursdays, noon to 4 a.m. Fridays, 11 a.m. to 4 a.m. Saturdays, 11 a.m. to 2 a.m. Sundays. 1 Borgata Way. TheBorgata.com.
The Rim Noodle Bar
Right off the casino floor in Trump Taj Mahal Casino and Resort, you'll find their gourmet noodle bar The Rim, where diners particularly enjoy their rice noodles ($16). Open daily for lunch and dinner. 1000 Virginia Ave. TrumpTaj.com.
Noodle Village
At Bally's Atlantic City, Noodle Village serves Chinese and Vietnamese noodle bowls. While many like their pho with just meat, Noodle Village's claim to fame is their seafood pho called Cac Mon Xup Dac Biet. This bowl costs $10 and includes beef, tendon and tripe. 2 p.m. to midnight Mondays through Thursdays; 2 p.m. to 4 a.m. Fridays; noon to midnight Saturdays; Closed Sundays. Caesars.com/Ballys-ac
Egg Harbor Township
Pho Cali
Pho Cali is a new pho restaurant in Egg Harbor Township. Their menu includes fantastic pho and other delectable Vietnamese foods. 6041 Black Horse Pike.
Mays Landing
Pho Life
Pho Life is a new restaurant in Mays Landing that offers pho from $9.50 to $12.95 plus other Vietnamese favorites. For the diet conscious pho diner, all of the dishes at Pho Life are gluten free and low in sodium. 11 a.m. to 9 p.m. Mondays through Thursdays; 10:30 a.m. to 10 p.m. Fridays and Saturdays; 10 a.m. to 8 p.m. Sundays 4215 E. Black Horse Pike. Pho-Life.com.
Northfield
Pho 9
At Northfield's newest Vietnamese restaurant Pho 9, you can enjoy a bowl of pho with family, "Made the same as ours at home,'' according to Co-owner Peter Myszka. Their pho ($8.95) is made by following a traditional recipe from passed down from Myszka's father-in-law. Open 10 a.m. to 9 p.m. daily. 1333 New Road. MyPho9.com.
Pleasantville
Hu Tieu Mien Tay
Inside the Asian Supermarket in Pleasantville Shopping Center, you'll find Hu Tieu Mien Tay, a hidden gem. Manager Richard Vu says their pho is traditionally prepared with a few secret ingredients. Pleasantville Shopping Center, 700 E. Black Horse Pike. HuTieuMienTay.com.
Vineland
Viet Bistro
If you are looking for pho in Vineland, don't overlook Viet Bistro in the Cumberland Mall, where a small bowl of pho costs $3.75 and large costs $5.99. 10 a.m. to 9 p.m. Mondays to Saturdays; 11 a.m. to 6 p.m. Sundays. Cumberland Mall, 3849 S. Delsea Drive. VietBistroNJ.com.