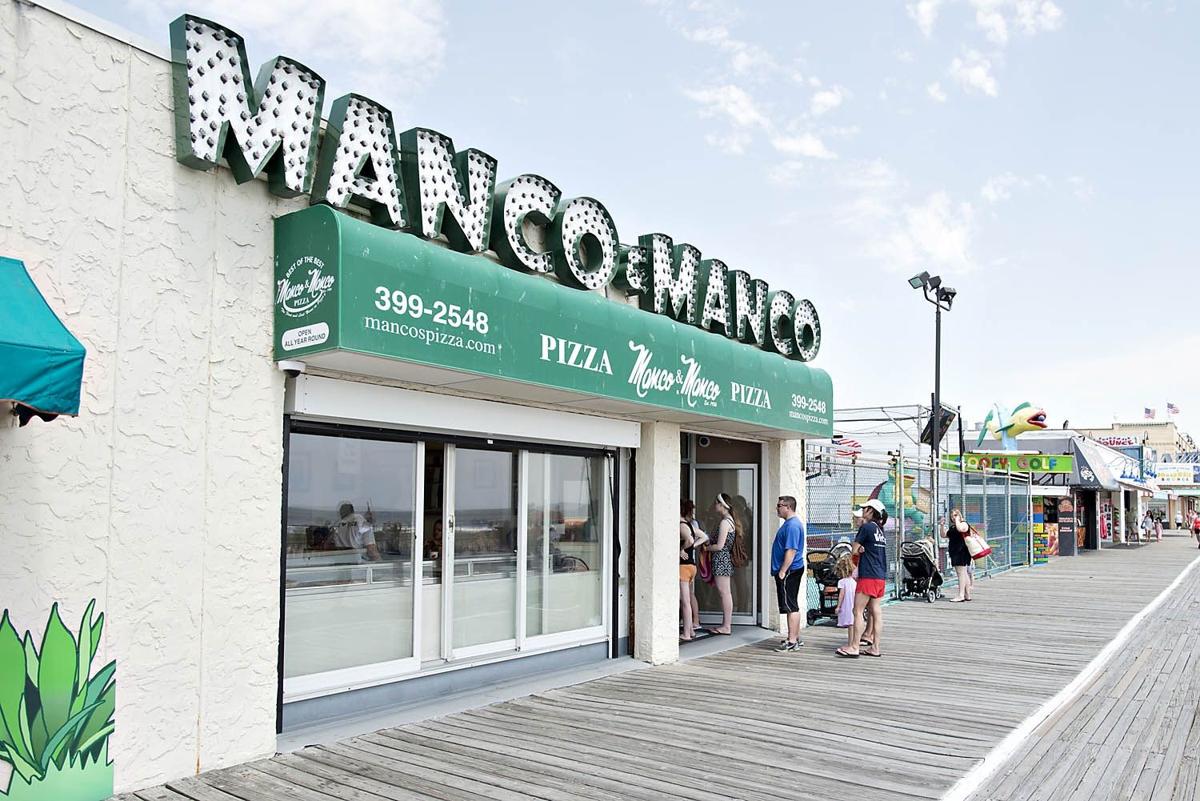 For many vacationers, certain boardwalk foods are synonymous with summertime. Throughout the years, snacking while walking the boards has shaped family traditions and established these eateries as South Jersey staples.
At the center of many families' traditions is Manco and Manco in Ocean City. Co-owner Chuck Bangle attributes the restaurant's reputation to "the power of pizza," as well as the staff's commitment to the values of original owners Frank and Kay Manco.
"I have people tell me that as soon as they get in town, they don't even unpack their bags — they come straight to the boardwalk for our pizza," Bangle laughs.
Whether you and your family are seasoned shore veterans or newcomers to the beach, you will surely find food on this list to sweeten your trip.
Fralinger's Salt Water Taffy Fralingers.com
Fralinger's Salt Water Taffy popularized this sweet and sticky shore staple. Along the A.C. boardwalk, you can buy a bag of taffy priced per pound or a souvenir box for $8.99. Locations can be found throughout the shore. 1901 Boardwalk, 1325 Boardwalk, 1000 Boardwalk A.C.; 11th Street and Boardwalk in Ocean City; 324 Washington Street Mall in Cape May.
James' Candy JamesCandy.com
In the mid 1880s, Enoch James of James' Candy developed his own taffy recipe and then purchased his competition Fralinger. Although James' Candy now owns Fralinger's, they produce their own original taffy, and it's sold at separate stores. 1519 Boardwalk, Atlantic City; The Marketplace in Tropicana at Brighton Avenue and Boardwalk; 255 96th St. in Stone Harbor; 3400 Boardwalk in Wildwood.
Manco and Manco MancosPizza.com
Manco and Manco is a pizza icon at the shore, with folks lined up for their delicious thin pies at any of their three locations from blocks away. A plain slice will cost you $2.50, and a whole pizza costs $18. Open daily 11:30 a.m. to 10 p.m. Eighth, Ninth and 12th Streets on the Boardwalk.
Curly's Fries Facebook.com/CurlysFries
There are plenty of french fry places in Ocean City, but many choose only Curly's Fries. Their fries are made fresh and sold in four sizes: small ($5), medium ($7), large ($9) and bucket ($11). 944 Boardwalk.
Johnson's Popcorn JohnsonsPopcorn.com
Even with a location in Wildwood, Johnson's Popcorn screams Ocean City, where patient folks wait exactly seven minutes for a fresh tub of this super-sweet popcorn to enjoy on the spot or save for later — if it lasts that long. Open 10 a.m. to 11 p.m. daily. Sixth Street, Eighth Street and 14th Street and the Boardwalk in Ocean City; 2701 Boardwalk in Wildwood.
Oves Restaurant OvesRestaurant.com
While Oves Restaurant serves breakfast, lunch and dinner, they are best known for their apple cider donuts. On any summer morning, vacationers and locals alike line up for this breakfast treat, made fresh daily. Open from 7 a.m. to 9 p.m. daily. Fourth Street and Boardwalk.
Wildwood
Douglass Fudge DouglassCandies.com
Owners Jason and James Dugan are the fourth generation operating Douglass Fudge. "With that experience comes a knowledge of how to make the candies," says Jason Dugan of this sweet, beachy treat. 3300 Boardwalk.
Mack's Pizza MacksPizza.com
Not only does Mack's Pizza keep families coming back for their traditional pizza, but they "get busier and busier every year," manager Daniel Alexander says. A slice of plain costs $2.75, and a whole pizza costs $16.50. Open 11 a.m. to 10:30 p.m. daily. 4200 Boardwalk.
Boardwalk Chains
Fudge Kitchen FudgeKitchens.com
"Hand-whipping small batches of fudge makes all the difference," says Fudge Kitchen co-owner Joe Bogle. 800 Boardwalk in Ocean City; 254 96th Street in Stone Harbor; 4120 Boardwalk in Wildwood; 22nd Street and Boardwalk in North Wildwood; 513 Washington St. and 728 Beach Drive in Cape May.
Kohr Brothers KohrBros.com
A list of iconic Boardwalk foods would not be complete without Kohr Brothers frozen custard. Their product is simple: soft-serve ice cream in a cup, a sugar cone or the "ultimate waffle cone." Seventh Street, Moorlyn Terrace, 10th Street and 12th Street on the O.C. Boardwalk. 2518 Boardwalk, 3014 Boardwalk, 3500 Boardwalk and 4001 Boardwalk in Wildwood. 274 96th Street in Stone Harbor. 512 Washington Mall in Cape May.
Be the first to know
Get local news delivered to your inbox!