"It's all about the atmosphere," says Rosario Palmieri Jr. of Pisa Pizza, which has been on the Ocean City boardwalk for 40 years. "It's like a big carnival when you're on the boardwalk, and there are certain things you crave. That's ice cream, salt water taffy and pizza."
"You've got the boardwalk, the beach, the ocean view, the salt air," adds Franco LoPresti of The Original LoPresti's Pizza & Grill on the Atlantic City boardwalk. "Eating pizza on the boardwalk just appeals to your senses."
And your stomach.
Sam Hussin of Three Brothers Pizza Palace on the Atlantic City boardwalk says people simply can't resist fresh pizza.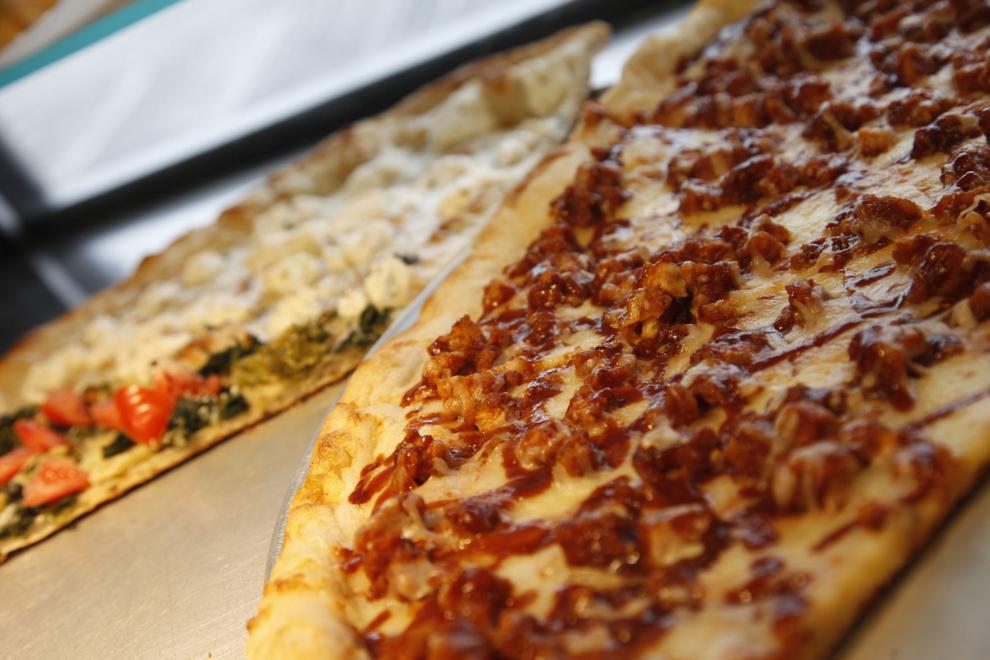 "You see a pizza coming out of the oven, and you want a slice, even if you're not hungry," he laughs.
A versatile food, pizza can be eaten any time of day.
"It's never too early and never too hot for pizza," says Palmieri Jr., who opens Pisa Pizza at 9:30 a.m. during high season. "Customers come in any time of day — even in the morning — for a slice. And when it's 95 degrees, they still want pizza."
Aside from its savory, cheesy, crusty goodness, pizza makes dining on the run easy.
"Everybody wants 'quick' on the boardwalk," says Tony Polcini of Tony P's House of Pie on the O.C. boardwalk. "They all want to get to the next thing. With pizza, you can just grab and go. Plus, there's a lot of flavor. You've got bread, cheese and sauce. Who doesn't like that combination? Pizza makes everybody feel happy."
And it's affordable for families, says LoPresti, whose restaurant offers seating for 50, along with outdoor café-style dining. "A family can have a meal for an inexpensive price tag," he says.
At Three Brothers, there's more than enough pizza to go around. With a pie that's 24 inches across (standard size is 18 inches), Three Brothers' pizza can easily satisfy a hungry family. "Our pizzas are huge," says Hussin. "One slice can fill you up."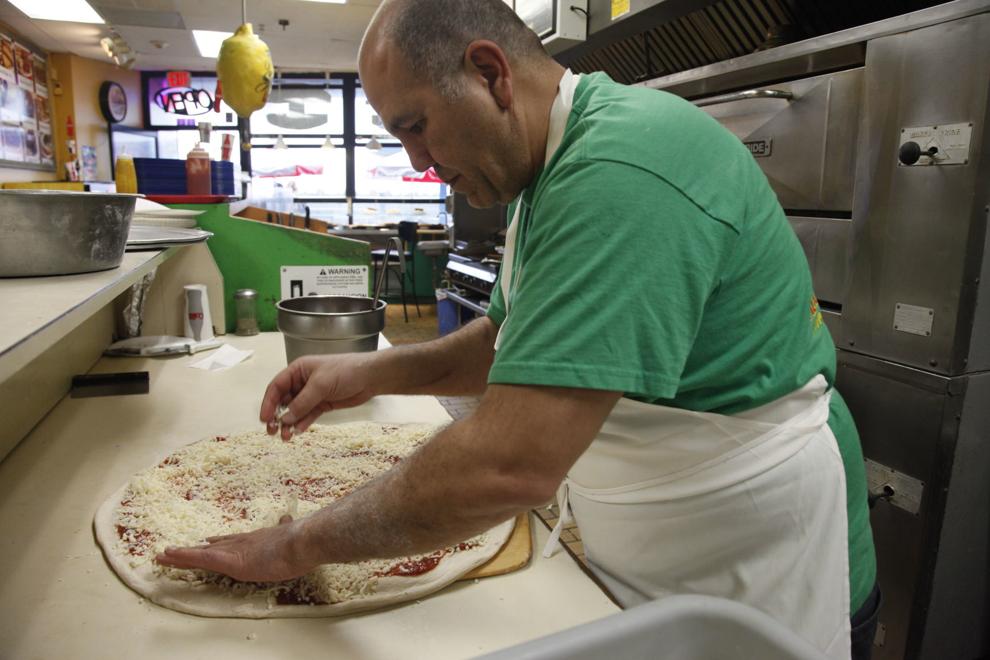 While the allure of pizza remains, customers have changed their preferences for the crust. When Hussin took over Three Brothers in 1992, patrons wanted the thick crust, Sicilian-style pizza.
Now thin crust pizza is the rage, which can especially be seen in the popularity of the ultra-thin Manco & Manco slices.
Pizza proprietors aren't exactly sure why the scale tips in the thin crust direction these days. Perhaps customers believe the thin crust pizza has fewer calories than its Sicilian counterpart, hypothesizes Polcini. Or they feel they can indulge in a few slices rather than just one because the crust is thinner.
Either way, supply meets demand; numerous Boardwalk pizza shops now offer thin- crust pizza. A few feature the thicker, Sicilian-style, as well, including Tony P's, Pisa Pizza and Preps Pizzeria on the O.C. boardwalk.
As for toppings, plain cheese is still the No. 1 choice among patrons, with pepperoni unsurprisingly coming in second.
But what may raise your eyebrows is the popularity of buffalo chicken pizza, made with hot saucy chicken, ranch dressing and blue cheese. This ranks third among patrons who frequent pizza joints on the boardwalk. Barbecue chicken pizza is also popular, along with white pizza.
Because so many people enjoy pizza, proprietors seek to differentiate themselves. In the process, some get really creative. For example, Polcini offers the Tony P Special, a pizza made with white cheddar cheese, red onion, mushrooms, scallions, bacon, a bit of jalapeno, a touch of barbecue chipotle and horseradish sauce.
Polcini is particularly proud of this hot-selling item, even though patrons seem initially confused by it.
"When people look at it, they say 'Huh?'" notes Polcini. "But when they taste it, all the combinations and the sauces come together. It's like having a party in your mouth. It's smoky, sweet and spicy, all at the same time."
Polcini also offers the Jersey Special, a pizza made with Taylor pork roll, fresh tomatoes, onion and fresh garlic. The impetus for this variation is simple: "People love Taylor pork roll at the Jersey Shore," Polcini says.
But some people don't want fancy pizza. They instead prefer to enjoy what they feasted on in summers past.
"The first thing people do when they come to the shore is go to Prep's," says manager Sandy Colao. "They waited all winter for this pizza, and they can't get pizza like ours anywhere else."
"Generations have been coming here," Colao continues, "Grandparents, their children and their kids. The tradition of having pizza on the boardwalk continues year after year."