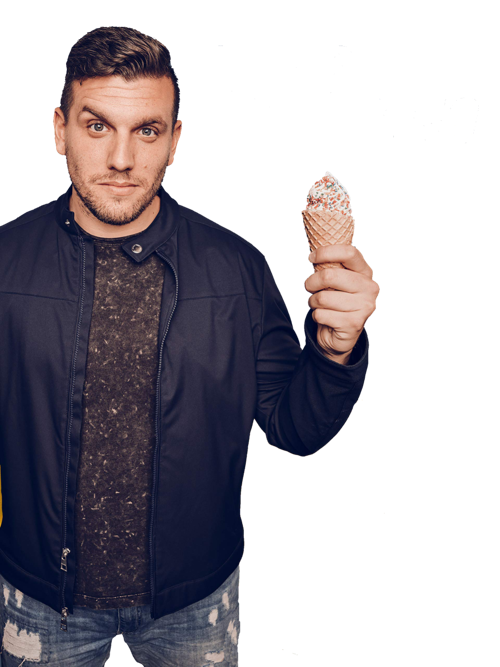 Chris Distefano is a funny guy. Just one mention of his size 38 waist — both his pants size as well as the name of his Comedy Central special — and we can't stop laughing. At once endearing and gritty, Distefano is what we all need right now. That's why we can't wait for him to perform at the Celebrity Theatre at the Claridge Hotel on Saturday, Jan. 25. Hosted by the Atlantic City Comedy Club, here are five things to know about Chris Distefano.
1 The man is committed. Prior to his career in comedy, Distefano spent years working a day job while he hustled shows at night. But it wasn't just any day job. After getting his Bachelor's degree in psychology, he got his doctorate in physical therapy and spent years working with kids in pediatric physical therapy. Talk about commitment.
2 He loves history. He's funny, even about things that aren't particularly amusing in and of themselves. Along with fellow comedian Yannis Pappas, Distefano hosts the History Hyenas podcast, where even things like Dunkirk, Chernobyl, and the Korean War are the basis for humor. With over a hundred episodes, they're definitely onto something.
3 He's always been funny. "My natural defense mechanism has always been to make people laugh," Distefano says. "I have always been that way. I don't know why." And while he's funny, he's not really methodical about it. "I don't let my mind dictate what I want to do, as long as I'm not hurting anyone. I don't think, 'What if I fail?'"
4 He has a lot on his plate. In addition to his podcast and his first hour-long special, "Size 38 Waist" on Comedy Central, Distefano will film a second special for the network in June. He also plans to continue his Comedy Central series, "Stupid Questions with Chris Distefano" and is presently working on a cartoon, also with Comedy Central.
5 He's relatable. During his standup, he talks about his family, his anxiety, his friends, and his pants. And while he's definitely funny, there's one person that doesn't think so — his four-year-old daughter. "She just looks at me with her head tilted," he says.
Be the first to know
Get local news delivered to your inbox!