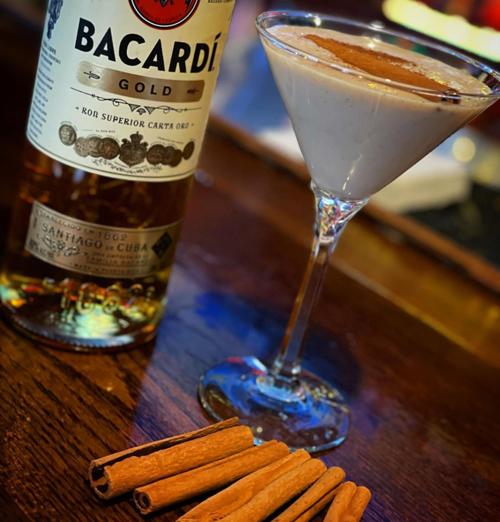 Your big holiday party may be canceled this year, but you can still head out on your own with a small group and sip a few seasonally-themed cocktails at your favorite local bars and restaurants. Here are a few of our favorites.
Tailgaters' Coquito Martini
If you have never had coquito — the insanely delicious Puerto Rican holiday drink – you need to change that immediately. It's sometimes referred to as Puerto Rican eggnog, but we think it beats eggnog by quite a bit, and Tailgaters Sports Bar & Grille is offering up their own Coquito Martini just in time for the holidays. Some of the ingredients are a closely guarded secret, but we can tell you that it contains condensed milk, egg, coconut milk and Bacardi Gold Rum, and that it is a wonderful way to sip your way through the holidays. Tailgaters is located at 337 W. White Horse Pike in Egg Harbor City. Go to TailgatersNJ.com.
SkyCafe's Frozen Mistletoe Martini
SkyCafe at Ocean Casino Resort takes the "if you can't beat 'em, join 'em" approach to the frosty winter weather by embracing it fully with this Christmastime cocktail. A frozen blend of cranberry juice, Jose Cuervo Traditional Tequila and triple sec comes garnished with salt, sugared cranberries, a sugared lime and mint in order to create a beverage that is both tasty and perfect for the season. Kisses not included. Ocean Casino Resort is located at 500 Boardwalk in Atlantic City. Go to TheOceanAC.com.
Tennessee Avenue Beer Hall's Rusted Rudolph
For anyone who thought this spot was only for beer lovers, think again. There are actually a few great holiday cocktails up for grabs at Tennessee Avenue Beer Hall this year, but the Rusted Rudolph is our favorite. Muddled thyme and orange is blended with Rusted Revolver Gin, Gran Marnier and cranberry juice. It's a tart and tasty way to lead the sleigh. Tennessee Avenue Beer Hall is located at 133 S. Tennessee Ave. in Atlantic City. Go to TennesseeAvenueBeerHall.com.
Smithville Inn's Sugar Cookie Martini
There aren't many spots in South Jersey that offer twinkling, enchanting holiday magic on the level that Smithville Village does. Its shops and winding pathways are beyond picturesque, and its crown jewel is the Historic Smithville Inn, a rustic Colonial inn accented with a roaring fireplace that is beautifully decorated and dripping with holiday charm. The bar at the Inn is called the Baremore Tavern, and this year they are offering a Sugar Cookie Martini made with amaretto, vanilla vodka, Bailey's Irish Cream, cream and a dusting of red sugar sprinkles. It's festive and fantastic. The Smithville Inn is located at 1 N. New York Road in Smithville. Go to SmithvilleInn.com.
Romanelli's Garden Café's Winter White Cosmo
Romanelli's seems to be able to wow their customers with just about anything. Their breakfast is legendary, and their lunch and dinner entrees easily match up. And if you enjoy an elegant winter cocktail, the Winter White Cosmo is just what Santa ordered. Tito's Vodka, St. Germain and white cranberry juice pair perfectly, keeping you all pleasantly dreaming of a white Christmas. Romanelli's Garden Café is located at 279 S. New York Road in Galloway. Go to RomanellisGardenCafe.com.