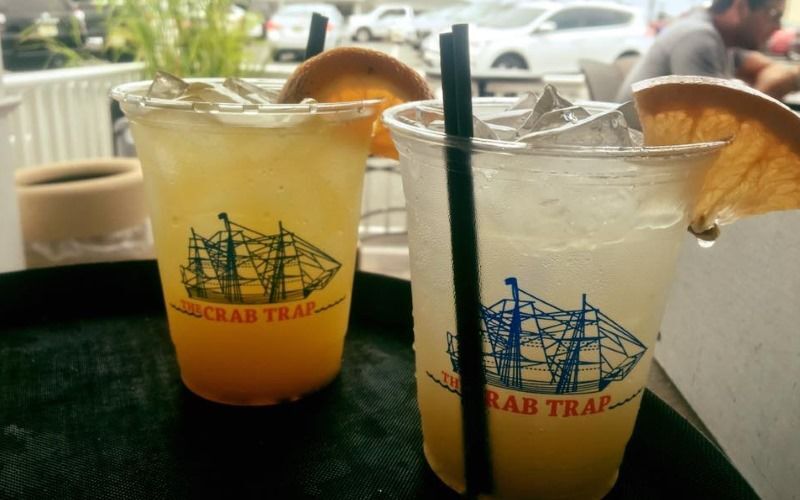 If there's anyone who needs a stiff drink, it's Mom! Whether she's dealing with aggravating kids, cooking dinner, helping with laundry or steering her own career, Mom is a real-life superhero.
But even Wonder Woman needs to take a break from kicking ass to relax and have a decent drink. And Mother's Day is a perfect time to do that.
Here are five awesome cocktails we think Mom would like on her special day.
Oh Donna
Named for a local mom and awesome lady overall, the Oh Donna at Rhythm & Spirits in Atlantic City should absolutely please the ladies who love vodka cocktails that are strong but have a bit of sweetness to take the edge off. The Oh Donna does just that with Tito's Handmade Vodka, fresh lemon, homemade blackberry sage simple syrup and egg white for some frothiness. It's shaken and served up … just like Donna likes it. What a great drink to start the awesome Sunday Brunch at Rhythm & Spirits, located at 129-131 Tennessee Ave., Atlantic City. Go to RhythmAndSpirits.com.
Fleur D'Lis
My Mom loves a good Bay Breeze, and the Fleur D'Lis at The Chart House at the Golden Nugget is like a Bay Breeze on steroids. Malibu Coconut Rum is paired with Midori Melon Liquer, DeKuyper Peachtree Schnapps, orange juice and pineapple juice and served on the rocks. I can't imagine a better scenario for Mother's Day than sipping on a Fleur D'Lis at The Chart House for Mother's Day dinner while watching the boats dock in the bay with the Atlantic City skyline in the background. The Chart House is located at the Golden Nugget in Atlantic City. Go to GoldenNugget.com.
The Crush
Just in time for Mother's Day, Crabby Jack's — located behind The Crab Trap on the water in Somers Point — will open for the season. If you have never been there, it offers stunning views of the great Egg Harbor Bay and the Ocean City 9th Street Bridge, amazing seafood, live music and awesome drinks. In other words, it's a perfect place for a casual Mother's Day hang. Crabby Jack's is also famous for its variety of Crushes, one of our favorite drinks. The signature drink is the Oranj Crush with Stoli O, fresh-squeezed OJ, triple sec and Sierra Mist, but Crabby Jack's takes that popular drink to another level with a variety of alternative takes including the Lemon Crush with lemon vodka and hand-squeezed lemons, the Mango Crush with Bacardi Mango Rum, the Ruby Red Grapefruit Crush with grapefruit vodka and fresh grapefruit juice, the Fuzzy Crush with Absolut Apeach vodka, the Pineapple Crush with Pinnacle Pineapple vodka, and the Island Crush with Malibu Mango rum and banana liqueur. Crabby Jack's is located at 2 Broadway, Somers Point. Go to CrabbyJacksNJ.com
Blender Drinks
If your mom is a beach bum who likes pretty frozen drinks, you will be hard-pressed to find a better option than the Rooftop Greenhouse Bar at Ventura's Greenhouse in Margate, which features a sprawling deck that overlooks the ocean. Ventura's offers no fewer than a dozen frozen drinks from the blender, ranging from your standard strawberry margarita and banana daiquiri to more interesting choices such as the Strawberry Shortcake with ice cream, strawberry mix and amaretto; the Bushwacker with ice cream, Pina Colada mix, Kahlua, rum and dark cocoa; the Iguana Colada with Myers Rum, Midori and Pina Cola Mix; and the Pain in the Ass, a beautifully layered drink that mixes a Rum Runner with a Pina Colada. Ventura's Greenhouse is located at 106. S. Benson Ave., Margate. Go to VenturasGreenhouse.com.
Something Sweet
Everyone knows Annata Wine Bar in Hammonton has a great wine list, so our suggestion is to grab a nice bottle of wine at the Italian restaurant and finish up with a sweet after-dinner cocktail. And Annata has quite a few sweet elixirs to choose from. The two that stand out to us are: the Payday Martini with salted caramel vodka, White Crème de Cacao, macadamia liqueur and a salted caramel rim; and the Chocolate Banana Martini with chocolate vodka, banana liqueur, Dark Crème de Cacao and a splash of Cream. Annata Wine Bar is located at 216 Bellevue Ave., Hammonton. Go to AnnataWineBar.com.