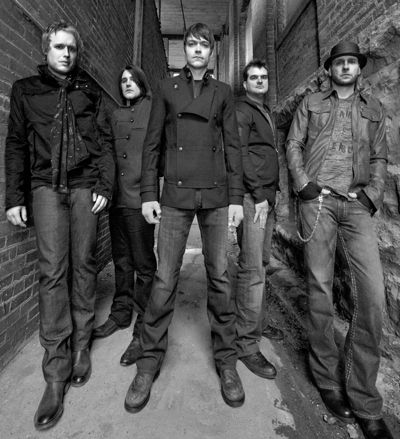 Generally major U.S. metropolises like Los Angeles or New York City claim credit for launching the careers of the country's most successful musicians, primarily because of the sheer volume of people who hail from — or migrate to — big cities and the opportunities they afford budding talent.
Once in a while, though, you'll get a group with megastar qualities that comes from one of the nation's more remote outposts, and can attribute much of their success to inspiration gleaned from growing up there.
Such is the case with the rock group 3 Doors Down, which was founded in the mid-1990s by three friends from a tiny Mississippi community called Escatawpa. The band exploded onto the scene with the first of its now five studio albums, The Better Life, which included the blockbuster hit "Kryptonite."
That was just the start of the ride for the deep-south quintet, however, as their third album, 2005's Seventeen Days, was certified platinum within the first month of its release (and included the mega-hits "When I'm Gone" and "Here Without You" — two songs that have become anthems of sorts for the U.S. Armed Forces), and their self-titled fourth album (in 2008) that likewise reached No. 1 on the Billboard 200 chart.
The band has often exceeded 300 touring gigs per year since its start, and is a frequent visitor to Atlantic City, stopping at the Showroom at Tropicana on May 21 shortly before starting a month-long tour of Europe.
Three Doors Down — comprised of lead singer/principal lyricist Brad Arnold, lead guitarist/backing vocalist Matt Roberts, bassist Tom Harrell, rhythm guitarist Chris Henderson and drummer Greg Upchurch — will debut its fifth CD called Time of My Life on July 19. Roberts (a co-founder with Arnold and Harrell) recently spoke to Atlantic City Weekly by phone.
How do you guys feel about how your forthcoming album release, Time Of My Life, turned out?
We're really excited about it. It met all our expectations as far as phonically and musically. We're really, really pleased and ready to go out and promote it and get it out there. There's usually a lot of down time after recording a new record, but when it's done everybody's excited about getting back on tour and playing it live to crowds. We'll have our release week right around when we get back from Europe.
When did the band start touring Europe, and do you have a big fan base over there?
After our first record we did several tours over there and then subsequently we started every tour overseas. It's just a good way to kind of kick things off, get acclimated and hit the ground running. It's really enjoyable and we've been blessed to have a worldwide fan base. It's something we've really nurtured and built over the years.
What was it like growing up in a rural part of the deep south?
We're from the same small little town in south Mississippi, and there's not much there. It's not a metropolis by any means. I think a lot of times when you grow up in a small area like that you really have to use your imagination because there's not that much else going on. I think that really helped us musically. You kind of have to create your own thing, and it was good having those kinds of roots.
Who writes most of 3 Doors Down's songs?
Generally Chris and Todd and myself will come in with some stuff and the melodies will get built, and Brad comes in with the lyrics. I'd say about 90 percent of the music is already written before the lyrics.
Can you tell what the Better Life Foundation is and why the band started it?
We started that in '04. We do an annual event every year [at the Hard Rock Casino-Hotel in Biloxi, Miss.], and I think we've raised close to $3 million and have certain charities that we've picked out and we designate money to them. Then, unfortunately, [Hurricane] Katrina happened after the first or second year we started doing it, so we helped out with the needs there for a couple of years before diverting back to our mission, which is primarily to support children's charities. It's a very rewarding feeling to be able to help out in that way.
3 Doors Down
Where: The Showroom at Tropicana, A.C.
When: Saturday, May 21, doors open 7pm, show 8pm
How much: Tickets $45, $65 and $75