As with everything this year, holiday celebrations will likely be small and intimate, but that does not diminish the desire to raise a glass and toast with a tipple that makes the moment feel special. This easy-to-make punch offers bright flavors of winter citrus and the spark of Champagne; it's perfect as an aperitif or even alongside a New Year's Day brunch.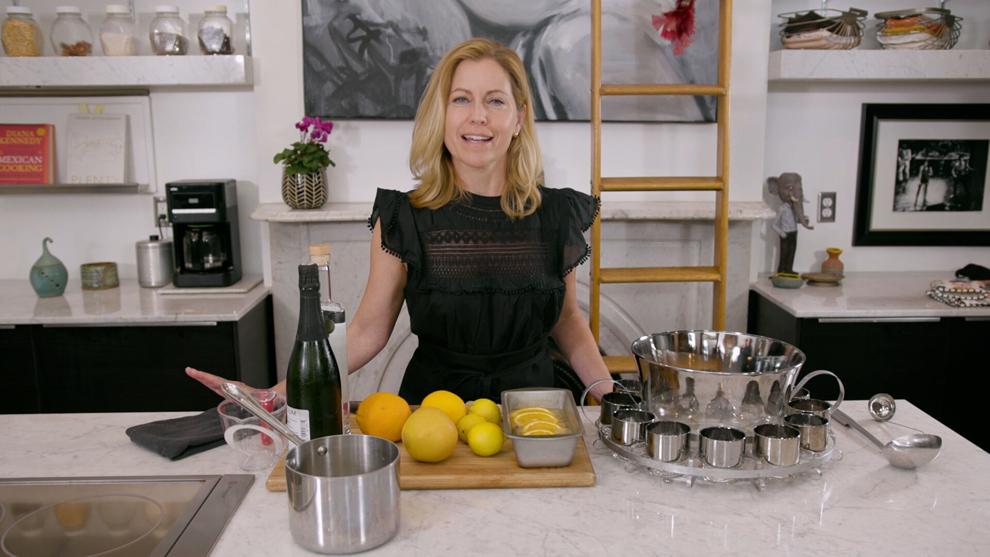 Punch is essentially a batched cocktail that's presented in a big, gorgeous bowl, ready for party go-ers to fill their glasses at will. This punch mixes gin with sparkling wine and lots of fresh-squeezed citrus, enhanced with the woody aroma of rosemary. It's a slightly sweet variation on the classic gin fizz, in punch form. And if you don't have a punch bowl, just mix the ingredients together and pour into a pitcher.
You'll want to keep your punch cool without watering it down, so make a flavorful ice block that won't dilute the punch as it melts. Simply mix fresh-squeezed orange or grapefruit juice and water and place in a metal tin – heat transfers quickly through metal and the ice block will be easy to remove. I used a metal loaf pan, but you can use any shape you'd like. Layer in some fresh herbs like rosemary and thyme along with slices of citrus fruit and freeze until solid – overnight is best. As it melts, the ingredients will add to the flavor of your punch.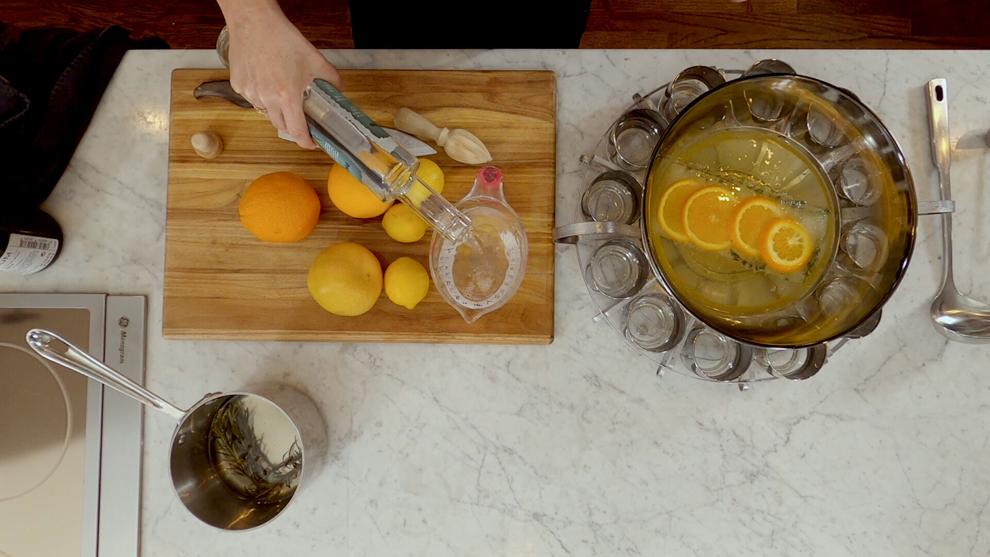 The only other step that needs to take place before you mix up your punch is to make the rosemary-infused simple syrup. Simple syrup is very simple to make. Just mix equal parts water and sugar in a small saucepan and heat until the sugar melts. Remove the pan from the heat and add whatever you want to infuse into the syrup and allow to cool – in this case, rosemary, but you could also use peppercorns, fresh ginger, thyme, cloves, mint… use your imagination! Any leftover syrup can be kept in the fridge for a few weeks, so make more than you need for this punch.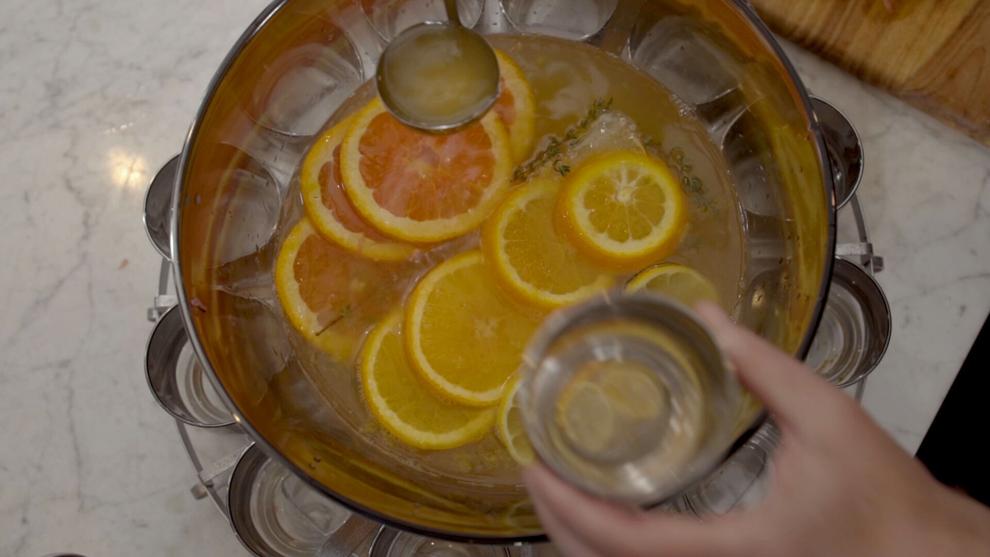 Because the recipe includes sparkling wine, you will want to sip your way through this punch relatively quickly – the bubbles will go flat within about an hour. So don't be shy – raise a glass or two and toast to the coming year. Cheers!
Emmy-winning host Cat Neville is the publisher of Feast Magazine and the producer of tasteMAKERS, which airs nationally on PBS. She has been in food media for about 20 years and when she's not on the road, she can usually be found playing around with new flavors in her St. Louis kitchen.
Champagne Punch with Rosemary and Citrus
Recipe by Catherine Neville
Yield: 6 to 8 servings
¾ cup water
¾ cup sugar
3 sprigs fresh rosemary
2 cups London Dry gin
½ cup fresh lemon juice
½ cup fresh orange juice, plus slices of orange for garnish
½ cup fresh grapefruit juice
1 bottle brut Champagne
ice block garnished with orange and rosemary
| Preparation | In a small saucepan, combine water, sugar and rosemary over medium-high heat. Bring to a simmer and stir to dissolve sugar, then turn off the heat, allowing the rosemary to steep. Strain and let cool.
In a punch bowl, mix gin with lemon, orange and grapefruit juice. Stir in rosemary simple syrup and then add Champagne. Place ice block in the middle and serve.

This content was produced by Brand Ave. Studios in collaboration with the sponsor. The news and editorial departments had no role in its creation or display. For more information about Brand Ave. Studios, contact tgriffin@brandavestudios.com.