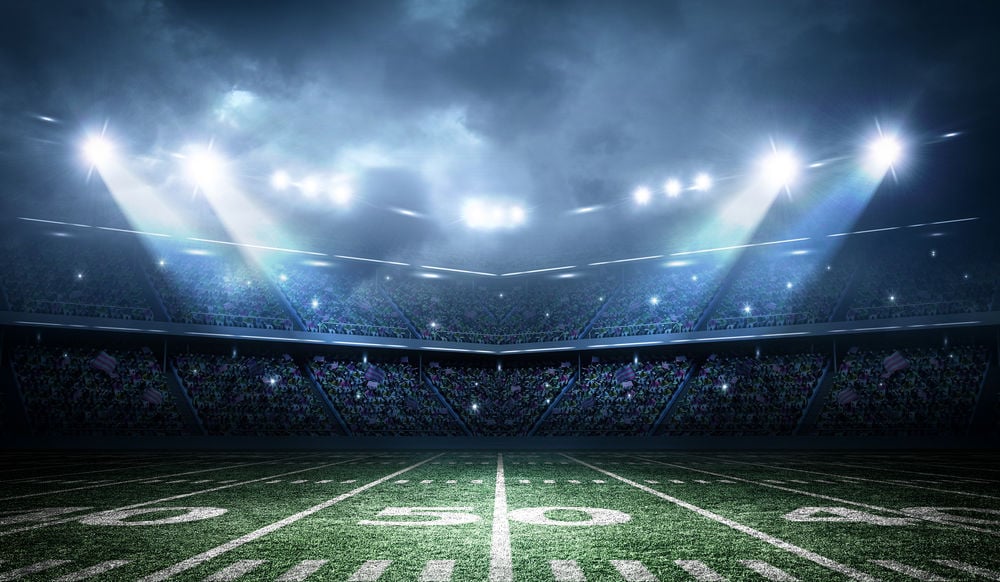 It's finally here. The long-awaited, most exciting day in the football season — Super Bowl Sunday. If you have plans to watch Super Bowl LI, there's no shortage of places to go, as pretty much every bar in the area will have the game on. But some ways do game day better than others. Here, five places to watch the showdown between the New England Patriots and the Atlanta Falcons to take your viewing experience up a notch.
1. Head to Havana. You don't need to catch a plane. Just head over to the Quarter at The Tropicana, where you'll find so many places to watch the game that your biggest problem will be deciding where to start. Head to A Dam Good Sports Bar, which they don't call "dam good" for nothing. With 26 high definition TVs, five mega screens including a monstrous one, as well as a vast selection of craft brews, this is Super Bowl headquarters. Looking for craft beer? Firewaters has you covered. Winners of the A.C. Weekly Nightlife Award for "Best Beer List," there is literally something on tap for everyone, which obviously makes watching the game even better. If you want to watch the game while eating chicken wings served by hot waitresses in short shorts, Hooters is your place. But if you're superstitious, you might need the luck o' the Irish on your side during the Super Bowl. In that case, head to RiRa Irish Pub and say your prayers over a pint. Maybe your team will get lucky. But whether your team wins or loses, you might want to try your own luck on the slots. If you catch the game from Tango's in the Quarter, you can head on and off the casino floor between touchdowns. And finally, Chickie's & Pete's has a $50 All You Can Eat menu with drink specials for the big game (and a similar $44.99 menu at their Egg Harbor Location), making it a best bet for Super Bowl viewing.
What began as a small, intimate art show and wine tasting of 50 guests that would benefit th…
2. Go classy. All you really need for Super Bowl Sunday is the game. And drinks. If themed drinks are your thing — and who doesn't love a themed cocktail? — head over to Borgata. In addition to watching the game at Long Bar, you can get any one of their specialty themed libations at Gypsy Bar, B Bar or Long Bar. Try the Dirty Bird (made with espresso, vodka, Kahlua and Bailey's), The Patriot (Pomegranate juice, Tequila Blanco, Triple Sec and lime juice) or the Matty Ice (vodka, club soda, and lime juice) to toast your football legends. Mountain Bar at Bally's, known for its great music lineup, is also a great place to watch the game. Also at Bally's, check out Harry's Oyster Bar. With fourteen TVs and team inspired food specials — think the Dirty Bird Sandwich and the Brady Bloomin' Onion — as well as loads of giveaways, Harry's is a perfect place for the biggest night in football. No one does football like Rush Lounge at Golden Nugget. With football specials each week, you'd be hard pressed to find a more football-friendly locale, and Super Bowl Sunday is no exception. At Xhibition Bar at Harrah's, you're just a step away from the casino floor. This circular lounge will let you tune into the game while placing some bets of your own. Over at Resorts, head to Bar One for football specials like $15 buckets of Miller Lite bottles, $4 domestic drafts, $5 craft drafts, $6 football themed cocktails and Miller Lite promotional giveaways and specials; Gallagher's Burger Bar for game day specials like $5 Bayou Rums and Stoli Vodka, $2 Bud Light drafts and $4 sangrias; and both Margaritaville and Landshark Bar & Grill, where you can watch the game in a Jimmy Buffett-style paradise. And while it's no longer a casino, catching the game at The Vue at The Claridge Hotel is definitely in the classy category. Look no further than the Vue to take in the Super Bowl with a view. With $15 buckets of beer, two for one select cocktail specials and food specialty items, the game might be an afterthought. If you're in Northfield, head to The Taproom Bar & Grille at Atlantic City Country Club for special game time happy hour specials like $5 specialty drinks and a $5 menu that includes chicken parm sliders and toasted pumpkin raviolis.
3. Hit a local legend. Charlie's Restaurant & Bar in Somers Point knows Super Bowls. In addition to the massive amount of wings and tenders, they'll also have drink specials as well as prizes and giveaways during the game. Also in Somers Point, head to The Anchorage Tavern for Super Bowl drink specials including $1.50 Coors pints, $2.50 Bud, Bud Light, and Bud Light Lime bottles, and $5 Tito's drinks; Gregory's for beer specials all day and night including $2.50 Bud and Bud light drafts, as well as wing and tenders specials; or Caroline's By the Bay for beer and football. In Atlantic City, head to Vagabond for Bud Light specials and game day happy hours, not to mention a burger to die for; Pic-a-Lilli Pub will have some football specials; Wonder Bar has a Super Bowl Party with food and drink specials as well as giveaways and games; head to Ducktown Tavern for some of the most super food specials around, including a $5 menu that includes wings, tenders, pretzel bites, Philly steaks, burgers and cheese pizzas; Wingcraft Kitchen & Beer Bar with $5 specials on select beers; Proud Mary's Sports Bar and Grille, a tried-and-true local pub, where the basic necessities — cheap drafts and basic bar grub — are all provided so you can concentrate on what's important — the game; daily happy hour with $3 Tun craft beers from 4 to 7 p.m. at A.C.'s Tun Tavern; or Maynard's Café in Margate where you can't beat cold beer, pizza and football, especially combined with half-time bites and giveaways. In Absecon, head to McGettigan's 19th Hole for a Golf Tournament followed by happy hour drink prices, door prizes and free pizza at halftime; check out Fred & Ethel's Lantern Light Restaurant & Tavern in Smithville for a cozy place to watch the game; and either Hi-Point Pub or Black Cat Bar & Grill to take in the game with loads of locals. In Galloway, head to Tailgaters for a Super Bowl party complete with food and drink specials; Pitney Pub for football specials that include $2 domestic drafts and $12 towers as well as a select $6 food menu; The Dubliner Irish Pub and Grill for NFL specials like $5.00 wing baskets, nacho baskets and slider baskets; JD's Pub and Grille for the NFL package and food and drink specials every weekend; and Bulldog's Bar & Grill where Sunday football specials include half-price wings, $2 domestic drafts, $3 selected craft drafts and a $6 'build your own burger' with two toppings. In Mays Landing, check out the Watering Hole Cafe for $2 Bud and Bud Light drafts, $3.50 Heineken drafts, $.50 wings, a $5 limited appetizer menu and giveaways; Brick House Pub & Grille for a block pool and a complimentary halftime buffet; or Ye Old Mill St. Pub, known for its large portions and reasonable prices and for taking in the big game without the commotion of a full-fledged sports bar.
What hides behind the bright red walls and sunny yellow awning of El Rincon Del Sabor in Atl…
4. Try someplace new. In Egg Harbor City, there are two new bars on the block. Crossroads Bar & Grill has food specials that include $5 nachos and $.50 wings, as well as a handful of drink specials; and if watching the big game wouldn't be complete without a craft beer in hand, head to Leatherhead Pub. In Mays Landing, check out Paragon Bar & Grille with 14 TVs, food and drink specials and the big game. Paragon has everything you need for Super Bowl Sunday. And while McCullough's Pub & Restaurant has been around a while, with a new food and beverage manager and head chef, it's like it's brand new. Check out McCullough's for a free half-time buffet, giveaways, happy hour half price appetizers and $19.95 prime rib. If you get there early, you'll be just in time for the Chief Arthur R. Brown, Jr. Memorial Scholarship Foundation's 25th Annual Pre Super Bowl Tailgate Party hosted by Assemblyman Chris Brown from 2 to 7 p.m. $20 tickets can be purchased at the door.
5. Consider a chain. Billed as the sports bar for sports fans, Buffalo Wild Wings has over 30 flat-screen TVs with a massive variety of wings and a pretty sweet selection of beer on tap. If you're looking for a place to bring the kids while you're taking in the game, head to Red Robin. While you're sipping brews and watching the game, kids can play games on a tableside kiosk. At the Hard Rock Cafe in Atlantic City, every day is happy with an All Day, Every Day Happy Hour menu that includes $3 domestic drafts, $5 signature cocktails, $10 bucket of Coronitas and $10 pitchers of domestic drafts as well as a special Bar Bites Menu that includes homemade tater tots, wings and soft pretzels. And while it may not have been the first place you thought of to catch the Super Bowl, Centerfolds Cabaret in Pleasantville has $5 Stoli, $4 imports and $3 domestics as well as a free buffet for the Super Bowl.