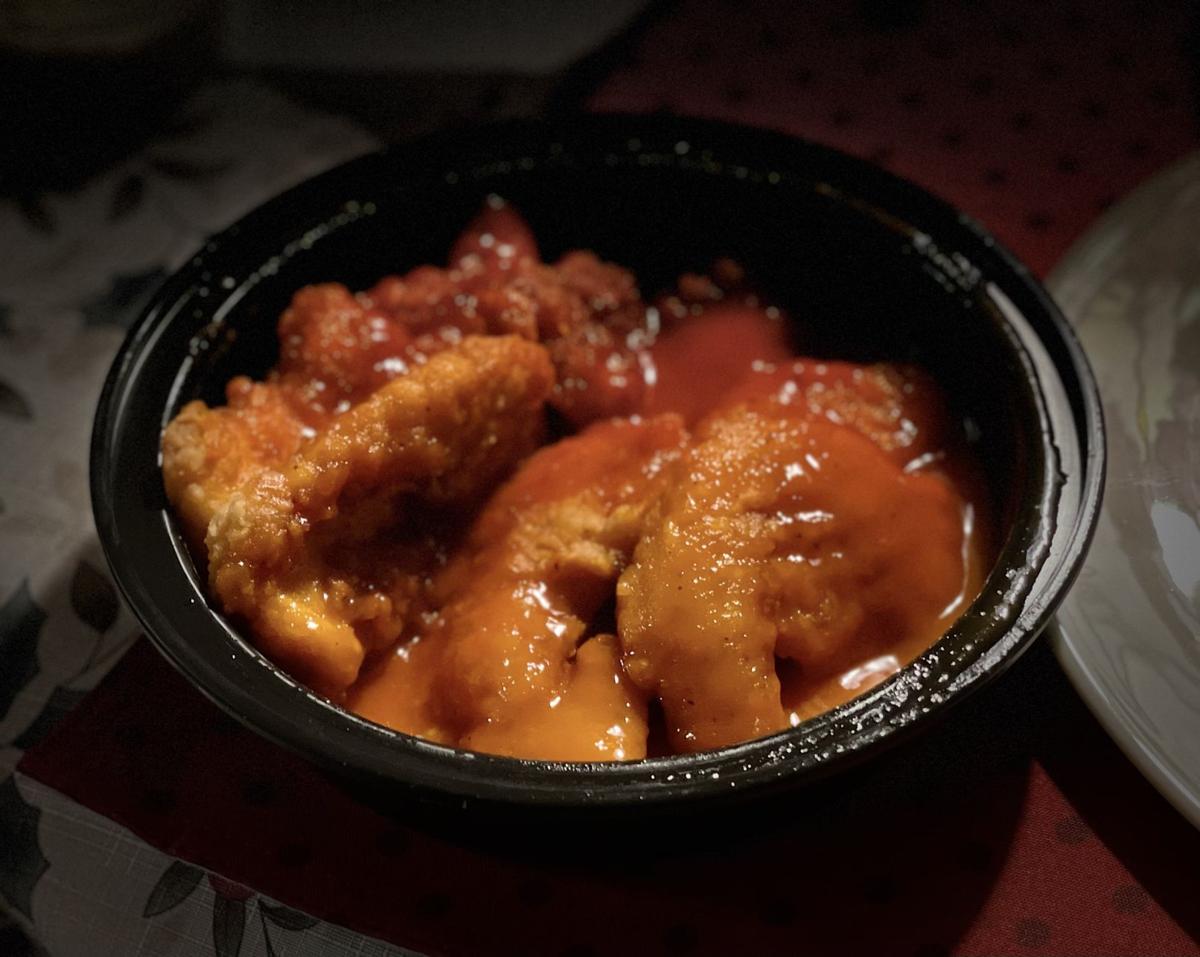 They say you should never judge a book by its cover, and we imagine the same goes for judging a restaurant by its logo, but in the case of Costello's Pizzeria and Wings in Smithville, the logo — which consists of a chicken clutching a desperately struggling buffalo in a pro wrestling-style headlock — was enough to pique my interest.
Costello's is located in a particularly picturesque spot overlooking Lake Meone in the middle of Smithville Village. It's primarily a pizza place, but they've been in the wing game for years and have built up quite a reputation both in the Smithville area and in Hammonton, where they own a second location. Like a few other well-known wing spots in the area, Costello's offers three forms of Buffalo-style chicken: traditional bone-in wings; tails, which consist of thicker white meat chicken pieces lightly floured and fried – these are the ones that they use on their legendary "Stockton Bomb" sub, which is a must-try for the sandwich crowd; and finally, ears, which are more like a cross between standard chicken fingers and a patty that you might find on a chicken sandwich. For a change of pace, I went with the ears. Here's what I thought.
The Ear: I don't care if they look a bit processed, of course they are, but I love me an old-fashioned, deep-fried chicken tender. Costello's were on the larger side, flatter and perfectly thin. The breading did its best to keep its crispness, but that is always a losing battle when swimming in sauce. No points off for it though, as the breading actually did a nice job absorbing the sauce, and the meat was tender and delicious.
The Sauce: Costello's buffalo sauce might remind you a bit of the sauce at legendary wing spot Pic-A-Lilli Pub in Atlantic City. It has that same touch of sweetness to it that seems to be a trend in South Jersey. It's available in three heat levels – mild, hot or atomic — and they also have BBQ and honey BBQ options. I went with the hot variety and was more than pleased with my selection. The sauce has a strong kick to it, and frankly, it's a bit more heat than I would normally go for. The sweetness, however, balances the spice so well. After a quick dunk in blue cheese, it was near perfection.
The Dip: Some decent chunks of blue cheese and a medium consistency, flavor could be a bit better, but it serves its purpose.
The Sides: None came with my order. You can add celery for 59 cents should you desire it.
The Value: $7.49 for six large Buffalo ears — a very good deal indeed.
The Bottom Line: Costello's puts out some very solid buffalo chicken. The sauce is all but perfect – especially if you like a touch of sweetness, and the variety of chicken options makes it a great choice for those who might not be all about the bones.
The Score: 8.1
Costello's Pizzeria and Wings is located at 615 E. Moss Mill Road in Smithville.
Go to CostellosPizza.com.