So many area restaurants claim to be "legendary," but it takes more than just lasting a long time to earn that title.
At the top of the heap of truly legendary places sits the White House Sub Shop. Celebrating its 70 years of existence at the corner of Mississippi and Arctic avenues in Atlantic City, the White House isn't just legendary, it's a historic landmark.
The White House is a place where locals still wait in lines that can spill outside the sub shop by the dozens, a place where celebrities eat at when headlining at a nearby casino (or at least send their posse to get some subs), a place where tourists flock to when visiting the Jersey shore.
Ever since Anthony Basile, his Aunt Basilia and Uncle Fritz Sacco opened its doors in October 1946, there was something magical about the White House.
Today, that magic still exists. Some of it comes from the pure nostalgia hungry patrons experience when walking in the front door. The bright orange booths, matching counter stools and stainless steel accents scream 1950s soda shop, a look that many contemporary restaurants try to artificially replicate today.
"This is real America," says Co-Owner Brian Conley, who married into the White House family when he wed Mary Conley, the daughter of Fritz Sacco, who owns the restaurant along with Connie Basile, who is Anthony Basile's daughter. "Places like the White House are the foundations of neighborhoods. Always have been. Always will be."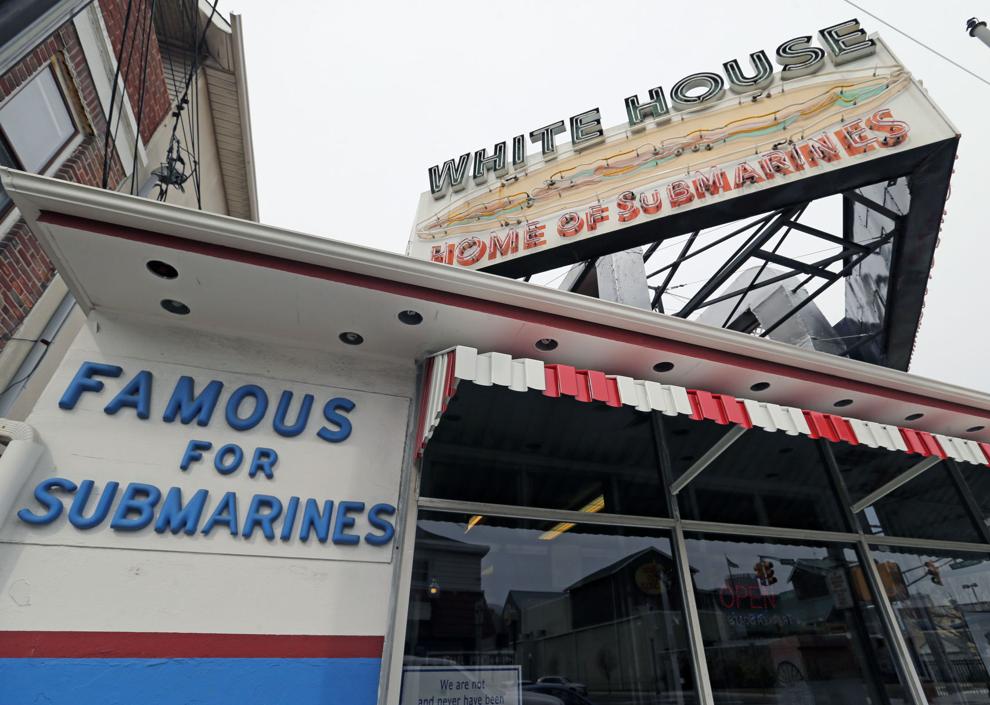 Though the Ducktown neighborhood has changed around the White House, the sub shop remains remarkably similar to what debuted 70 years ago. White House historians will tell you that the front porch of the White House didn't originally exist, and if you look at the entrance when you walk in, you will see the original stainless steel front. The inside used to be smaller, too. In fact, the store only went up to the air conditioning unit where a sign featuring Tony Basile in uniform is now displayed.
The original stainless steel hood remains above the cashier area, but it's now unused. And the tiny prep room is now on the side of the restaurant, an addition made in the 1950s that enabled the White House to expand its seating. All of the celebrity photos — local and international — still line the walls and feature everyone from Frank Sinatra to Guy Fieri (see sidebar).
Learn to cook your favorite winter comfort foods at the Atlantic City Country Club's "Winter…
Even after Hurricane Sandy flooded the White House in 2012 and forced it to close for two months, it reopened with new flooring and some new refrigeration, but it remained nearly identical.
"We had to do some things like reupholster the booths and stools, but we haven't really done that much," says Conley, who manages the day-to-day business with his wife. "And that's on purpose. If we remodeled, we would have had complaints. This place is the same as it always was. It's one thing in life that everyone can still depend on."
That dedication to consistency can be found on its menu, too. Nearly the entire menu has remained the same for all of these years … except for the prices. In 1946, a sub cost 50 cents for a whole, 25 cents for a half. Some White House employees say the bread is longer and sometimes crispier than it used to be, now measuring 20 inches for a whole.
The regular Italian ($14.60 whole, $7.30) remains the No. 1 seller. Featuring coteghino, capitol, salami, provolone cheese, lettuce, tomato, onions, optional hot peppers, oil and spices served on a fresh roll — mostly from Formica Bros. Bakery but sometimes Rando — it's the sub that all others are compared to. You can also order the "special," which is the same sub with extra meat and cheese, an extremely popular choice.
"People always ask what makes ours so special," Conley says. "The truth is it's really just about using the best quality meat we can get, putting it on this unique, fresh bread that we have baked right across the street and then having the people who care to make it the right way. It's not so much a secret as to just being consistent."
The cheesesteak ($16.50, $8.25) is not far behind in popularity. Made with U.S.D.A choice lean top round steak cut fresh daily on a special slicer — it's never frozen — it's about as good as a cheesesteak outside of Philly can get.
Other best-sellers (in order) include the meatball parm ($14.40, $7.20), the boiled ham and provolone ($14.70, $7.35), the turkey and cheese ($15.90, $7.95) and the tuna fish with cheese ($15.40, $7.70) — simply canned tuna mixed with a little oil.
"The meatballs are made fresh three days a week, and there are some who think that's the best sub we make," Conley says. "It's just ground beef, parsley, salt, pepper, garlic, eggs and our own sauce."
The real secret of the deliciousness of the meatball sub coincides with one of the reasons why White House subs are so good to begin with. The submakers scoop out by hand the soft white bread, making room for the meat.
Those in the know will tell you the only real menu change happened in 2005 when the Conleys took over and decided to add chicken. There were no revolts. No boycotts. But loyalists don't seem to order that much. The younger crowd and those looking for healthy options do, though, as they frequently order the chicken cheesesteak, chicken part, chicken cacciatore and — the newest addition — buffalo chicken (all $15.30, $7.65).
Something else that hasn't changed much at the White House is its staff. Anyone who has ever gone to there knows that its subs are served with a little bit of attitude. If you take too long to order, a submaker will probably say something not so nice or at least give you a dirty look. But if you get to know them, it's all part of the fun and the experience.
"Some people today don't know how to react to that sometimes," Conley says. "But in the old days everyone knew each other and they would always bust each other's chops. So we still do a little of that. But it's all harmless fun."
About half of its staff of 35 has been working there for more than 20 years. Frank "Weasel" Daviso started back in 1951 as a part-time delivery driver. He's now in the prep room and will turn 88 years old this year. Submaker Eddie Manzini leads the pack at 46 years, followed by the husband/wife team of submaker Joe Gallagher and server/cashier Joann, who have been there 41 and 38 years, respectively.
Kathy Griffin has offended so many people in Hollywood that she tells me, "you may be my bes…
"We obviously can't keep a job," Joann jokes.
Server/cashier Holly Smith has been there for 41 years, and she's probably the most vocal in the restaurant, eager to tell stories about the history, including its celebrity clientele (Brad Garrett was her favorite, see sidebar).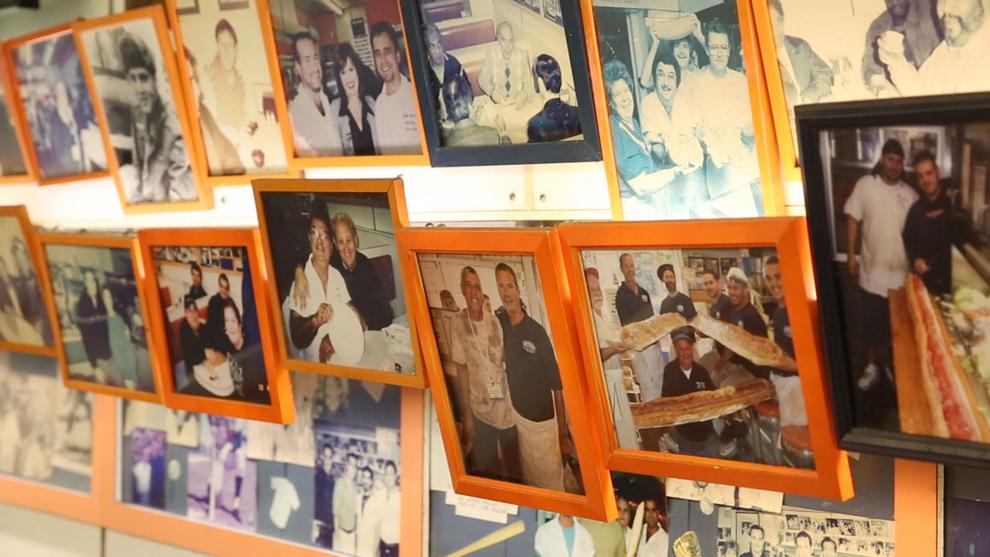 "The years have actually gone so fast," Smith says. "And as interesting and as fun as this job is, the truth is it provided me a great living while allowing me to be a mom because of its flexibility. I love this place."
The appreciation is mutual.
"This place wouldn't be nearly as successful if we didn't have people like Holly and Joann and Eddie," Conley says. "It's not easy being a submaker on your feet all day. And longtime customers treat them like family. They get invited to weddings and go to customers' funerals. Their hearts are in it. They are special people."
White House owners have been courted constantly to franchise and expand, but the only expansion they ever did was to open a second location inside Trump Taj Mahal Casino Resort, which closed last fall when the casino did. Conley's son-in-law Wayne Richardson — he married Bridget Conley and originally had no clue she was part of the White House empire — and longtime employee Joe Ricciardi were managing that operation and are back to work in the original location, giving the Conleys more time to themselves.
"Wayne is probably the future of this place," Conley says of Richardson, who is currently managing daily operations and has hopes of reopening in the Taj eventually. "We will never franchise. If you franchise, quality suffers and your reputation goes down the tubes. As far as us expanding ourselves, we don't have anything in the works, but we are open to it."
No matter what the future holds, it looks like the White House will keep going through 150 pounds of onions and 200 to 250 tomatoes a day and adding to that estimated number of 25 million subs sold.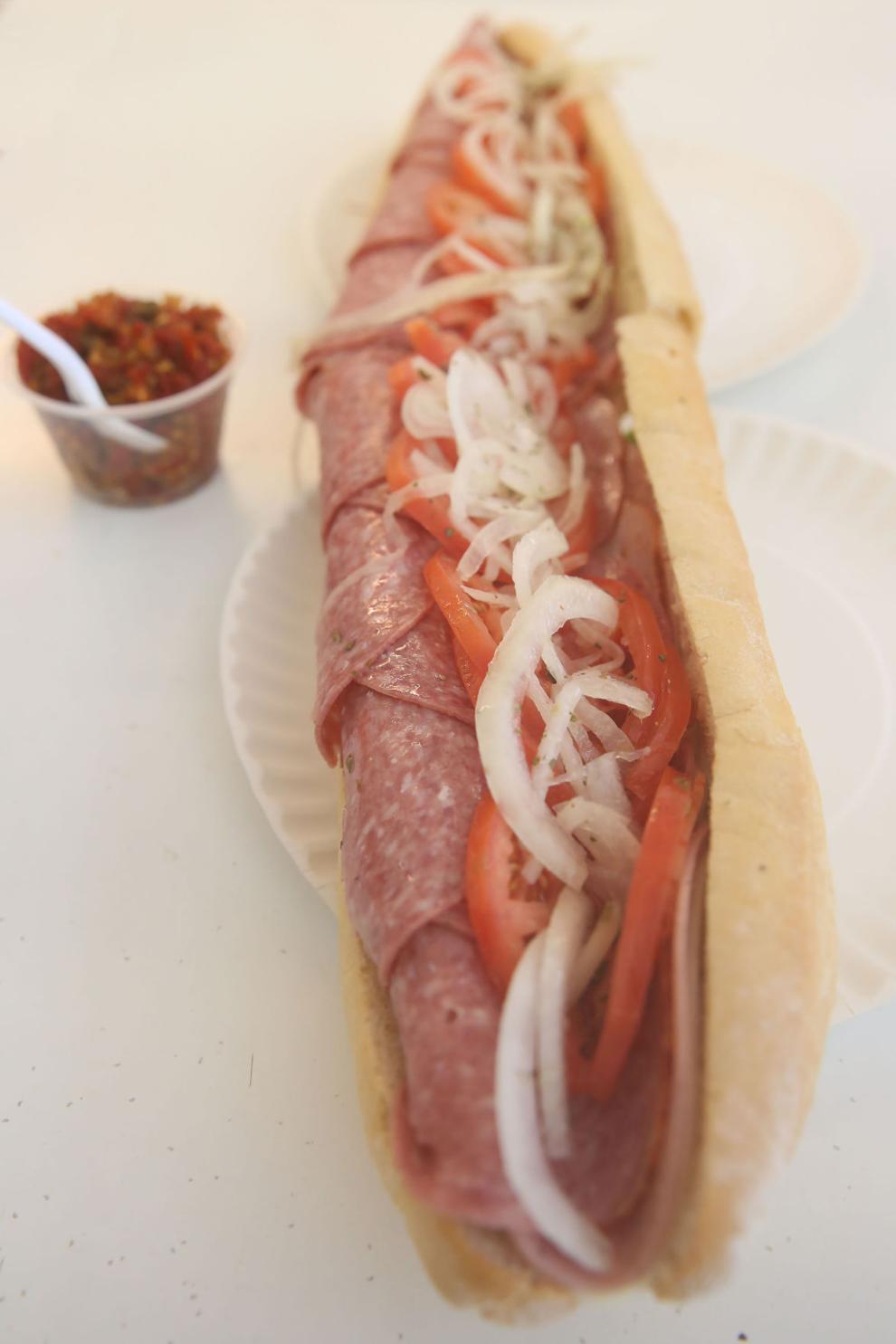 "This place will always be successful because as the world changes, this place doesn't," Conley says. "It's a place where you will find hard-working Americans behind the counter working and walking in the doors to eat."
Celebrity sightings
Part of the experience at the White House Sub Shop is checking out all the hundreds of photos lining its walls featuring the local and international celebrities who either ate there or at least sent their posse to pick up subs while they were headlining in Atlantic City.
If you can engage the staff about the photos, you will learn even more.
Co-Owner Mary Conley's favorite is Frankie Avalon, who she remembers coming in to the shop when she was a teenage server and dishwasher back in the days when the White House actually had glass coffee cups and plates.
Perhaps the most loyal and vocal celebrity customer was Bill Cosby. And although his recent troubles have made people look at him differently, there was a point when he was revered in this country. He used "The Cosby Show," perhaps the most-watched show of the 1980s, to tell the world about the White House Sub Shop, which he would frequent personally when in town performing. And if he wasn't in town, he would often send his driver to pick up subs when he was in New York or Philadelphia when he craved a White House sub.
Who else has tried what some people believe to be the best sub in America? The Rolling Stones ordered 50 cheesesteaks when they last performed here. Frank Sinatra never came into the store but would send people over to grab a few subs, and a towel he used for his last show at the Sands in 1993 is framed on the wall with a sign that says "Sinatra's Towel," a gift from a tech who worked the show.
Other legends who ate there include Johnny Carson, who loved the meatball sub; Philadelphia 76ers star and NBA Hall of Famer Julius "Dr. J" Erving can be seen posing with staff; Tiny Tim is pictured eating in a booth, as is the greatest boxer of all time, Muhammad Ali; baseball greats and Hall of Famers Steve Carlton from the Philadelphia Phillies and former Los Angeles Dodgers Manager Tommy Lasorda often visited; and entertainment legends like Jerry Vale and Regis Philbin can be spotted along with Frankie Valli, who stepped behind the counter to grill a cheesesteak, and Don Rickles, who is pictured cutting a whole sub. And when the 500 Club was a happening joint, it was common for Dean Martin, Sammy Davis Jr. and the Rat Pack to either stop in or order takeout.
But there are some more contemporary stars who still hit White House regularly. Jerry Seinfeld consistently orders when in town. A photo of Ellen DeGeneres shows her grilling some cheesesteaks, and more recently, Dr. Oz and even Kevin Bacon have made their way into the store.
"Kevin Bacon is one of my all-time favorites," says Holly Smith. "He was just so handsome and down to earth.
Bonnie Rottina, a 30-year employee, still remembers when "Barney Miller" star Hal Linden came in.
"He wouldn't even let us push him ahead in line," she says. "He sat down at the counter like everyone else, and was just about as nice of a guy as you would ever meet. And Penn & Teller came in … and the little guy talks!"
Joann Gallagher, a 38-year server and cashier, says her favorite celebrity was Brad Garrett.
"He came in with a group of people and didn't act like a star and didn't want to be treated like one," she says. "Salt of the earth."
But not every celebrity has impressed the staff.
"Chazz Palminteri ('A Bronx Tale') was not a nice person," one of the employees says. "He just sat in the corner and wouldn't even let us or anyone take a picture. Totally full of himself."
Two of the biggest current fans are former "Tonight Show" host Jay Leno, who comes into the store nearly every time he is in town, and Food Network Star Guy Fieri.
"I don't think anyone has done more to help this store in the last few years than Guy," says Co-Owner Brian Conley. "He comes in here and eats all of the time, featured us on the Food Network and tells everyone he can that when they come to Atlantic City they have to come and try our subs. He's a great guy and big fan of what we do."