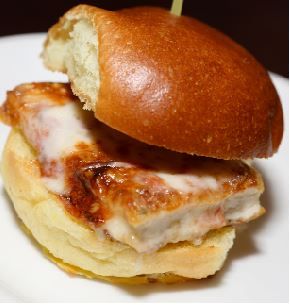 The return of 50 Bites+ is almost here. Don't know what it is? It's only the most inventive and interactive food event ever. Hyperbole? Maybe … not!
We are not going to mess with perfection either. It's still just $50, and this year will once again feature more than 50 Bites in more than 50 Places in both Atlantic City and select spots in Atlantic County.
The eating journey still takes place for 50 Days, beginning Oct. 12 and running through Nov. 30
Now we know you probably have questions about this satisfying event. Who wouldn't? So we've created an FAQ of things you might wanna know about.
Q: How much are they?
A: Didn't you read? They are 50 Bucks — however, from Wednesday, Aug. 23, to Thursday, Aug. 31 you can get your pass for just $30. It's a crazy price and we are only offering it for a week. Don't miss it! It's your only chance to get a discount on the pass that entitles you to eat during all 50 Days. For 10 Bucks more, get a BOGO appetizer card, regularly priced at $25. This entitles you to buy-one-get-one apps at more than 30 restaurants in Atlantic and Cape May counties through Dec. 30.
Q: Where can I purchase them online?
A: You can purchase them using your credit card on ACWeekly.com/50Bites beginning Aug. 23.
Q: Where can I purchase them in person?
A. Come October, you can also pick them up at The Press of Atlantic City, 1000 W. Washington Ave. in Pleasantville from 9 a.m. to 5 p.m. Mondays through Fridays. We can also mail them to you for a $6 shipping fee. That $6 covers as many passes as you order. So if you order 20, it's still just $6 to mail them all.
Q: Can I buy them with a credit card?
A: Yes, whether purchasing them online or at the above-mentioned locations, you can purchase them with a credit card or cash.
Q: Can I visit more than one restaurant per day?
A: Yes, you can do all 50 in one day, if you choose. Or you can do one a day, five a day, whatever you like.
Q: Do I have to go to any specific restaurant on any specific day?
A: Nope, tackle the restaurants as you wish.
Q: Do I have to purchase anything when I ask for my bite?
A: No. Although most of the participating restaurants are offering some awesome specials, including upgrades to full portions and drink specials that are certainly worth spending a few bucks on.
Q: How do I get my bites?
A: When you have your all-access pass, just show it to a server. They will bring it out to you and check the box next to the item to make sure you only use it once at their restaurant in the 50 Days. Make sure you bring the pass and the Atlantic City Weekly lanyard that you will receive. You need both for verification purposes.
Q: Do I get a full portion of each item?
A: No, silly. It's called 50 Bites – so you'll get a sample size. 
Q: What is the value of this pass?
A: We estimate that all of the bites total at least $250. But there is no cash value to the pass itself. You're essentially only paying about a buck a bite.
Q: How many times can I go to each restaurant?
A: Once. But if you get through all 50, you can always buy another pass and tackle all 50 again.
Q: What days and hours can I use my 50 Bites pass?
A: You can use it during the restaurants' operating hours and days. There are no restrictions anywhere.
Q: Will I be seated if I choose to not buy anything and just grab my bite?
A: Some places will restrict the use of the pass to the lounge or bar area. So if there is an open seat, please feel free to use it.
Q: What if I lose it?
A: Buy another one. You're still ahead of the game in value.
Q: I don't like some of the items, will they offer substitutions?
A: Sorry, but no luck, Chuck. These are the best things to eat in Atlantic County. Stop being so picky. Expand your culinary horizons.
Q: I don't go to Atlantic City that often, is it worth me buying one of these?
A: Well, hopefully this will encourage you to check out places you never ate at before. But if you map it out, you really don't have to make that many trips. For example, if you go to the casinos, you can bang out a bunch in one shot. Plus, as we mentioned, it also takes place in Atlantic County, so there are many more options outside A.C..
Q: If I want to talk this out with someone, who can I call to discuss?
A: Call me at 609-272-7017, or better yet, email me at scronick@pressofac.com
Q: I want to tell the world about how great 50 Bites is. How do I do that?
A: We have a hashtag — #50BitesAC — that you should use when sharing posts about your experience. Do it on Twitter, Facebook, Instagram or wherever. Write it on your bedroom wall. Just spread the word!
Q: What are the 50 Bites and restaurants.
A: Ahhh … patience, my friend. These will all be revealed to you in good time.
Be the first to know
Get local news delivered to your inbox!