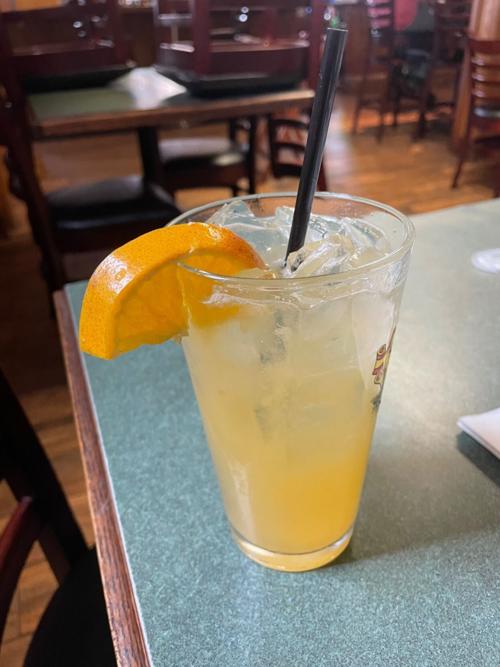 I love this time of year. As the first warm breezes whisper through the trees and the hours of sunlight begin to stretch, it's hard not to get excited for winter's exit. Yes, there is definitely a bit of "Ding Dong the Witch is Dead"-style cheerfulness that comes with spring. And for me, spring also means that it's time to put down the hot toddies and Irish coffees and seek out some lighter cocktails. So on my way to meet friends for lunch last week, I decided to see if I could track down a drink to match the arrival of warm weather.
I was in the mood for something with fresh-squeezed juice, something that would trigger images of seagulls and sunsets slowly fading over the bay. Only problem was that the plan was to head to a simple locals bar for some wings – Charlie's Bar in Somers Point.
Don't get me wrong, I love Charlie's, and it's a legendary spot for good times and great wings, but it's the type of place that you would probably order a beer or a Jack and Coke and leave it at that. But recently I was tipped off to the fact that they feature fresh-squeezed juices in their cocktails. I asked the waitress about this and she told me that they were revamping the cocktail menu at the moment, but that they did have their popular Orange Crush available, which indeed was made with fresh-squeezed juice. That was all I needed to hear.
Charlie's Orange Crush
Tito's Handmade Vodka, fresh-squeezed orange juice, triple sec with a splash of club
Named for the soda bearing the same moniker, the Orange Crush was originally created in 1995 at a bar called The Harborside in Ocean City, Md. It quickly gained tremendous popularity in the region, eventually expanding up to our neck of the woods, where it can be found on quite a few cocktail menus.
The version at Charlie's is noticeably less sweet than most, due to the fact that it uses regular Tito's Vodka in place of the Orange Smirnoff that the original recipe calls for, and opts for club soda for its element of fizz, while the original cocktail uses Sierra Mist. This means that the Orange Crush at Charlie's requires the OJ to do much of the heavy lifting when it comes to overall sweetness, with only a bit of help from the triple sec. Full disclosure: I had to send back the first one I got because it was nearly flavorless due to a weak pour on the fresh-squeezed juice. But to their credit, the second time was the charm, with a far better, more balanced version presented nicely in a pint glass with an orange wedge big enough to squeeze.
Personally, I prefer the traditional style that The Harborside created, but Charlie's does a nice job putting their own spin on it and offering a cocktail that is less sweet and in many ways more suited for the atmosphere at the pub which it calls home. Give it a try next time you are knocking back a pile of wings.
Charlie's Bar is located at 800 Shore Road in Somers Point. Go to CharliesBar.com.