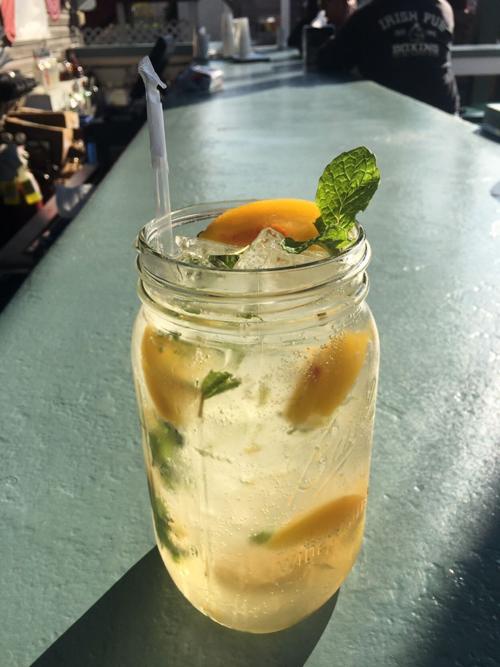 Sometimes you just need to chill. And within the context of the bright, brassy glitz of the casinos and the general roar of honking horns and wailing sirens that comes with any urban environment, Back Bay Ale House is as chill as Atlantic City gets. Opened in 2003 by Jane and Kyle Williams, the space sits proudly among the select few businesses that get to call the Gardner's Basin section of America's Playground home. Back Bay actively puts forth a relaxed, ramshackle Key West vibe, which works well with its waterfront backdrop.
The drink menu is large here, with many of the most popular options leaning toward refreshing fruit-based cocktails, served in 16 or 32 ounce mason jars, which have been cleverly dubbed "Basin Masons." Who comes up with the recipes? It's a team effort at Back Bay.
"We have a lot of unique, creative bartenders here, and we all just kind of work as one big happy family. So we all work together when trying to come up with a new drink." Jane Williams says.
The list of Masons is long, but focus of this week's On the Rocks is their ever popular Georgia Peach variety.
The Georgia Peach
Tito's Vodka, peach schnapps, fresh muddled peaches and mint, Sprite, club soda
As I took my first sip from this comically oversized cocktail — you're damn right I got the 32 ounce version; everybody knows the 16 ouncer is strictly for amateurs — I couldn't help but think about just how rewarding it is when the style of your drink matches the atmosphere in which it is consumed. With the mid-afternoon sun slowly sinking over the back bays of Atlantic City, this sweet and playful concoction hit the spot, its peachy goodness in perfect sync with a late-October day that was still warm enough to keep me pretending that summer didn't unofficially end nearly two months ago.
And one thing to note is that although sweetness is to the forefront here, thanks to the fruit-flavored liqueurs and sugary soda mixers, the drink has an organic presence to it from the muddling of the fresh peaches and mint. It's less Jolly Rancher-like than you might expect and more along the lines of a peach mojito. And Williams manages to keep the peaches fresh no matter what time of year you order it (although the local ones that you find in it during the summer are my personal favorite).
And if all of this isn't enough to make you head down and order one, maybe the pleading eyes of a homeless hound might convince you. That's because for every Georgia Peach that is ordered, Back Bay Ale House donates $1 to Allmons All About Animals in Blackshear, Ga.
"Several of us at Back Bay had adopted dogs from the Humane Society in Atlantic City, and the dogs had all originally come from Georgia," Williams explains. "So we did a little research on how the dogs got there, and it turns out that every month between 100 and 300 dogs are transported up to local rescues in New Jersey from Georgia to be adopted and Allmons All About Animals is the nonprofit that is behind it all. So we donate a dollar from every Georgia Peach to their cause."
Back Bay Ale House is located at 800 N. New Hampshire Ave in Atlantic City. Go to BackBayAleHouse.com.
Be the first to know
Get local news delivered to your inbox!