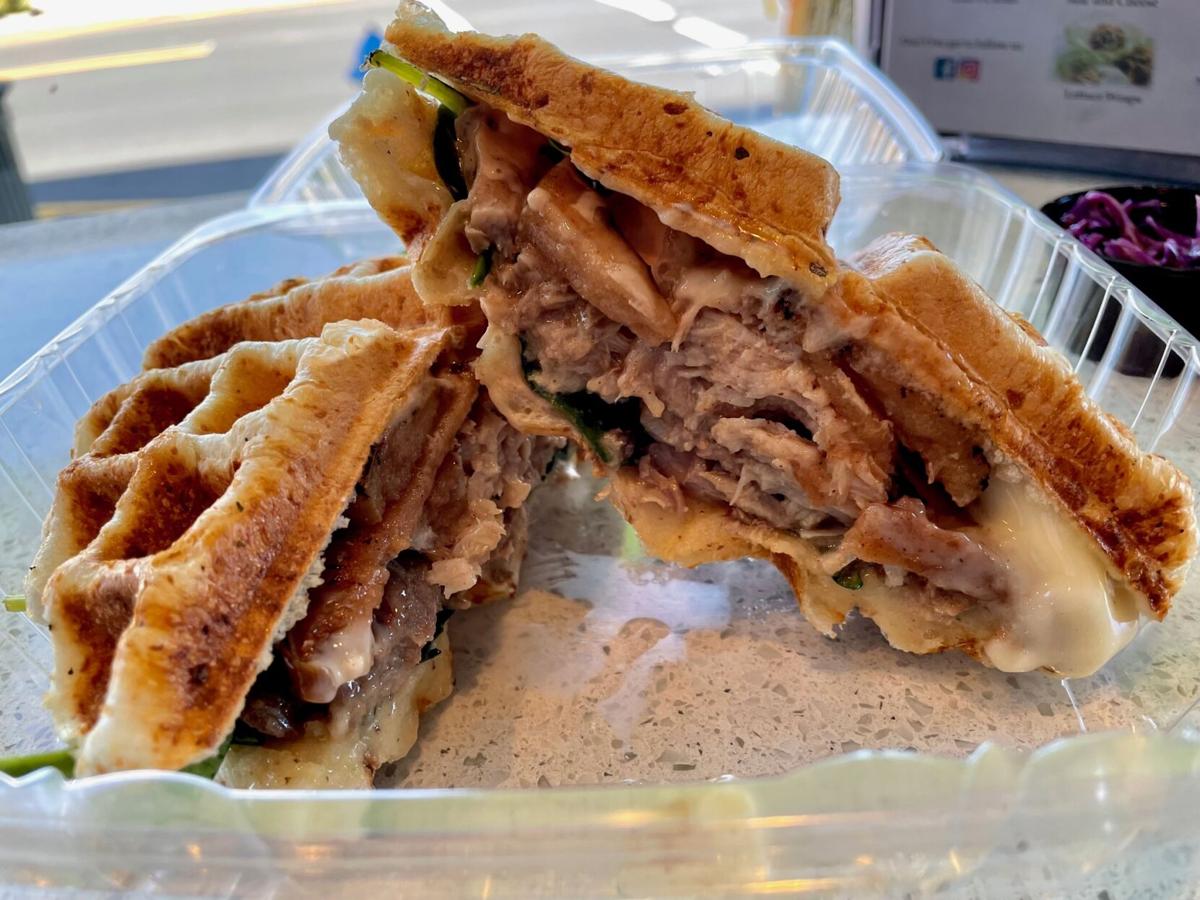 For a few years now I have been hearing a lot of positive chatter about a place in Hammonton called Funky Cow Cafe. The Funky Cow is a casual lunch spot, open only from 11 a.m. to 4 p.m. every day except Mondays and Tuesdays. They are best known for their waffles, both savory and sweet, which can be enjoyed in dessert form topped with ice cream and various toppings, or as the bread on one of their many sandwiches.
On the day I stopped in I was lucky enough to be greeted by Ricky Alverio, the wonderfully passionate and extremely friendly owner of Funky Cow. Alverio's enthusiasm over everything he serves is both infectious and endearing right from the start. Sensing me as a first-time customer, he made a few helpful suggestions, and eventually I decided on their seasonal specialty waffle sandwich — the Warm n' Cozy, a luscious November-ready mix of roast pork, caramelized apples and brie. Here's what I thought of it:
The Bread: Though the concept of using waffles in place of traditional bread may sound gimmicky, in this case it's not. Vastly different than the doughy style of most sweet waffles you might have had, the waffle used on my sandwich was the perfect choice for a sandwich like this. Light, airy and with a noticeable crisp to it, I was thoroughly impressed.
The Meat: Funky Cow is known for their Cuban sandwiches, so I had a feeling the roast pork on my Warm n' Cozy would be top shelf, and indeed it was. Endlessly tender, juicy and nicely shredded, it had the consistency of the meat you might find in a nice pulled pork sandwich, minus the BBQ sauce.
The Cheese: An often underutilized cheese in the sandwich world, the brie was melty and gooey and served as a nice change of pace from the parade of provolone, Swiss and American that you seem to find on every sandwich these days.
The Veggies: While not advertised in the description, my sandwich contained some leafy greens which I believe to have been spinach. I'm not sure that the sandwich needed it, but it didn't take anything away from it either.
The Condiments: It may be odd to think of caramelized apples as a condiment, but that is how they presented themselves, adding a lovely autumn sweetness to the sandwich that served as a brilliant counterbalance to the brie. Of all the Warm n' Cozy's tasty elements, these were the standout that brought it all together.
The Bottom Line: I'm always on the lookout for unique concepts in the culinary world, but oftentimes unique ends up being gimmicky and silly – I'm looking at you "rolled ice cream" – but the waffle sandwiches at the Funky Cow Cafe are the real deal and well worth making the trip for. Oh, and I also had a chance to sample one of their sweet waffles topped with pumpkin ice cream and whipped cream. It was utterly superb, and I highly recommend it, but that is a topic for another column …
The Score: 8.4
Funky Cow Café is located at 224 Bellevue Ave. in Hammonton. Go to FunkyCow.com