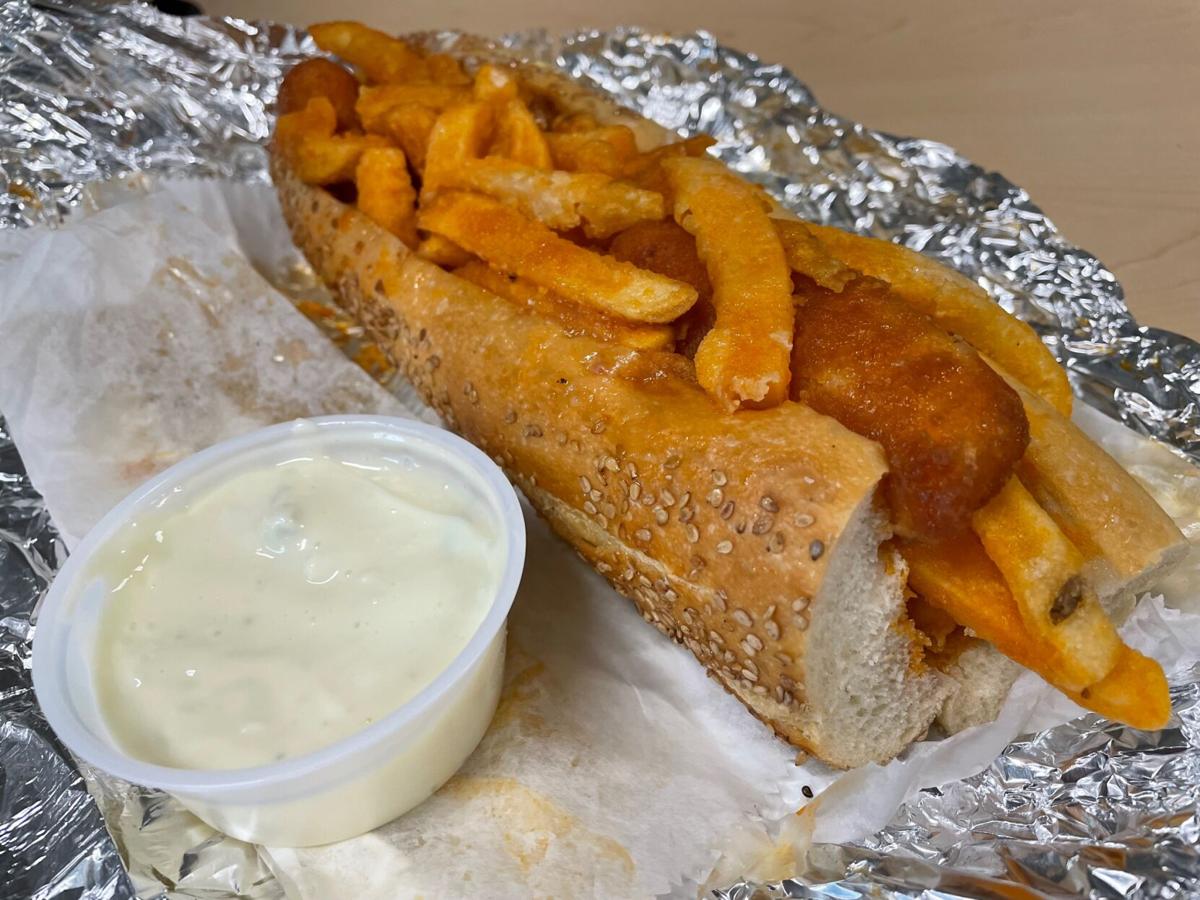 If you are at all familiar with the legendary grease trucks that once lied the parking lots at Rutgers University, you likely have a fondness for their famous "fat sandwiches," overstuffed subs consisting of a variety of random comfort foods all piled on top of one another. They came with colorful names such as the Fat Cat, The Fat Darrell, The Fat Moon, The Fat B*tch and so on.
Sadly, those food trucks are no longer there, but the concept of selling "fat-style" sandwiches near college towns has lived on, and at Costello's Pizzeria in Smithville you will find The Stockton Bomb, an almost intimidating combination of flavors that has caught on and become the signature sandwich at this spot.
I dropped in and grabbed one for lunch recently. Here is what I thought:
The Bread: In my recent sandwich travels I have eaten a lot of A.C. sub rolls, so when I saw the option for a seeded roll instead, I went for it. It ended up being a marvelous decision. A little crusty and a little chewy, the long, torpedo-style roll did an excellent job holding together the pile of ingredients without falling apart, and the sesame seeds actually managed to somehow fight their way through the cacophony of bold flavors on this sandwich, which really impressed me.
The Meats: The Stockton Bomb utilizes Costello's superb boneless buffalo tails as its main meat. Lightly breaded and coated in their signature hot-but-sweet buffalo sauce, they were all but perfect.
The Cheese: It's a sandwich made up of a bunch of appetizers on top of each other, so naturally the use of mozzarella sticks in place of a normal cheese slice makes sense here. It also adds a lot in the consistency department as the cheese is thick and gooey and really brings something special to the table in this situation.
The Veggies: The closest thing we have to a veggie of any type is the big pile of french fries that crowns the top of the sandwich. Fries on a "fat sandwich" are a tradition, and these work nicely because much like everything else on this sub, they are drenched in Costello's incredible buffalo sauce. That does make them get soggy quickly though, so be aware if you are a fan of crispy fries.
The Condiments: Blue cheese! What better counterpoint could there possibly be to a buffalo sauce than a nice, chunky blue cheese dressing? They put some on the sandwich, but an old pro like me knows to ask for some extra on the side to distribute as needed.
The Bottom Line: I've eaten at the Rutgers grease trucks back in college, and I can say with confidence that the Stockton Bomb can go toe-to-toe with any of those sandwiches. The flavors just keep popping left and right as you take bite after bite, and this sub is well worth every penny of its reasonable $9.99 price tag. But be forewarned: This is a big sandwich. And it's so good that you are going to want to keep eating it long after your stomach has waived the white flag. A word of advice — avoid the food coma and listen to your stomach. You'll be so excited when you see those left overs later.
The Score: 9.6
Costello's Pizzeria & Wings is located at 615 E. Moss Mill Road in Smithville Village. Go to Costellos