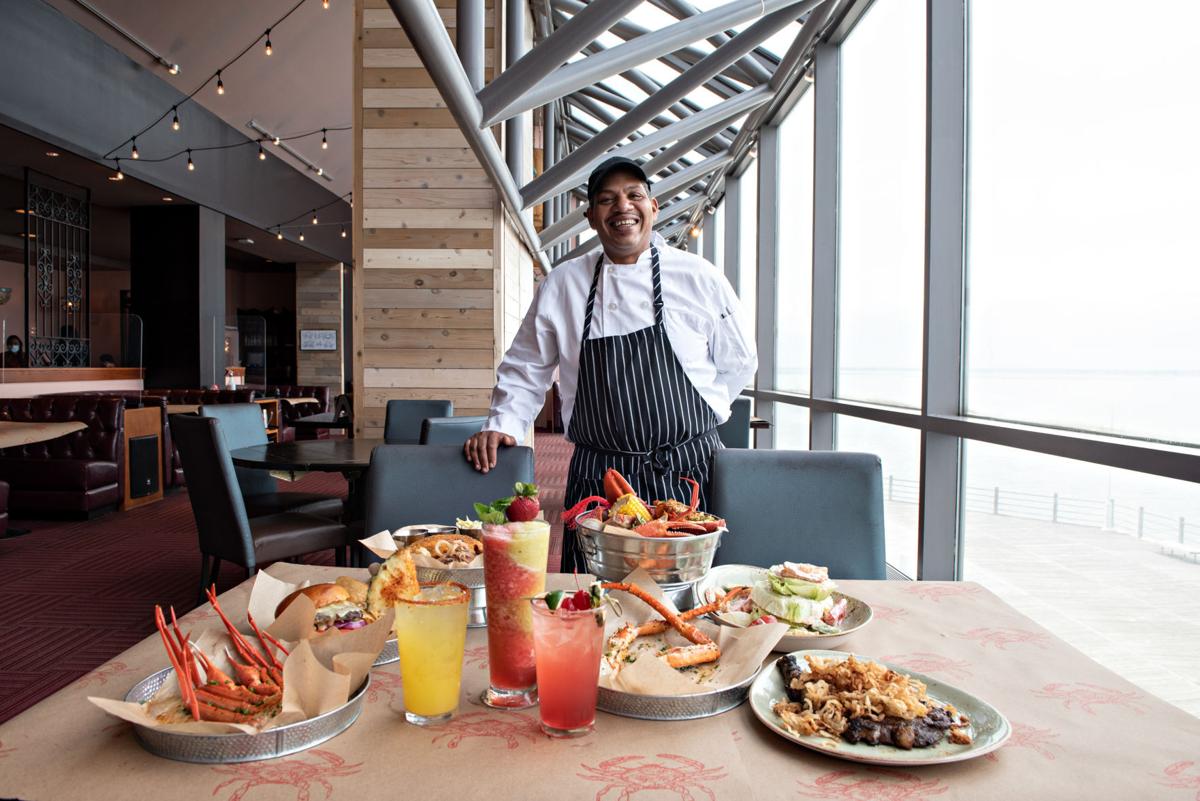 If you are looking for any silver linings – and they are hard to find – regarding the pandemic, one is the fact that casinos took a breath and evaluated their dining options to see if they were meeting the needs of their players and dining customers.
With Harrah's spectacular Waterfront Buffet closed on state orders, the food and beverage team wanted to come up with something that would please those looking for seafood options, particularly those who missed crab legs.
Despite being acclaimed for its superb blend of Mexican and Spanish cuisine, the numbers were simply not good. For some reason, Veracruz did not resonate with players. And since the stunning restaurant overlooked the magnificent bay with giant windows that extended across the width of the space offering superb sunset views, it just made sense that it should be a seafood restaurant.
And that's how Rum Point Crab House was born.
"Crab legs were always a beloved staple at the buffet, and customers wanted them," says Harrah's Director of Food and Beverage Lou Dimino. "We tried playing around with them in other locations but they never really did well because it was like an afterthought or an extra item on a menu they just didn't belong on. So not knowing if or when the buffet would ever come back, (Harrah's Vice President of Operations) Joe Giunta and (Harrah's Senior Vice President and General Manager) Gregg Klein brainstormed with us and decided that we really needed to add a seafood concept, and the Veracruz space was a great spot for it, especially since what we were planning for the Baywalk (see sidebar). So not only did we fill the void people missed, but we are giving diners so much more. The chefs went to work to create a fabulous menu, and the food and beverage department came up with some killer drinks, and I really think we have a hit here. The feedback has been great."
Instead of going super upscale, Rum Point is a great place because it offers something for everyone. If you want to crack crabs and get dirty, order a bucket of Dungeness ($39), snow ($25), local blue ($48) or even king ($48) crab. If you want to be in and out with a quick sandwich, grab a Maine lobster roll ($25), shrimp Po' Boy ($16) or a burger ($16). Or if you want a more refined experience, you will be thrilled with the ribeye steak ($52) with onion straws, or the garlic parmesan-breaded summer flounder ($25) with seasonal veggies and roasted potatoes in a Meyer lemon beurre blanc.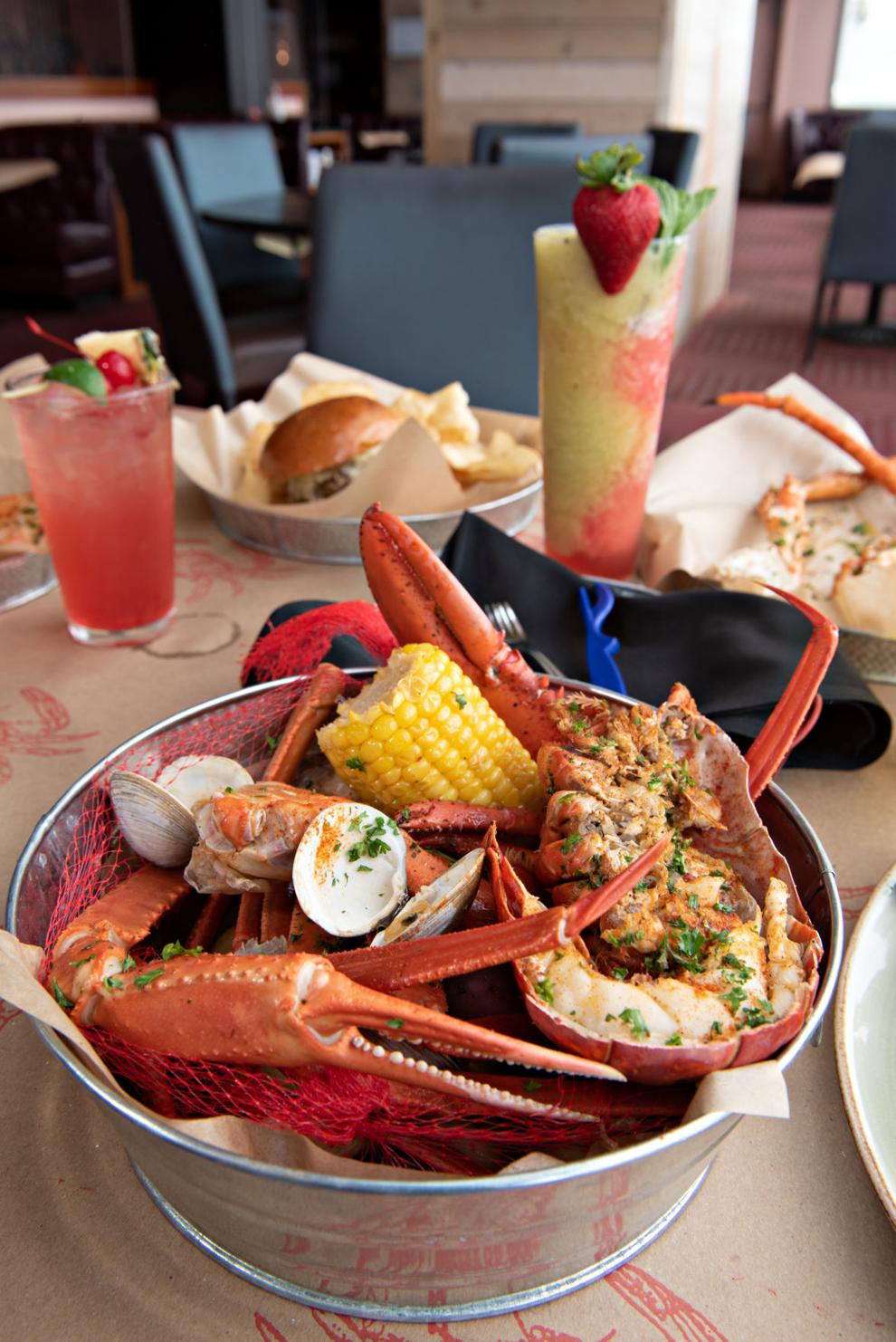 "We wanted to do a hybrid of a casual and upscale restaurant," says Executive Sous Chef Chris Lee. "There are some fancy items and some down-and-dirty items like crabs and buckets. It's a nice mix of both."
Dimino adds: "We want a mix of people in there. One of the reasons we opened Rum Point is because we were missing that middle average check. We have A.C. Burger Co. on the lower side and Gordon Ramsay Steak and Martorano's on the higher end, so we wanted to offer diners a place with a check average around $55 while also giving them the ability to get out for $25 to $35 if they really want to."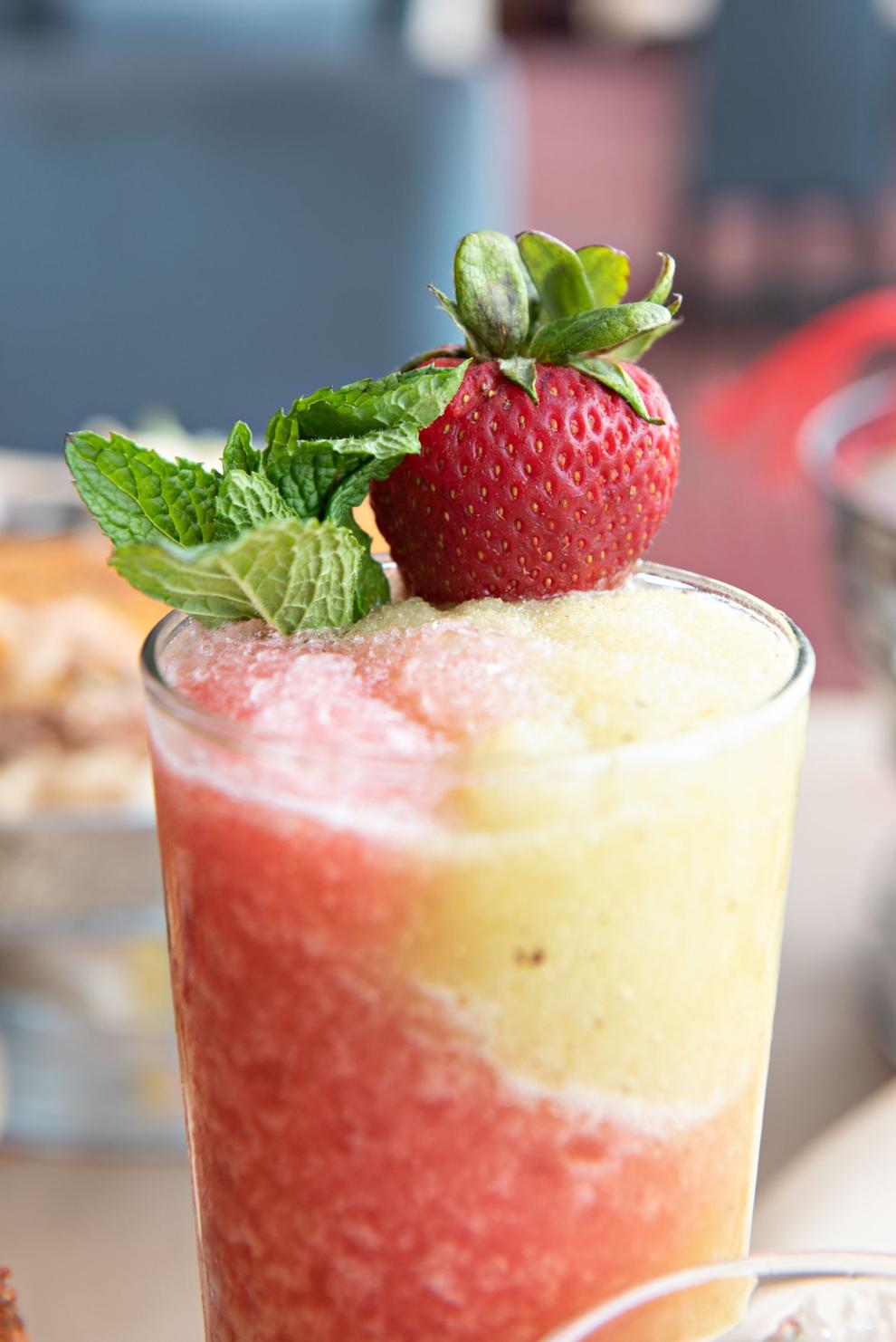 Where to begin
It might be difficult to not skip right to that bucket of crabs, but you will be missing some great apps if you do. The calamari and lobster ($18) raises the bar of the average calamari starter by throwing in some dry-rubbed lobster floured and dredged just like the calamari and then deep fried. Add some peppadew peppers and a red wine gastrique and you have yourself one of the most memorable calamari appetizers in the city. The oysters Roc"Kale"Feller ($18) takes the classic dish and changes it up a bit by substituting Tuscan black kale for the usual spinach. And the Eastern Shore Crab Dip ($15) with fresh tortillas may be the best crab dip in South Jersey. And since the Jersey Shore is no stranger to crab dips, that's saying something.
"The crab dip is a recipe from (former Executive Chef) Michael Balles' mother-in-law, and he brought that in for us to play with and upgrade it a bit," Lee says. "And it's super popular."
Other interesting shareables include a Cape May fish fry ($27) with hand-breaded flounder, shrimp, clams and calamari served with Brussels sprouts cole slaw; an onion ring stack salad ($12) with arugula, blistered tomatoes, blue cheese and house buttermilk ranch (nothing like putting some fried food on top of a salad to make it sell); and country ham ($25) served with the soon-to-be-famous cheddar and Old Bay biscuits with pepper relish and espresso aioli, a traditional Southern dish Dimino says "resonates with people from Maryland, Virginia and the more south you go. Some customers feel right at home with that dish. You take the ham and put it on those biscuits, and it's really good."
"Our (Executive) Pastry Chef George (Fritzsche) went through some tastings for those biscuits, and he just nailed it," Lee adds.
"Those biscuits were supposed to just be an accompaniment on our country ham dish," Dimino notes. "Then when we were doing testing, people were asking for bread. And we were like, 'We don't have bread, but how about these biscuits?' And people just flipped over them to the point that we added them to the menu as a side dish and we run out nearly every night. There is a chance if you come here later at night, you won't get them. They are that popular."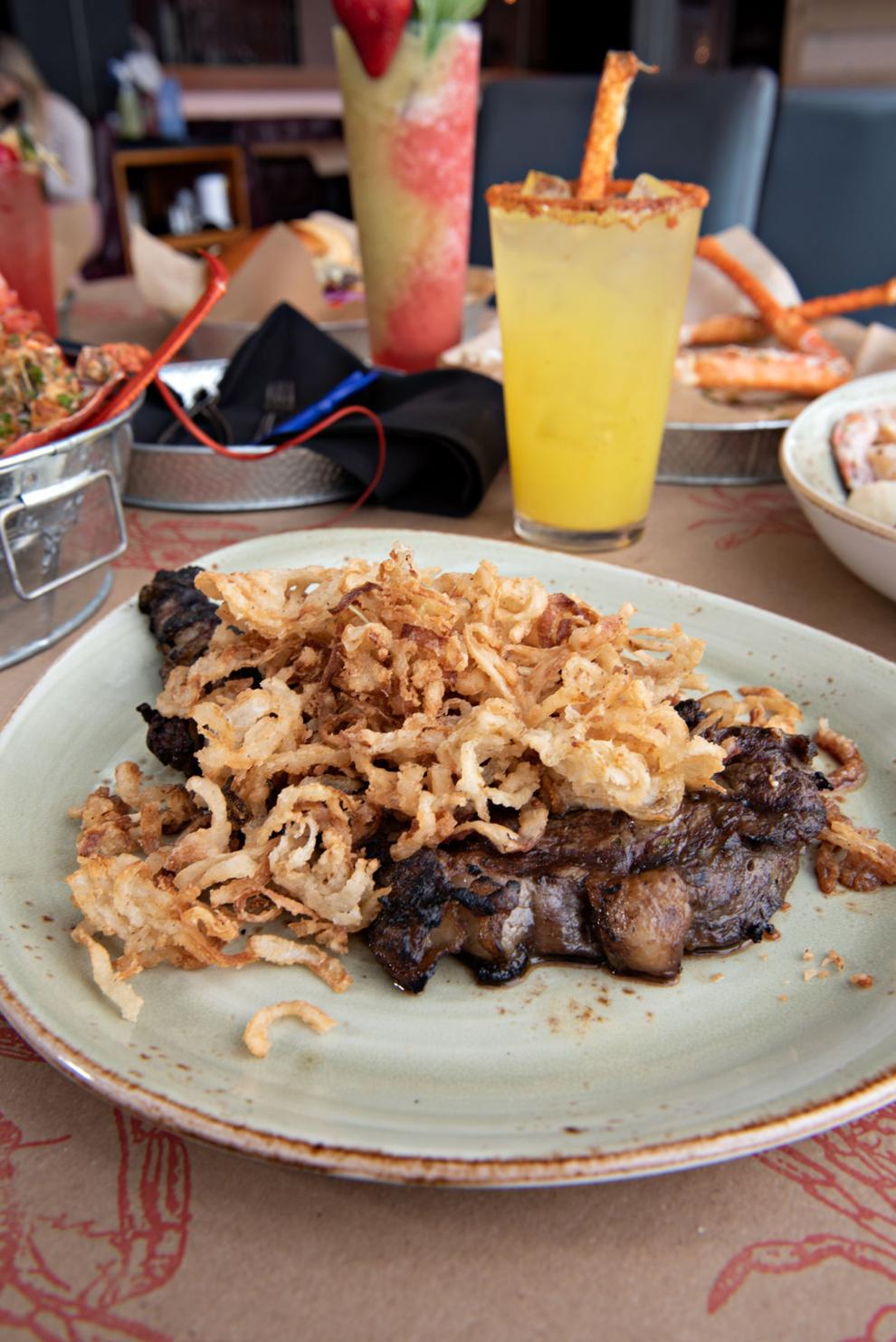 All about the seafood
If you are a raw bar fan, then Rum Point won't disappoint in that department either, offering peel-and-eat Gulf shrimp ($14 half pound, $26 pound), Cape May Salts oysters ($18), Barnegat Bay clams ($13), king crab ($44 half pound) with whole grain mustard, snow crab ($25 half pound) and Maine lobster ($25 half pound), or if you can't decide, order the $80 tower with all of the above plus oyster shooters.
While the buckets of crabs may prove the most popular selections right now – get the Dungeness for the best value, Dimino advises – the boils are a close second.
There are three varieties: The Cape May Point ($52) offers one pound of snow and Dungeness crab, Gulf shrimp, Barnegat Bay clams, mussels, sweet corn and potatoes steamed in Cape May IPA beer; the Atlantic City Inlet ($54) features a half-pound Maine lobster, half pound of snow crab, Barnegat Bay clams, Gulf shrimp, smoked sausage, sweet corn and potatoes finished with Old Bay; and the Barnegat Bay ($48) offers a half pound of snow crab, Barnegat Bay clams, scallops, mussels and smoked sausage in a sparkling white wine sauce.
Something for landlubbers
Not everyone loves seafood. Some might even be allergic to it. So Rum Point does an awesome job pleasing the more carnivorous eater. Aside from the country ham with biscuits appetizer, the Rum Point Burger and ribeye steak ($52) are simply amazing.
The burger features dry-aged beef – something you never find in South Jersey, especially at casinos – with aged Tillamook white cheddar cheese, lettuce, tomato, onion and "crabby sauce" on a toasted brioche roll served with homemade chips.
"Some people have said it's the best burger in the building," Lee says. "So, you obviously want to hear that kind of stuff."
The ribeye is better than most other ribeyes we have had in steakhouses around the city. Pounded and marinated, it's topped with roasted garlic and smoked paprika compound butter to finish it after cooking and then crowned with fresh-fried onion straws for some crunch. Get it with hand-cut fries ($10) or house-made onion rings ($8) with homemade ranch dressing and you'll have yourself a hell of a meal.
"We wanted the steak to cover the whole plate, and it does," Lee says.
If neither of those work for you, then maybe the baby back ribs ($25 half rack, $42 full rack) will do the trick. They are dry-rubbed, house-smoked and slathered with a homemade BBQ sauce and served with those hand-cut fries and Brussels sprouts cole slaw.
Rum Point certainly has all of the bases covered. With a beautiful view, fine service and a menu full of great choices, we had an amazing meal on a recent visit.
"I think it's the home run we were hoping for," Dimino says. "I think we hit it from every angle when it comes to the menu, and the feedback has been off the charts. We are looking forward to a great summer."
The Baywalk
The opening of Rum Point precedes the opening of The Baywalk, which will finally take advantage of Harrah's waterfront location after all these years when it opens later this month. Inspired by the success of outdoor, bayside dining at the resort last summer, The Baywalk at Harrah's Resort will be the ultimate summer destination in Atlantic City with live music and selections from the Rum Point Crab House's food and cocktail menus. With stunning views and refreshing bay breezes, The Baywalk will feature a custom-designed container bar, offering signature cocktails and drinks. The dining menu will feature a wide array of selections that will complement entertainment, games and interactive activities outside in the open air, including live music throughout the week.
Cocktails
Rum Point wouldn't live up to its name if it didn't have some great drinks, and Harrah's Beverage Operations Manager John Dougherty and his team ensure a great cocktail experience. A great wine list offers more than a half dozen choices by the glass and many more in bottles. An impressive beer list features common domestics, as well as a great list of crafts in bottles and cans, including brews by Dogfish Head, New Belgium, Lagunitas, Stone, Chimay and even some local selections from Cape May Brewery, plus seltzers and ciders. But the main attractions are cocktails, particularly rum. There are nearly 20 rums from all over the world available for 2-ounce pours or for cocktails that include the Rum Point Punch with Cruzan aged light and dark rums, pineapple juice, orange juice and lime juice; the Rum Runner with Cruzan aged light and dark rums, banana liqueur, blackberry liqueur, orange and pineapple juices and grenadine; and The Xixi ($14) with Bacardi Superior Rum, Tito's Handmade Vodka, peach schnapps, sour mix and cranberry; and the frozen Rum Point Strawberry-Kiwi Mojito with Bacardi Superior Rum, kiwi puree, strawberry puree, mint and lime. Don't like rum? No problem man! Get a frozen IceBeerg with Patron Silver Tequila and Corona Extra; the pineapple margarita with Casamigos Reposado Tequila, triple sec, muddled pineapple, pineapple juice and a Tajin rim; or the strawberry basil lemonade with Absolut Citron Vodka, strawberry, lemonade, basil and soda.
Dessert
Although you might at first come to Rum Point for the seafood, you will come back for the dessert. Executive Pastry Chef George Fritzsche's creations are brilliant, particularly Little Jake's key lime pie with a graham cracker crust that rivals any key lime pie outside of Florida; and the classic strawberry shortcake made with traditional sugared biscuits – the way it should be made – and fresh whipped cream. There's also New York-style cheesecake with local blueberry compote, vanilla crème brulee, and banana rum cake served warn with cocoa nibs, which we will try the next time.