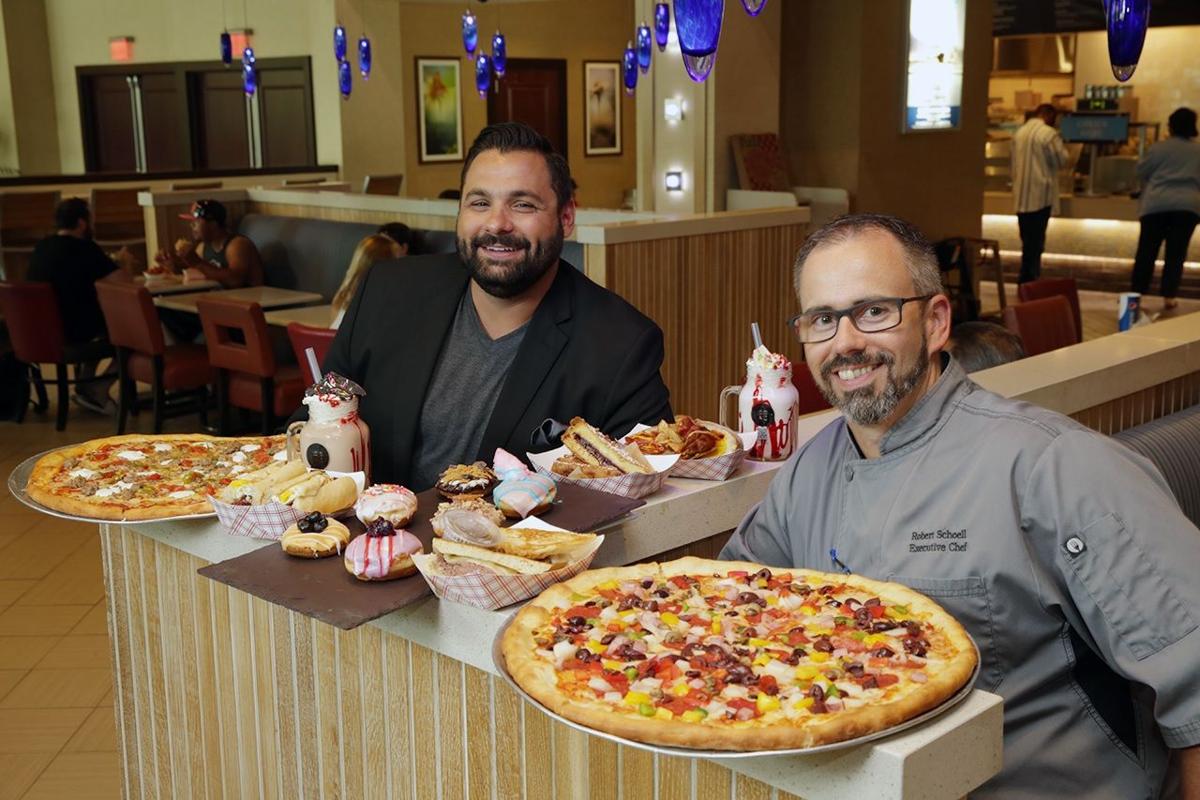 The Taste of the Shore food court at Harrah's Resort just got a lot more fun … and greasy … and fattening … and delicious.
The location across from The Pool that once housed local shore staples such as Walt's Original Primo Pizza, Sack O' Subs and a Ben & Jerry's Ice Cream was recently taken over by Harrah's food and beverage team.
The result? An immobile food truck — or as they would call them on the Rutgers University campus, grease trucks — that offer whimsical, creative and scrumptious takes on American comfort food.
"The Taste of the Shore food court is about bringing great quality at value-oriented pricing," says Harrah's Director of Food and Beverage Lee Sanchez. "Everything is made fresh to order. We wanted to bring a lot of great flavors but do it in a cool and different way."
Deli No. 4 creates over-the-top breakfast, lunch and dinner sandwiches, burgers and sides. Tipsy Cream specializes in awesome donuts, some infused with alcohol. And Pizza Joint … well, that's self explanatory.
The menu you can get the most lost in — and fat on — is Deli No. 4, which shatters any preconceived notions of a deli that you may have.
"We really wanted to embrace the food truck movement, and we have a lot of sandwiches here that embody that," Sanchez says.
Start with breakfast, where "Grease Truck Sandwiches" will force you to take a nap an hour after you wake up: the Jerzy ($7.50) piles Taylor Pork Roll, a fried egg, American cheese and house-made spicy ketchup for an immediate hangover cure, only outdone by the Train Wreck ($8) with pork roll, fried egg, sharp provolone and long hot peppers.
Not good enough? How about Bobby Jr.'s Breakfast Burger ($8) — who the hell is Bobby? — with a quarter pounder, fried egg, bacon and cheddar. The stuffed french toast sandwich ($7) with Nutella and raspberry preserves on Texas toast would probably be considered the healthy alternative here.
"We are taking breakfast to a new level," Sanchez says with a laugh.
Things get even crazier for lunch, dinner and late night. Aside from boring grub such as cheesesteaks, burgers, salads and subs, the signature sandwiches are where it's at: the signature No. 4 combines pastrami, fried egg, Swiss and vinegar on a Sarcone's roll; the Disco Steak ($12.95) is one of the best sandwiches you will ever have with a cheesesteak topped with fries, gravy, cheese and long hots on a Sarcone's roll; and the superbly named AC Press ($12.95) — I might be biased here — offers shaved prime rib and horseradish mayo on grilled sourdough bread with a side of au jus.
Not fatty enough? Don't forget the loaded fries ($8) with bacon, long hots, garlic butter and meat gravy smothered in cheese sauce.
"The signature sandwiches are loaded with flavor," Sanchez says. "There are a lot of different ingredients that maybe not necessarily all went together, but they are great on these sandwiches."
The Pizza Joint is more tame, right? Barely. All of the pizza, stromboli and calzone dough is made in-house, as are the sauces, whether you choose from the plain ($3 slice, $19.95 for an 18-inch thin crust) or the buffalo chicken ($23.95), you can't go wrong.
"The pizza dough is made fresh every day with triple-grind flour from Italy," Executive Chef Robert Schoell says. "We use San Marzano tomatoes and only the best ingredients. My favorite is the sausage, pepper and long hots pizza. But if you want the works, that's a good way to go, too."
Wings ($12.95 per dozen) can be had in five sauces, including Thai curry and sweet chile. But the winner here is the Italian hot dog ($12.95), a deep-fried hot dog with peppers, onions and potatoes on house-made pizza bread with ketchup and mustard.
The best-named section of Taste of the Shore is Tipsy Cream, where sweet wouldn't describe the donut concoctions offered here. Grab an X-rated shake such as the Salty B---h made with Jim Beam or the Caramel Pear made with Absolut Pear, and then grab at least one of A.C.'s "Wildest Donuts."
The yeast donuts are alcohol-infused such as the Presidente with tequila lime filling; the Cotton Candy with Pinnacle Cotton Candy vodka cream, cotton candy icing and real cotton candy; and the Cinnamon Toast Crunch with Rumchata and Fireball cream.
"The best way to describe it is 'edibles under the influence,'" Sanchez says.
But the cake donuts are the way to go here, including the red velvet with cream cheese icing, the Valrhona chocolate donut; and the Fruity Pebbles with cereal milk icing and Fruity Pebbles on top.
"There are some really great local flavors like our blueberry donut," Sanchez says. "We are going to make eating donuts the coolest part of your day."