"It's basically us and the White House Sub Shop. We have outlasted everyone," co-owner Fred Pugh says as he sits in one of the nostalgic black banquettes that have seated thousands of pizza and pasta lovers at the iconic Tony's Baltimore Grill in Atlantic City. "There's just something about us … always was from the very beginning. People just love our food, I think it's that simple."
There's nothing simple about a business that has been around since 1927, beginning on Connecticut and Atlantic avenues by the Tarsitano family and named after one of 14 children — Tony, a middle child who ran the restaurant while his only sister Gracie ran the liquor store.
1. Bar Olon. If The Quarter's summer vibes aren't enough, a quick trip down to Trop's casino…
"I would say that about 75 percent of the menu stayed the same over all of these years," says Pugh, a long-time TBG cook and manager who bought the restaurant in July with partners Velocity Management — which is co-owned by Pugh's son Brian Pugh. "The recipes have stayed the same, and we have no plans to change that."
Tony's Baltimore Grill — "Baltimore" became part of the name because the restaurant was buying its seafood from Baltimore and the Tarsitanos thought it would make their name stand out — moved to its current location at 2800 Atlantic Avenue in front of Tropicana in 1966 as part of the 1964 Urban Renewal project. Since 1927, they have been open consistently, except for the six or eight months between the move.
"I don't want to say what they paid for the place back then, but we moved in April 1, and by September the entire building was paid off," says Pugh, who will celebrate his 50th year at Tony's in April. "And we are talking about the days when we sold 10-cent beer, 40-cent meatball sandwiches and shrimp platters were $1.75."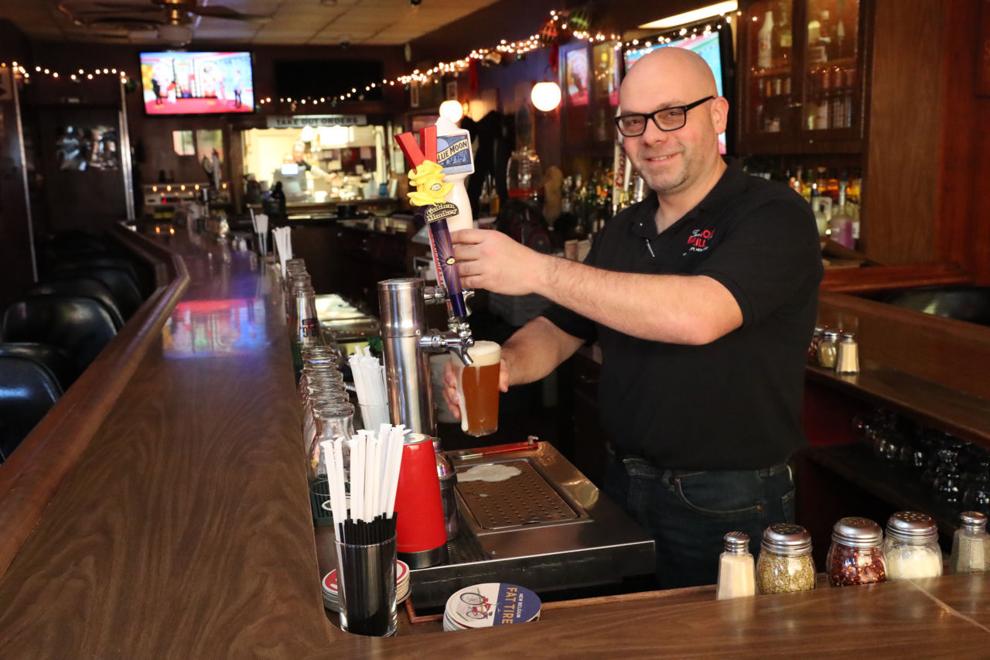 Tony's Baltimore Grill has not changed all that much. The worn linoleum floor screams 1950s, as does the wood paneling that lines the joint and the jukeboxes that are still mounted on the wall at every booth.
And that nostalgia — as well as the amazing food — is what has kept people coming to the 200-seat institution night after night for 90 years.
"It really all does come back to great food at reasonable prices, and we still try to keep the prices moderate and try to appeal to the blue-collar customer," Pugh says.
Nearly 50 years after forming Foghat, drummer Roger Earl is still getting in his licks.
Customers still rave about their pasta and shrimp basket, but the No. 1 attraction at Tony's is their pizza, a recipe that has nearly never been changed. Rando's Bakery has made the dough since 1987 (previously it was made by Formica Bros. Bakery) and the assembly is key: the dough is placed in an oiled metal pan, topped with a sauce recipe that is simply California crushed tomatoes and some garlic powder, sliced — not shredded — whole milk, low-moisture mozzarella cheese and baked in an old-school oven.
"It's a pretty heavy sauce and that's why it's so deep red and not orange in color like so many places," Pugh says. "We use a little more cheese per pie than most places. And our pies are a little smaller than a lot of places. I always tell people, we don't make the biggest or the cheapest pie, but we make the best."
There are a slew of specialty pies ($15.75) including buffalo chicken and margarita, but the most interesting ones include the spaghetti pizza, a mountain of a pizza featuring spaghetti and tomato sauce with choice of meatballs, anchovies or sausage sandwiched together by pizza dough on top and bottom; and the clams casino pizza with white clam sauce, bacon, onion, green pepper and garlic.
Tony's most popular pie — other than plain — is the Special: cheese, mushroom and sausage, the latter of which is made by an Atlantic City butcher from a recipe the Tarsitano family created.
"We put the sausage on the pie raw, that's why it takes 20 minutes for the pie to cook," Pugh says. "I would put our sausage up against anyone else's. It's made fresh locally and delivered up to six days a week."
Others, like me, are partial to the meatballs, available as a sandwich ($5.50) or as a pizza topping. The soft textured, all-beef meatballs feature a great spice mixture and lots of grated parmesan and are hand-rolled up to five times a week.
Those same meatballs are part of Tony's most popular dish: spaghetti and meatballs ($10.75), a heaping plate of pasta with their original tomato sauce braised with pork and beef.
"We also have a marinara option now which is basically the same recipe without the meat for vegetarians," Pugh says. "And our spaghetti with white clam sauce ($11.25) is pretty popular, too."
Other must-get entrees including their large cheese ravioli ($10); sea scallop platter ($17.65); crab cakes ($16.95); and the simple but underrated chicken wings ($8.50) that pack a punch in heat and flavor.
But you can't go to Tony's without trying their fried shrimp platter ($16.95), six hand-butterflied, deveined shrimp that are hand-breaded, fried to perfection and served with fries and choice of veggies, like all platters.
"They used to be our No. 1 seller and are still right up there," Pugh says. "The scallops and shrimp feature the same breadcrumbs and technique. They are never frozen."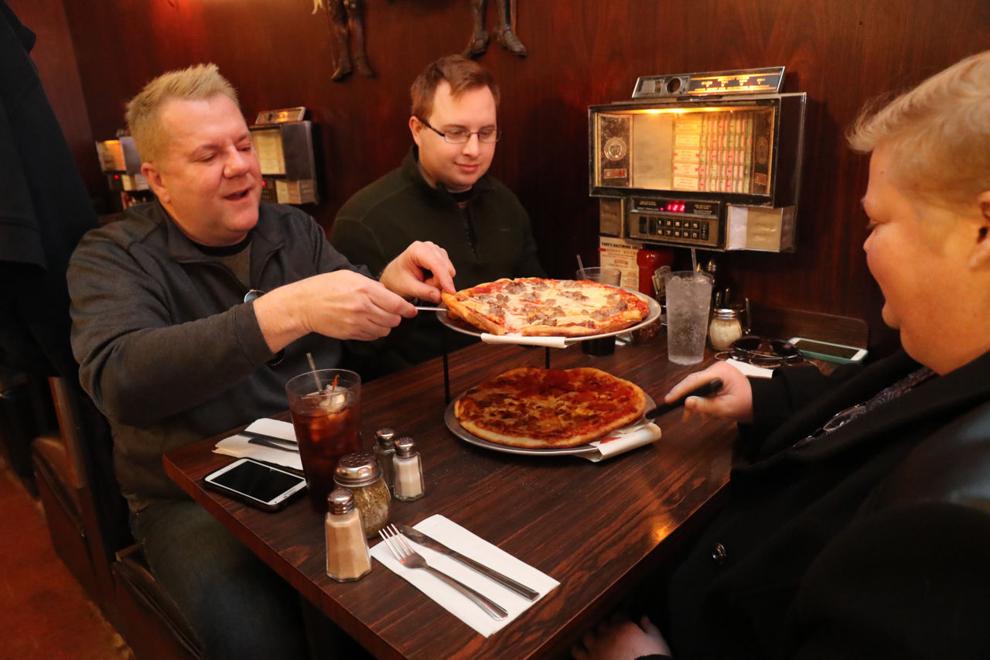 Since purchasing Tony's out of bankruptcy, Pugh and Velocity haven't changed much, but have improved operations while also investing about $250,000 in equipment and back-of-the-house improvements that were much needed. The next stage will include some front-of-the-house renovations while maintaining the historic, nostalgic look of the place.
"We have some sample booths coming, we are going to install a new floor, fix up the bathrooms and look at the ceilings and fans and try to improve there, as well," Pugh says. "But the payphone in the bar that hasn't worked in 10 years isn't going anywhere, and neither are the jukeboxes."
Pugh says not much will change with the menu, either, but some dishes will be added, including his popular house salad ($4.50 per person, minimum two people) that is similar to Tony's famous antipasto ($8), but cut up and served with a new, oil and vinegar-based dressing.
"I knew the business inside and out since I was here so long, but what held this place back was how much the past owners hated each other," Pugh says. "Everything was a war, whether it was to bring in American cheese and turkey or bottled water. Morale was at an all-time low and I was considering retiring. But since we took over, morale changed immediately."
That means staff, including three 30-plus-year waitresses, 44-year cook Dave Bowen and 30-plus-year bartender Nino Fierolla, among others, are still there doing what customers expect.
"We are part of the city, part of its history," Pugh says. "No matter where I go or travel, if I am wearing a Tony's Baltimore Grill shirt, people stop me and tell me they have been here and love the place. I want to keep it going forever. It's an icon that can keep getting better."
The Exchange Location
Velocity Management, which purchased Tony's Baltimore Grill last summer, opened the first expansion location since Tony's was founded 90 years ago. They chose The Exchange food hall and bar in Linwood in hopes of establishing the brand on the mainland while also testing a model they hope to replicate elsewhere and possibly franchise.
Located at 2110 New Road, The Exchange location is like a TBG Express with a variety of pizzas, their famous fried shrimp platter and snacks including buffalo wings, chicken tenders and more.
"It is the beginning of Tony's branching out," says co-owner Fred Pugh. "We really wanted to introduce our product to kids offshore who don't come to A.C. that often, plus our loyal fans who may not be going to A.C. on a given night."
La Leakers light it up on Saturday at The Pool After Dark
Justin Credible and DJ Sourmilk, better known as "La Leakers," performed at The Pool After Dark on Saturday.
Photos: Tom Briglia