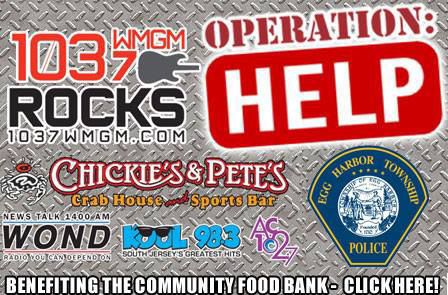 If you're reading this in the comfort of your own home or from your office desk or off your mobile, you're already one of the lucky ones. "Lucky" because you may not have to worry about putting food on the table for Thanksgiving, Christmas or any of holiday.
So this is our time to make sure that others who are less fortunate than you don't have to worry about that either.
Operation Help is an initiative from Longport Media that raises donations of cash, frozen turkeys, frozen hams, nonperishables and canned goods for the Community Food Bank of New Jersey, Southern branch. Scott Cronick, Press of Atlantic City director of entertainment publications, as well as host of WOND Radio's "Off the Press with Scott Cronick," will broadcast "Off The Press" from 4 to 6 p.m. Monday, Nov. 21, live from Chickie's & Pete's in Egg Harbor Township, when he will collect these items just in time for Thanksgiving. Every little bit matters to give those less fortunate a holiday meal they can enjoy.
"I don't ask much when it comes to charitable endeavors throughout the year, but this is the one day I really urge everyone to do whatever they can," Cronick says. "More than 200,000 local people in South Jersey are 'food insecure.' In eight years of doing this, we have raised more than $30,000 in monetary donations on top of more than 30 tons of food. I have personally seen those directly assisted by what we do during Operation Help, and believe me when I tell you that it's amazing and touches my heart. This is one of the few charities where you can see your donation immediately affecting people's lives. It's quite a day."
Here's what you can bring that will make an enormous difference in someone's life: frozen turkeys and hams, nonperishable items — especially canned soups, meals in a can, peanut butter and jelly, canned tuna, canned meats, cereal, pasta, rice and holiday food items like stuffing in a box, canned cranberry and more — or cash.
Chickie's & Pete's is located at 6055 E. Black Horse Pike, EHT. Go to CFBNJ.org.