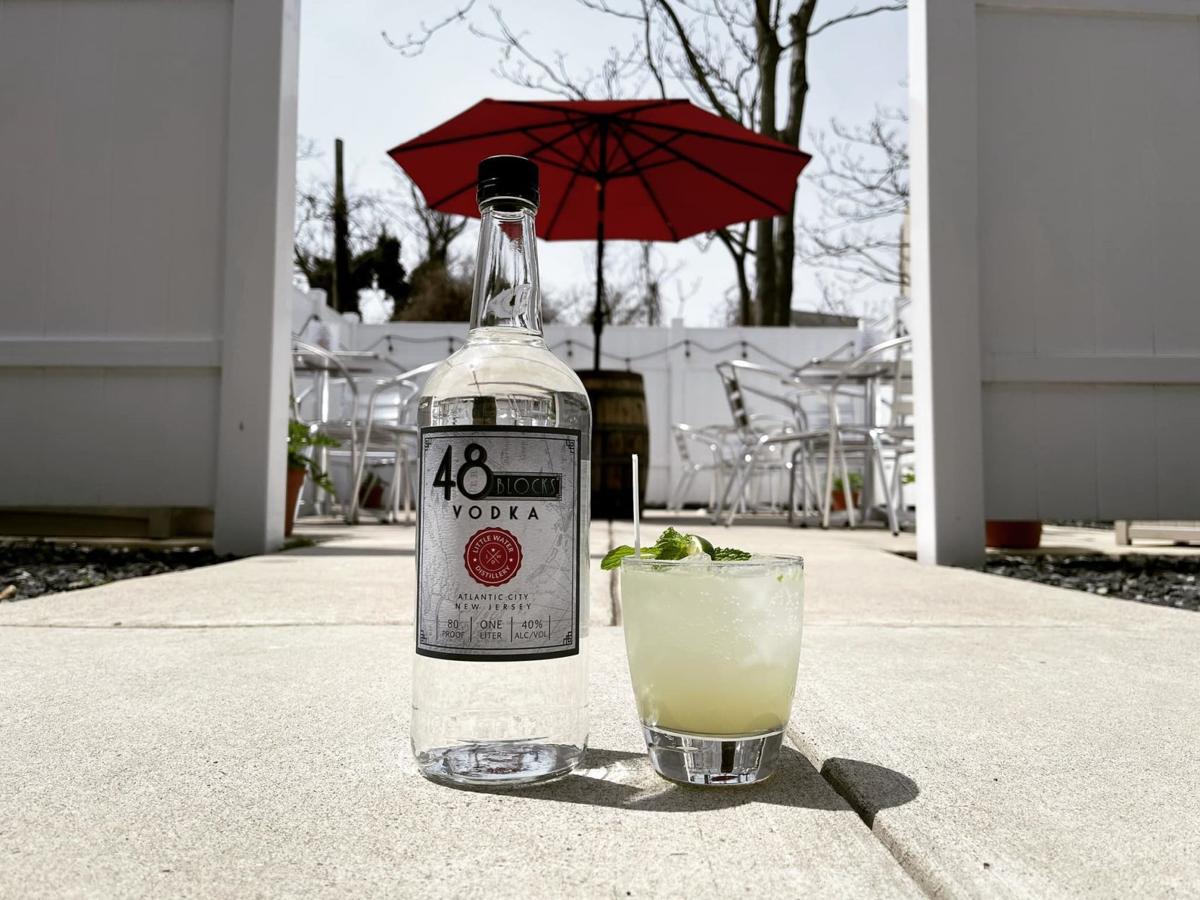 South Jersey – and all of New Jersey for that matter – gets a lot of due respect and attention for its amazing array of craft breweries.
But you don't hear as much about the equally fine distilleries that offer small-batch spirits that are truly impressive.
So, to celebrate National Craft Distillery Day on May 22, we turn our attention to the local distilleries that are churning out artisanal vodka, whiskey, rum, gin and much more. And while you can find many of these brands in liquor stores to enjoy at home or in cocktails at your local watering hole, we can't encourage you enough to visit the distilleries, learn about the process and enjoy a shot or cocktail right in the space it was made.
Little Water Distillery
Perhaps the most well-known local distillery, Little Water in Atlantic City was originally intended to focus on rum, but it has expanded massively from those early visions. Founded by Mark Ganter and his late brother Eric, Little Water produces two amazing rums – Liberty (a silver rum) and Prosperity (a dark rum) – but also creates Whitecap American Whiskey, 48 Blocks Vodka and – my favorite – Rusted Revolver Gin, which offers a very unique botanical fragrance. Open Fridays to Sundays, guests can enjoy guided tours and tastings as well as rotating signature cocktails now made by legendary bartender Mortimer Spreng. Little Water is located at 807 Baltic Ave., Atlantic City. Call 609-344-7867 or go to LittleWaterDistillery.com.
Nauti Spirits
If you ever go to Nauti Spirits in North Cape May, you will be totally blown away by the beauty of its grounds. Located on farmland featuring 2 acres of outdoor seating – bring your own beach chairs and blankets – Nauti Spirits is the perfect spot to go sip some great spirits on a beautiful spring day. Nauti's vodka is made with sweet potatoes and corn grown on their preserved coastal farm; juniper and other botanicals explode on the palate for their gin; the rum is batch-distilled from high-grade American Southern molasses and aged in white oak barrels for 30 to 90 days; their Signal Gin is made with corn grown on property and infused with locally-grown juniper berries, honeydew, coriander, basil, mint and jasmine; and they offer two limited-edition whiskeys, their Kestrel Bourbon made with corn from their fields, and their Plundered Whiskey that rested for around 14 years. Grab a bottle or two to go or a cocktail to enjoy while there, including a great old fashioned and the Krabby Patty with jalapeno-infused vodka, lime, agave and orange-oleo saccharum. They also offer trivia night every Monday, live music every weekend and are open seven days. Nauti Spirits is located at 916 Shunpike Road, North Cape May. Call 302-503-2103 or go to NautiSpirits.com.
Cape May Distillery
What started as a dream between two college friends with a love of distilling culminated with the opening of Cape May Distillery, Cape May County's first craft distillery that has done quite well since its inception. The distillery is very aggressive in its distilling schedule, offering about a dozen variations of its rums, whiskeys and vodkas to make them extremely approachable. All of their spirits use local ingredients with popular selections including their Beach Rum, a white rum with a fresh taste and hint of vanilla; their blueberry, strawberry-banana and toased coconut rums; the Back Bay straight bourbon whiskey; the Prohibition Gin with secret blend of botanicals; Sandcastle vodka and a citrus variation; and their newest offering, a Black I Rye Whiskey aged in white oak barrels. While there, take a tour and enjoy signature cocktails such as their maple old fashioned with their Back Bay straight bourbon whiskey, maple syrup, orange bitters and a cherry; or the Cranberry Mojito with Beach Rum, cranberry juice, mojito mix, club soda, mint and fresh cranberries. Cape May Distillery is located at 371 Route 47, Cape May Court House. Call 609-305-4853 or go to CapeMay-Distillery.com.
Lazy Eye Distillery
Lazy Eye Distillery opened in Wildwood in 2014 focusing on distilling vodka the right way: Carefully selecting grapes; distilling in small batches in pot stills; and never taking shortcuts. With a history of distilling passed on for generations, Lazy Eye has not lost its focus, mostly concentrating on vodka and not expanding much beyond their original vision. The most awarded distillery in New Jersey, Lazy Eye has received more than a dozen medals in international spirits competitions and earned the New Jersey Distillery of the Year awards in 2016 and 2017 at the New York International Spirits Competition. The flagship Lazy Eye Vodka is smooth and clean like small-batch vodkas should be; the Lazy Eye Special is a cocktail created with their gluten-free vodka and bottled because of its popularity; Raki (Tsipouro) pays tribute to the family's Greek heritage and is a great aperitif or digestif, as does its variant finished with anise; and there's even a barrel-aged vodka that started as an experiment and resulted in a truly unique spirit that has intrigued brown spirit lovers. There's also a barrel-aged version of their Raki. At their original location in Wildwood, you can enjoy tours as well as great cocktails such as their Lazy Berry Smash and an espresso martini. They also have a new store in Richland available for curbside pick-up, small outdoor parties and educational tastings. Lazy Eye's main location is 135 E. Spicer Ave., Wildwood, and will reopen Memorial Day weekend. The Richland store on 1328 Harding Highway is open noon to 5 p.m. Saturdays.
Mr. Finger's Alibi Gin
OK, so this one's cheating a little bit because it's not a distillery you can visit, but Mr Finger's Alibi Gin is so good we couldn't possibly leave this off the list. Created by Atlantic City bartenders, specifically owner Brian Ireland, Mr. Finger's focuses on the gin and the gin only. It's distilled seven times for a pristine, refined spirit and carefully crafted in 5-gallon batches with 11 fresh botanicals including Guatemalan cardamom and organic spearmint, weighing in at just 90 proof so it's smooth and can be enjoyed for its flavor. It's hand bottled and labeled and can be found in bars and liquor stores throughout the state. Go to their website for some great seasonal cocktail recipes such as the Secret Admirer with fresh lime, muddled cucumber and black pepper, or ask for it at your favorite watering hole or restaurant at AlibiGin.com