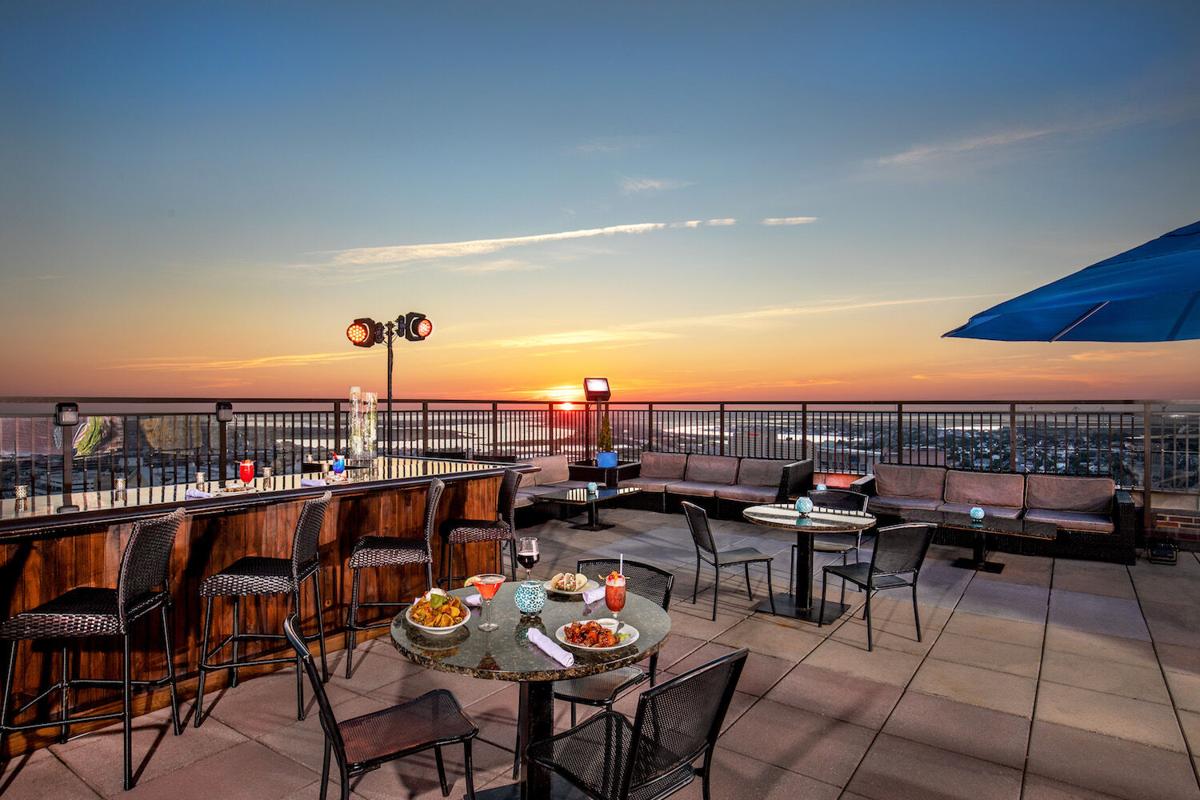 The VUE Rooftop Bar and Lounge located on the 23rd floor of The Claridge Hotel is the only rooftop bar and restaurant in all of Atlantic City that offers a view of the ocean, the city, the boardwalk and beaches.
This popular spot is the perfect place to grab a few cocktails and some bites on a nice night, and with the temps still warm enough for outdoor fun, we suggest you head over soon.
Here are five things to know about The VUE.
1. The VUE offers a daily happy hour
Everyone loves a happy hour, and what better way to spend one then on a rooftop bar overlooking the beautiful ocean and our city. Every day from noon until 6 p.m. you can head to the roof for some classic drinks marked down in price. Enjoy 5$ glasses of wine, $2 Miller drafts, $4 craft beer drafts, $8 banana and strawberry daiquiris and sangrias and $9 tequila drinks.
There is also a later happy hour 4 to 7 p.m. Sundays through Fridays. This double combo allows for both early birds and night owls to enjoy some drinks and fun at a reduced price.
2. Entertainment is offered every weekend
The VUE starts the weekend off strong with a fun karaoke night on Thursdays. On Friday and Saturday nights, there are different DJs spinning from 9 p.m. until 1 a.m.
Saturday afternoons feature Darin MacDonald at the piano, from 2 to 5 p.m. MacDonald sings favorite hit songs from Elton John, Billy Joel and more.
3. Free parking!
The VUE offers free parking to all customers who come in and spend $75 on food and beverages. A few drinks, a few bites and next thing you know, that parking fee disappears.
Parking in any of Atlantic City's garages can get pricey, especially on weekends, so it's nice to have a way around it. And that's one more reason to choose to spend your evening up on the roof.
4. Hang out inside or out
Sure, the outside patio is the main attraction at VUE, but should mother nature choose not to cooperate, the indoor space keeps the party in full swing with a full service bar and plenty of seating.
5. Award-winning pub eats
The VUE prides themselves on their award-winning chicken wings, and with a list of sauce options including honey sriracha, buffalo or honey barbeque, you'll be sure to find a variety to your liking.
The menu also includes tasty pub-style apps such as nachos, artichoke dip, a cheese plate, jumbo pretzel and u-peel shrimp.
The VUE is located in the Claridge hotel on 123 S. Indiana Ave, Atlantic City. Go to Claridge.com.