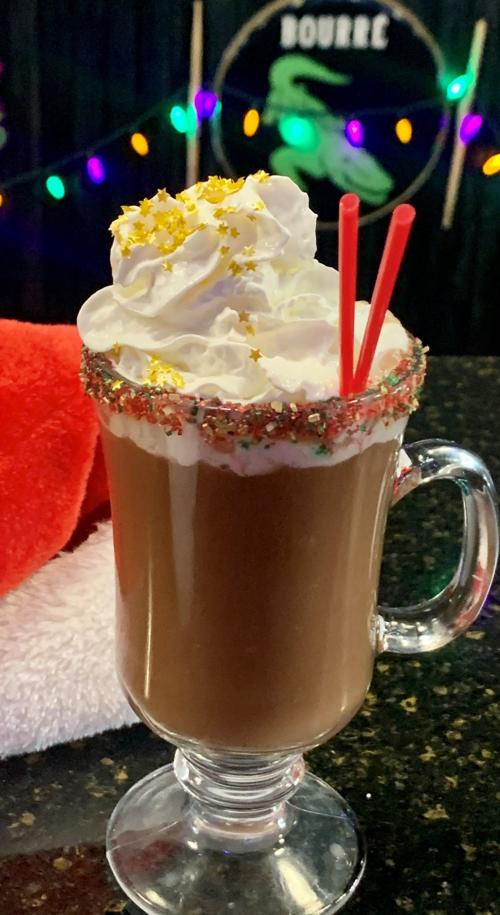 It's getting colder by the day. You need a drink to warm you up quick, but you also feel like something with a bit more punch, right? Well look no further, we've found five great spots to sip a warm cocktail.
1 Bourre: Atlantic City's favorite New Orleans-themed bar and restaurant. Bourre offers guests a fine way to warm up this winter with their Colada Hot Chocolate. An uncommon cross between a wintry favorite and a summertime classic, this cocktail blends Bacardi coconut rum and a pina colada puree with good old-fashioned hot chocolate. Served in a glass mug topped with fresh whipped cream, the end result will keep you cozy while you dream of a tropical paradise. Bourre is located at 201 S. New York Ave in Atlantic City.
Go to BourreAtlanticCity.com.
2 Willow Creek Winery: Down in Cape May, Willow Creek Winery has put together a unique cocktail utilizing – you guessed it – wine! The Willow Creek Winery Apple Cocker starts with Epiphany Spiced Fig Brandy then adds Wilde Cock Cranberry Cabernet, Wilde Cock Apple and hot apple cider before garnishing with a cinnamon stick. A perfectly cozy late-fall treat. Willow Creek Winery is located at 168 Stevens St. in West Cape May. Go to WillowCreekWineryCapeMay.com.
3 Rhythm & Spirits: One of the top spots for craft cocktails, Rhythm & Spirits has put together a twisted-up, cider-fied version of an old fashioned. Their House-made Old Fashioned Apple Cider starts with cooking apples, demerara sugar, water and lemon rind in a slow cooker for an hour with cinnamon star anise and nutmeg. The whole thing gets reduced and blended with Knob Creek Barrel Select Whiskey and hot cider, while a fresh apple slice and a cinnamon stick serve as co-garnishes. Try one in their new outdoor Winter Wonderland! Rhythm & Spirits is located at 129 S. Tennessee Ave. in Atlantic City. Go to RhythmAndSpirits.com.
4 Josie Kelly's Public House: This much-loved Irish pub in Somers Point will keep you toasty warm all season long with one of the most revered warm cocktails ever created – the Irish Coffee. Tullamore Dew Irish Whiskey is paired with black coffee, raw sugar and whipped cream to create a toasty treat that is sure to keep your Irish eyes smiling. Josie Kelly's Public House is located at 908 Shore Road in Somers Point. Go to JosieKellys.com.
5 The Pier House: The Pier House in Cape May is a gorgeous restaurant attached to the equally gorgeous La Mer Beachfront Resort. This season, they have whipped up a cocktail to keep you pleasantly snug despite the dropping temps. Their Rum Ginger Cider starts with their house-infused spiced rum and adds Domaine de Canton and hot apple cider before crowning the whole thing with a dollop of whipped cream sprinkled with ground cinnamon. The Pier House is located at 1317 Beach Ave. in Cape May. Go to CapeMayLaMer.com.