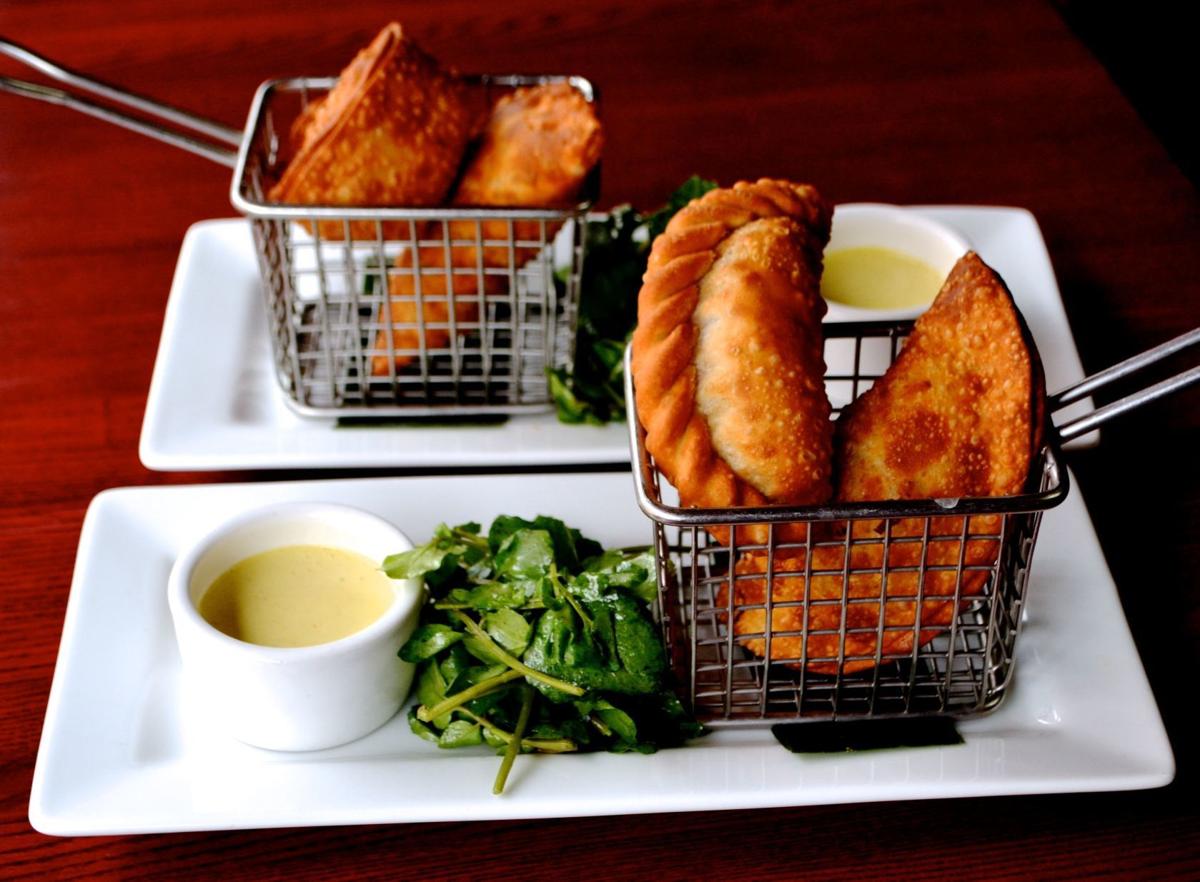 With Easter behind us and no other major holidays coming up for the rest of the month, you may be searching for a reason to celebrate. Fear not: National Empanada Day is Thursday, April 8, and in honor of that wonderful and majestic holiday we have put together a list of spots to grab an empanada or two. And just to make things a bit more fun, we made sure each place serves some great drinks to pair them with.
1. Cuba Libre
Inside The Quarter at Tropicana Atlantic City, Cuba Libre is tough to miss with its classic vintage convertible parked outside and upbeat, heavily themed Cuban vibe. Easily one of the most crave-worthy items on the menu, Mama Emilia's Empanadas come in two varieties: Beef Picadillo with ground beef, potatoes, Manzanilla olives and raisins; or Chicken De la Casa, which are stuffed with hand-chopped chicken, corn and Jack cheese. Both are truly awesome and pair perfectly with any of the incredible cocktails on the menu at this rum bar. We suggest you opt for one of the mojitos, which are offered in a variety of fruit flavors, including the particularly tasty pomegranate version with Brinley Gold Shipwreck Spiced Rum, pomegranate juice, fresh-pressed sugar, muddled mint, lime and a splash of soda. Tropicana is located at 2801 Pacific Ave. in Atlantic City. Go to CubaLibreRestaurant.com.
2. Motts Creek Inn
Off the beaten path — and we mean WAAAYYY off the beaten path — deep in the pine barrens of Galloway, Motts Creek Inn sits like a mirage in the desert for weary travelers. Mott's Creek just reopened their doors April 1, and with the warmer weather upon us, it seems like a no brainer to stop and give them a try. With two spacious outdoor decks and cozy indoor bar area overlooking the marshland, this is a really fun spot to grab a bite and a few drinks. And, as luck would have it, their menu features empanadas! Each order comes with two fried pockets of goodness, which are stuffed with chimichurri chicken and an avocado crema sauce. Pair them with their signature Creek Smash cocktail, a blend of Bulleit Bourbon, Chambord, ginger ale and lemon that is sure to please. Motts Creek Inn is located at 200 E. Motts Creek Road in Galloway. Go to MottsCreek Bar.com.
3. Tacos el Tio
A large, cavernous Mexican restaurant with walls adorned with funky, almost graffiti-style artwork, Tacos el Tio is easily one of the best spots in the area for a fresh margarita. Options are plentiful, but we suggest you skip the on-tap versions and go with the El Tio, which mixes fresh-pressed lemon and lime juices with agave nectar, Grand Marnier and Casamigos Reposado tequila. Order up a batch of Abuela's Empanadas, with chipotle-tomato pulled chicken and caramelized onions topped with lettuce, crema and queso fresco. Insider tip: ask for extra queso fresco and live a little. Tacos el Tio is located at 6400 E. Black Horse Pike in Egg Harbor Township. Go to TacosElTio.com.
4. Casa Taco and Tequila Bar
When it comes to finding empanadas in a casino atmosphere, Tropicana has really cornered the market. In addition to the aforementioned Cuba Libre, Casa Taco and Tequila Bar offers guests a chance at three different empanada options, with the standard beef and chicken varieties as well as one filled with shrimp and cheese, served with lettuce and topped with queso fresco and a chipotle aioli. You get three of them in an order and they make for a superb appetizer to go with one of their tequila flights, which range from the basics to the super premium and come with three half shots of tequila for your sampling pleasure. Casa Taco and Tequila Bar is located at 2801 Pacific Ave. in Atlantic City. Go to CasaTacoAC.com.
5. El Coyote
Ok, so technically they don't have a liquor license, but El Coyote in Egg Harbor Township is a BYOB, and they offer some of the tastiest empanadas around, so they absolutely deserve a spot on this list. Choose from steak and cilantro, beef and cheese, honey garlic pork or buffalo chicken varieties, or order all four and turn your table into a full-on empanada fiesta! You really can't go wrong with any of them and each go down smooth with a Mexican beer like Dos Equis. Or if soda is more your speed, they offer a full range of Jarrito's Mexican sodas in fun flavors like tamarind, guava and pineapple. El Coyote is located at 3001 Ocean Heights Ave. in Egg Harbor Township. Go to ElCoyoteEHT.com