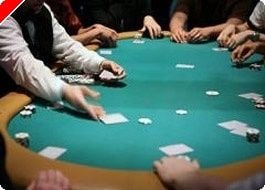 This month Shore Medical Center will hold a Poker Tournament at Tropicana Casino and Resort.
Titled "The Off The Press With Scott Cronick Poker Tournament," the event will take place 7 p.m. Friday, Feb. 26 in the Poker Room at Tropicana and is part of a year-long celebration Shore Medical Center is having in honor of its diamond anniversary.
Scott Cronick who hosts the popular radio show "Off The Press with Scott Cronick" on WOND 1400AM will be on hand to lend his hosting services to the event. Cronick also serves as Director of Entertainment Publications for both At The Shore and Atlantic City Weekly.
Cronick's sharp wit and jovial tone are sure to add some spunk to the night, but he is quick to point out the importance of the bigger picture.
"I live in Somers Point, and Shore Medical Center is such a vital part of the mainland community — and my town — that it was a no-brainer to host this tournament," Cronick says,
Of course he can't help but feel a bit flattered by the tournament's title, adding, "I love the game, so if you're not only going to give me an excuse to play poker for the night, but also name the tournament after my show, I'm in!
The tournament is open to the public. There is a $100 buy-in fee, and a portion of the proceeds will go directly to Shore Medical Center. Just to sweeten the deal, free admission to Tropicana's Boogie Nights is offered to all players.
For tickets and more info, email Brian Cahill at Shore Medical Center's marketing department at Bcahill@shoremedicalcenter.org.
The Off The Press with Scott Cronick Poker Tournament
When: 7 p.m. Friday, Feb. 26.
Where: The Poker Room, Tropicana Casino and Resort, 2831 Boardwalk, Atlantic City
How Much: $100 Buy-In
More info: Email Brian Cahill at BCahill@shoremedicalcenter.org