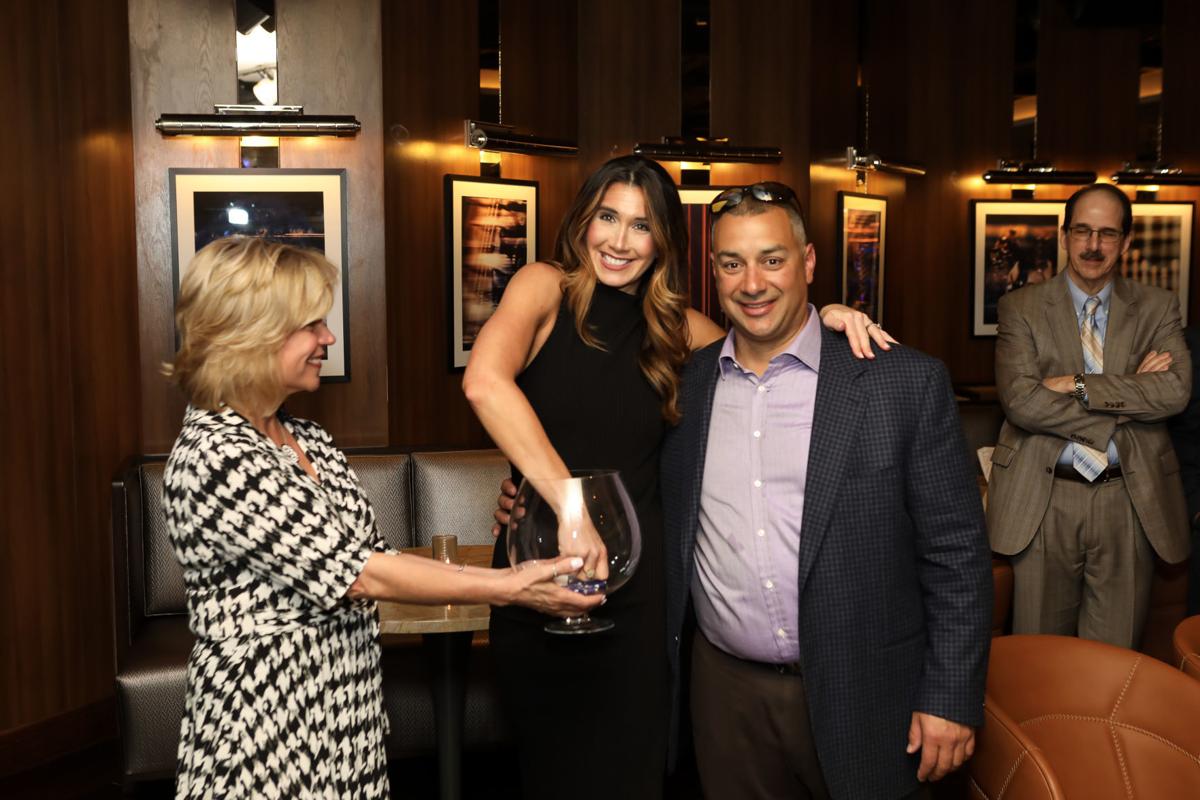 The sky has opened and the stars are shooting even higher this year, so get ready, as Dancing Under the Atlantic City Stars is back for Round 2 at Hard Rock Hotel & Casino Atlantic City at 7 p.m. Saturday, Nov. 2.
"Last year this event raised over $300,000 which equates to over 900,000 meals. But equally as important, it raised community awareness of food insecurity in Atlantic, Cape May and Cumberland counties. These counties are the highest in (our) state for childhood food insecurity," says Renate Taylor, development officer at The Community FoodBank of New Jersey — Southern Branch.
Dancing Under the Atlantic City Stars pairs "stars" from the community with local dance pros. They will shimmy, shake and sashay away so that everyone in the community receives the nutritious meals they need. While the teams have been busy raising awareness and practicing their dance routine, this campaign culminates with a stylishly produced, live show at The Hard Rock.
"We couldn't be happier to host the sold-out Dancing Under the Atlantic City Stars event for the second year in a row," says Joe Lupo, property president of Hard Rock Hotel & Casino Atlantic City. "The Community FoodBank of New Jersey is an extremely deserving organization and we are pleased with our partnership and what they are doing for the community." 
"(This year) brings all-new dancing 'stars' with all-new supporters who have joined the fight against hunger and are educating others. Our goal this year is to raise $500,000 and to provide 1.5 million meals," Taylor says. The "stars" and dance pros have volunteered months of their time to choreograph, learn and prepare a dance number for the live performance under the spotlights in front of a packed audience at Hard Rock on Nov. 2.
Professional dancer Janet Chapman is back for the second time in Dancing Under the Atlantic City Stars. "Last year was like a dress rehearsal, so this year I know what to expect. I had a plan going in and I'm a little less panicked this year," Chapman says. As a former professional dancer, Chapman has toured the world and even danced in the famed Las Vegas show "Jubilee," the longest-running show on the Vegas Strip. Chapman now owns The Fitness Connection, a Pilates studio, in Linwood.
Chapman is partnered with "star" Matthew B. Levinson, corporate director of construction and real estate at AtlantiCare.
"Going in, I knew that this was way out of my comfort zone, I don't even dance at weddings. But it's for such a great cause, I couldn't say no. My only request to Janet (Chapman) was no sequins," Levinson laughs.
While Levinson admits that he was surprised by how difficult and how much practice learning a choreographed dance routine has been, this former "Mr. Mainland" knows how to put on a performance. "The first and last time I was on stage was in 1998 for Mr. Mainland, which I won. But with this performance — oh, it's going to be something. What exactly that is, I have no idea, but it'll be something," Levinson jokes.
The dances are kept secret until showtime, but Chapman, who danced a sultry tango in last year's fundraiser, teased, "This year we are dancing a completely different style from last year, it couldn't be any more different." 
While doing all of this, the stars have also been busy spreading awareness and raising money for the FoodBank. The main award of the night, "The Mirror Ball" trophy, will go to the star who raises the most money for the FoodBank. 
"Every dollar donated provides three nutritious meals. The way the Community FoodBank of South Jersey works is that we are basically the substratum for food distribution in this area. We supply food to a network of charities, schools and other organizations such as rescue missions, JFS, Boys and Girls Clubs, community colleges and more, which equates to the FoodBank distributing close to 1 million pounds of food each month. As part of this, the FoodBank's focus is not just on feeding people, but feeding people well," Taylor explains.
Realtor Paula Hartman, another of the "star" dancers, says, "I'm having a ball! Having dance in my life has been so wonderful, I'm loving this experience. But the best part is being able to raise money for a cause that's so close to my heart. No one should go hungry," Hartman says.
As owner of The Hartman Home Team with Berkshire Hathaway Home Services, Hartman owns two real estate offices in Margate and one in Delray Beach, Florida. Though she is ranked the Top 8 agent for Berkshire Hathaway in the entire country, just over 20 years ago, things were very different.
"Suddenly, I was a single mother with three kids, no family and we had just lost almost everything. I was at the point that I had to choose between food and lights, so we ate in the dark. If I had known about the FoodBank it would've been a godsend," she says. "Just being part of this, I feel like I've already won the biggest trophy there is."
Last year's Mirror Ball trophy winner, Cookie Till, co-owner of Steve & Cookies, will be back to present the trophy to this year's winner. "You don't do something like this and walk away unchanged. I was so honored to win, but the most rewarding aspect of this has been the awareness this event brought to the depth and importance of what the FoodBank does. The amount of people that began to engage with the FoodBank after this event has been phenomenal," Till says.
The live show at Hard Rock will feature dance performances by the 12 "star"/pro teams across a variety of dance genres. They will be judged by celebrity judges: 6ABC anchor Rick Williams, Miss'd America 2020 Sapphira Cristal and Fred Kaviani of Arthur Murray Dance Studio.
The evening will be co-hosted by entertainer, television personality, singer and former Miss America Suzette Charles, who will join Scott Cronick, director of entertainment publications at The Press of Atlantic City and radio talk show host at Newstalk 1400-AM WOND. Backstage commentary will be provided by Pamela Dollak, editor of At the Shore, Atlantic City Weekly and Flavor magazines.