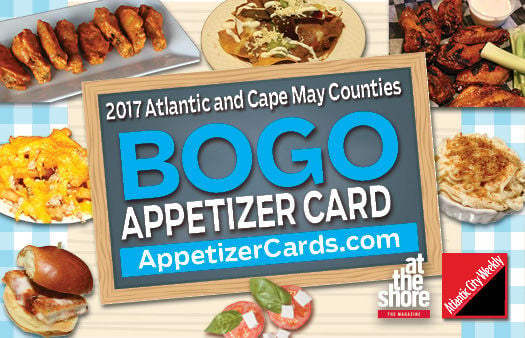 It's time once again for the best part of the meal to take center stage. That's right, the A.C. Weekly BOGO Appetizer Card is returning, and this year it's better than ever! How, you ask? Well, last year we had two separate cards — one for restaurants in Atlantic County and one for those in Cape May County. This year, like a pair of mozzarella sticks that sat too close together in the fryer, the two cards have fused into one triumphant, unstoppable force!
And the best part — the price remains the same!
So many area restaurants claim to be "legendary," but it takes more than just lasting a long…
For just $25 you can visit over 60 restaurants in South Jersey and get buy one get one free appetizers of equal or lesser value. No more arguing with your spouse over who gets to pick the app; no more struggling with complicated road maps trying to figure out which county you are in. It's one-stop shopping at its best.
And as always, you can use the card over and over from April 1 to Dec. 30. Cards go on sale Thursday, Feb. 16, and will be shipped at the end of March with delivery for April 1. The cards will also be available for purchase at the Press and at some participating restaurants April 1. Go to AppetizerCards.com to get yours today!
The list is growing — we expect nearly 100 restaurants to join in on the fun. Here are some of the participating restaurants so far:
Absecon
Atlantic City
The Iron Room
Kelsey's
The Palm
Pic-A-Lilli Pub
Ruby's Dinette
Ruth's Chris
Tun Tavern
Avalon
Concord Café
La Vecchia Fontana
Brigantine
Goochie Brothers
Laguna Grill & Rum Bar
Cape May
Harry's Ocean Bar & Grill
Egg Harbor Township
McCullough's Pub and Restaurant
Rama Thai
Sublime Seafood
Linwood
Margate
Northfield
North Wildwood
The Establishment at 100
North End American Grill
Ocean City
Cousin's Restaurant
Jon & Patty's
OC Surf Café
Tony P's House of Pie
Rio Grande
Sea Isle
La Fontana Coast
Kix Lincoln Grill
Somers Point
Gregory's Restaurant & Bar
Manco & Manco Pizza
Tavern on the Bay Steakhouse
La Fontana Del Mare
1. It has nothing to do with football, Teenage Mutant Ninja Turtles or anyplace in England. …
Villas
Wildwood
Cattle 'n Clover
Pacifico Modern Italian
Mia Mia
Wildwood Crest
Marie Nicole's
Fitzpatrick's Crest Tavern
Restaurants looking to participate can contact Scott Cronick at scronick@pressofac.com or 609-272-7017.