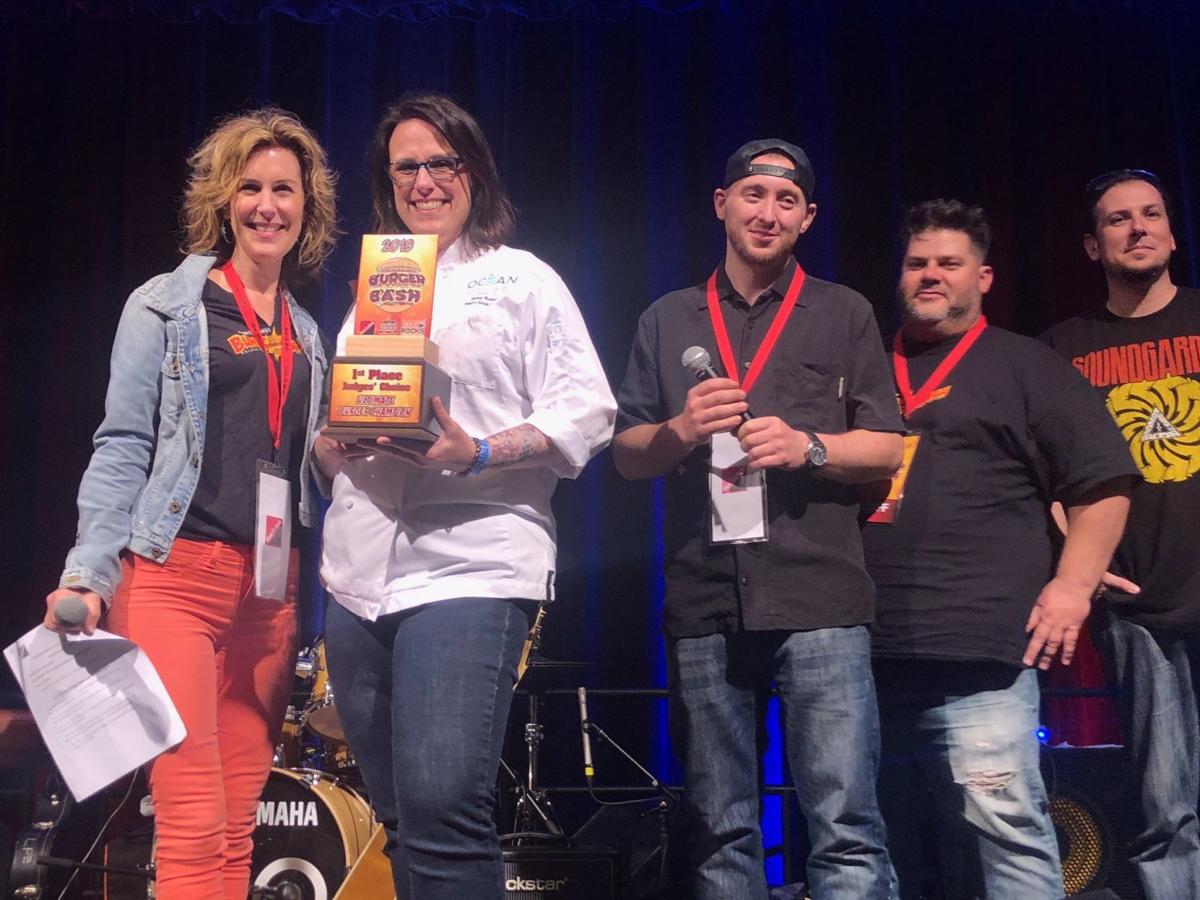 Golden Nugget Casino, Hotel & Marina was the place to be on Saturday as A.C. Weekly's Burger Bash 4 filled the Grand Ballroom with hundreds of hungry carnivores ready to eat their way through an afternoon of good times. Eighteen restaurants in total participated, serving up everything from Waygu beef to camel meat (yes, camel meat).
Attendees were able to vote for their favorite burger in the Eater's Choice category, while a team of three official judges also made their selections for the Judge's Choice. In addition to that, the Fat Boy Munch Club (Press of Atlantic City Director of Entertainment Publications Scott Cronick and A.C. Weekly Associate Editor Ryan Loughlin) handed out four of their own awards in a variety of amusing categories. Live classic rock from LeCompt and a full bar offering drink specials made sure the vibe in the room was fully rockin'.
The biggest shock of the event came when it was announced that newcomer Topgolf Swing Suite of Ocean Casino Resort took 1st place from the judges. Their Topgolf Burger made use of a beef/sausage blend, provolone cheese, tomato jam and a garlic knot bun. "I would marry this burger," said Burger Bash 4 Judge Jonathan Deutsch.
Below is the official list of all the winners at Burger Bash 4:
Fat Boy Munch Club Awards
Heart Attack Burger: Hard Rock Cafe (The Guinness Burger)
Better With Bacon: Michael Patrick's Brasserie (The Michael Patrick Burger)
Think Outside The Bun: Chelsea Five Gastropub (The Turkey Burger)
Fancy Pants Burger: Villain & Saint (The Southern Waygu Patty Melt)
Eaters' Choice
3rd Place Eaters' Choice: Vagabond Kitchen & Tap House (The Little Mac Burger)
2nd Place Eaters' Choice: Gordon Ramsay Steak (The Ramsay Burger Slider)
1st Place Eaters' Choice: Margate Dairy Bar & Burger (The MDB Burger)
Judges' Choice
3rd Place Judges' Choice: Tennessee Avenue Beer Hall (The Badass Black and Blue Burger)
2nd place Judges' Choice: Vic & Anthony's Steakhouse (The Vic Burger)
1st Place Judges' Choice:
Ultimate Burger Champion: Topgolf Swing Suite (The Topgolf Burger)