We try to stay humble here at A.C. Weekly, we really do. But with an event like Burger Bash, it's hard not to be just a wee bit proud of what we have built. In our humble opinion, we're on a roll (pun absolutely intended).
For the few of you that may be unfamiliar, back in 2016, before unicorn frappuccinos and fidget spinners, before the world's biggest threat was to "cash me outside," we came up with the idea of rounding up all the best burgers in South Jersey, putting them in one location and having them go head-to-head to decide once and for all which was the greatest of them all. The restaurants were carefully selected over a period of months and the lineup was chosen. The event was a huge success and the first Burger Bash winner was crowned. Naturally the following year the public demanded that Burger Bash return. And so it did, and again was a smashing sold-out success. This year we are set to bring you Burger Bash 3, and it looks to be the tastiest, most amazing version yet.
Beginning at 1 p.m. (noon for VIP passholders) Saturday, May 19, we set up shop at The Grand Ballroom at Golden Nugget, where the warm breezes and waterfront views provide the perfect backdrop for a party such as this. The restaurants have been selected and are prepared to bring you what is undoubtedly the most creative, mouth-watering list of burgers we have ever seen. As always, all attendees will get to vote on their favorite burger in the people's choice category, but as a new twist this year, a team of official judges has been brought in to decide which burger takes home the top honors.
Continuing last year's tradition, A.C. Weekly's Fat Boy Munch Club (Director of Entertainment Publications Scott Cronick and A.C. Weekly Associate Editor Ryan Loughlin) will have their own series of awards to be presented in a variety of categories.
The event is all ages, but fear not — the bar will be open and the drinks will be flowing, so grab your hungriest pals and head to ACWeekly.com/BurgerBash to get your tickets before they sell out!
Looking for more details on Burger Bash 3? Here are some things to expect from A.C.'s meatiest event.
1. The competition is fierce. While it may seem like a friendly group of restaurateurs serving up burgers on a warm spring day, Burger Bash 3 is a day of serious competition. Each restaurant will bring the best burger in their arsenal, with the plan to take home the trophy. Everything from bacon-topped burgers to a turkey burger that will make you think it's Thanksgiving will be on hand and only the tastiest will reign supreme.
2. You better come hungry. Although the burgers at Burger Bash 3 will all be slider-sized, very few people have the ability to eat 18 sliders in one sitting. So we suggest pacing yourself. Come hungry, have four or five burgers, take a break, have a drink or two, have a few more sliders, and repeat. Take your time, because if you think 18 burgers is rough to get down, you don't wanna see what it's like when they come up.
3. It will rock. What kind of party would Burger bash be without great music? This year we bring in one of the best party bands in the area, Eleven Eleven. Now all you need to do is learn the subtle art of dancing with a burger in your mouth.
4. You can be a VIP. While most people will trudge through the doors of The Grand Ballroom at Golden Nugget at 1 p.m., those in the know will opt for the VIP experience. What does that mean? Well, for a few extra bucks you can get in a whole hour early and avoid the big crowds while you have uninterrupted access to all of the heavenly burgers that will be up for grabs at Burger Bash 3. Plus it comes with a free T-shirt! Buy your VIP passes at ACWeekly.com/BurgerBash.
There are a hundred reasons to be pumped for Burger Bash 3. After all, it's one of the most …
5. Your vote counts. With 18 restaurants all firing up their grills, someone has to decide who has the top burger in town. And that someone is you. Here is how it works — everyone who attends Burger Bash 3 will receive a chip. When you have sampled as many burgers as you can, simply drop the chip in the bucket of the place that made your favorite burger. The restaurant with the most chips in their bucket will be awarded the People's Choice trophy. For fairness sake, we have judges, too ...
---
Getting judge-mental
Here are our three official judges for this year's Burger Bash. What makes them so qualified? Read below.
Jonathan Deutsch
Jonathan Deutsch doesn't just enjoy food, he knows food from both a scientific and historic perspective. Not only is he a Professor of Culinary Arts and Food Science at Drexel University, but he is also the author of multiple books about food, including "Gastropolis: Food and Culture in New York City" (with Annie Hauck-Lawson)and "Barbecue: A Global History" (with Megan Elias).
Brian Lofink
One of Philly's most respected chefs, Brian Lofink is the former executive chef at Sidecar Bar & Grille and has a background in multiple styles of cooking with everything from French cuisine to pub grub in his arsenal. When it comes to burgers, Lofink is not one to keep his opinions to himself. "I look for a burger that has a meaty flavor, preferably a blend that contains dry-aged beef. There also has to be fat in a burger. A lean burger is a sad burger," he says.
Ric Rutherford III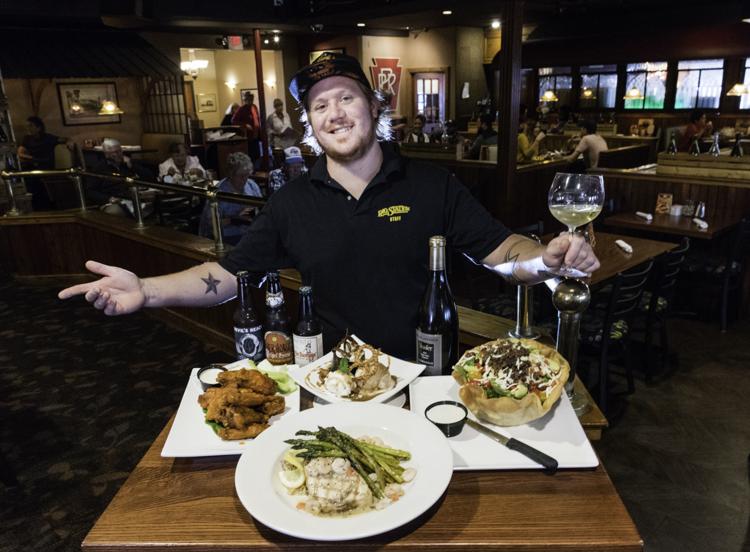 You might say that food is in the blood of Ric Rutherford. After all, his family has owned and operated Rio Station in Rio Grande for more than 30 years and Rutherford has worked just about every job in the place, from bussing tables to running the kitchen as executive chef. But his training goes far beyond The Garden State. Rutherford studied culinary arts at Le Cordon Paris in France and is currently devoted to the concept of "farm to table," as he grows his own food on the farm that he owns with his wife.
DJ Pauly D and Mario perform at The Pool After Dark together
DJ Pauly D, of "Jersey Shore Family Vacation," along with Mario Dewar Barrett, known simply as "Mario," performed a DJ set at The Pool After Dark.
Photos: Tom Briglia/PhotoGraphics