A.C. Weekly's annual Burger Bash is upon us. By now we are sure you know the basics — an army of the greatest burgers in South Jersey from some of your favorite restaurants, all being served up for the munching, while simultaneously competing for the title of "Best Burger," which, of course, will be determined by votes from the crowd.
That's the short version of what is going to happen, but there is so much more in store for this year's Burger Bash. Let us fill you in.
The Venue:
While the inaugural Burger Bash was held indoors because of rain at the always-hip Haven nightclub, to us it seemed like it was born to be an outdoor event. After all, burgers cooked on open grills is a summertime tradition, so why not turn The Deck at Golden Nugget into the biggest and best cookout you have ever seen? Picture it — boards under your feet … warm breezes … a view of the water. Summer is just around the corner, and you can consider Burger Bash the ultimate opening act for the season.
Is there anything Lucas Manteca can't do well in the kitchen?
The Awards:
Last year we crowned one champ and a few runners up, but since there are so many different types of burgers, we figured it was time to add a few sub categories just to cover more ground. So, in addition to the first, second and third place winners (which will be voted on by you, the attendees), there will also be a group of Fat Boy Munch Club awards, chosen by A.C. Weekly Director of Entertainment Publications Scott Cronick, which will include categories such as "Where's the Beef?" (best non-beef burger), "Heart Attack Burger" (most fattening, yet delicious burger), "Think Outside the Bun Burger" (most unusual/unique burger) and the "It's Better with Bacon" (best bacon-topped burger).
The VIPs:
While everyone who buys a ticket for Burger Bash will get to sample as many burgers as their heart desires, the folks who purchase this year's newly added VIP pass will be given access to everything a full hour ahead of the masses! That means they will be able to head in at noon, with the ability to casually stroll from restaurant to restaurant, with little to no lines, figuring out which burgers they are going to need to go back for seconds on. In addition to early entry, all VIPs will receive a free Burger Bash T-shirt, which they can proudly strut around town in while making everyone jealous. Limited T-shirts will be sold for $10. You can also buy your BOGO Appetizer Card at the same table, manned by the A.C. Junior Chamber of Commerce.
What's great about pubs in general is that there are so many types and styles, and they all …
The Journey:
To those Burger Bash newbies, we encourage you to take your time and pace yourself. While the burgers will all be slider portioned, it is still easy to fill up fast. The goal here is to explore — try not to just stick with places you are familiar with, taste burgers from spots you might not normally visit. There is not a bad burger at this event.
The Band:
Anyone who attended last year's Burger Bash will remember that it came with a seriously rocking soundtrack. No, we are not talking about some background music being pumped in, we had live, kick-a$$ rock 'n' roll, courtesy of one of the top cover bands in the northeast, Seven Stone. Well guess who is back for 2017? That's right … Seven Stone! Once again, these guys will take the stage by storm to put a little extra "bash" in "Burger Bash."
The Burgers:
Last year we had 14 burgers to choose from. That was a nice start, but this year things had to be bigger. So we brought in 21 restaurants this time and told them each to step up their burger game to its absolute zenith. They have accepted the challenge and have brought together a group of burgers that is so diverse and so mouth-watering that picking the best one is going to be a truly stressful challenge. All attendees will be given one poker chip to vote for their favorite burger. Choose wisely.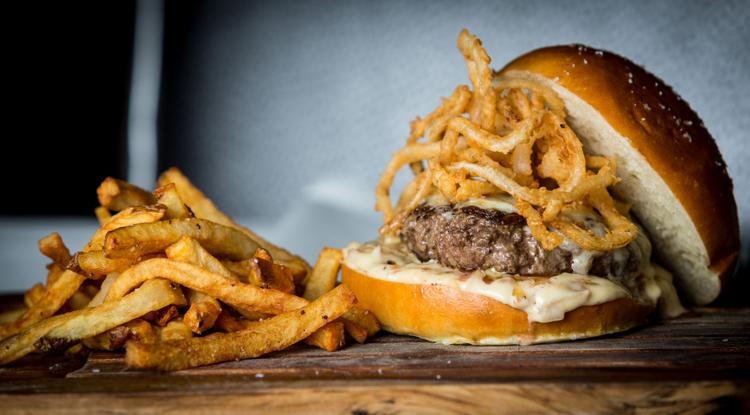 The Reigning Champs:
Gregory's Restaurant & Bar won last year's Burger Bash. Their "breakfast burger" was a perfect blend of bacon, egg and cheese atop a beef patty, sandwiched between a soft and slightly sweet brioche bun. The burger was all the buzz at last year's event and eventually won them the crown. This year they have opted to switch their entry, retiring the breakfast burger in favor of the Mac 'N Cheese BBQ Chip Burger, which promises to be a decadent contender itself.
Paul Gregory let us know why he thinks they will take the top burger title again this year: "We use the best beef mix, the best local bread in town, and who doesn't like mac 'n cheese and potato chips? Our customers love it. It will be tough to beat."
While Gregory may seem confident, he is not the only one. Brian Chambers manages the Quick Bites Food Court at Resorts, where Ruby's Dinette — one of last year's "must try" burgers — resides. Chambers has been working on this year's burger recipe — the Quick Bites Deli Burger — since the 2016 event and is more than ready for the competition.
"I think we have a good chance at taking home the trophy this year," Chambers says. "We took what worked last year, parmesan-crusted sourdough and a juicy all-beef burger and took it to the next level with fresh roasted pastrami. You really get the best of both worlds with the Quick Bites Deli Burger!"