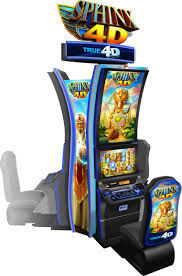 "You are traveling through another dimension, a dimension not only of sight and sound but of mind."
Next stop ... no, not the "Twilight Zone" — but Sphinx 4D, the newest slot machine that combines glasses-free True 3D™ technology with gesture recognition and other features.
As it is still relatively early in the new year, and I begin my 25th year of writing this co…
Currently, you'll find Sphinx 4D only at Tropicana Atlantic City. It's located by the Promotions Booth, near Olón and Okatshe.
An enhanced version of Sphinx 3D found in most Atlantic City casinos, Sphinx 4D uses a camera that reads your gestures and allows you to "draw" on the screen.
For example, without touching the screen, "draw" a circle with your finger. This will change the background from day to night. It also changes the symbol that becomes a "Wild" from a lion to a snow leopard.
Draw a heart and the screen will become framed with hearts and flowers. Draw the infinity symbol (∞) and you'll create a butterfly. Create five butterflies and you'll get an extra bonus to pick once you qualify.
You really have to try it to understand the full effect.
Add to this, a "touch" feature that gives the illusion you're manipulating objects "floating" in front of you, enhanced surround sound, ultra-HD graphics and an advanced movable chair that shakes and rumbles in sync with what you're seeing on the screen.
Sphinx 4D is a penny machine. Minimum bet is 80 credits, with three increments of 80 additional credits per bet; maximum bet is 400.
Casino Hold'em debuts
GoldenNuggetCasino.com has launched Casino Hold'em, the first live casino poker game for online players in the United States.
Casino Hold'em joins blackjack, American roulette and Dragon Bonus Baccarat in Golden Nugget's live dealer portfolio. Up to seven live dealer tables are available to New Jersey players on their computers or smartphones.
Daily broadcasts of the game are available from 3 p.m. to 3 a.m.
Casino Hold'em uses a regular 52-card deck. Each player places an Ante bet (for as little as $1) and receives two cards.
Based on those cards, each player then decides whether to fold or place the Call bet. A fold causes the player to forfeit the Ante bet; the Call bet must be twice the value of the Ante.
The dealer deals the entire five-card community board. The dealer and players make the best possible five-card hand out of the five cards on the board and the two cards in their hand.
Results vary based on the dealer's hand and potentially can pay 100:1.
Golden Nugget's New Player Loyalty Program
Golden Nugget Atlantic City's 24K Select Club cardholders now can earn comp dollars, as well as credits to reach the casino's various tier levels, by combining their play at any of four other Golden Nugget casinos.
The casinos are located in Las Vegas and Laughlin, Nev., Biloxi, Miss., and Lake Charles, La.
Previously, each Golden Nugget casino operated its own independent player loyalty program.
1. Bar Olon. If The Quarter's summer vibes aren't enough, a quick trip down to Trop's casino…
The program is similar to Caesars Entertainment's Total Rewards and MGM Resorts International's M life Rewards.
In addition to Golden Nugget casinos, 24K Select Club cardholders can use comp dollars at more than 600 restaurants coast-to-coast owned by Landry's Inc.
Among Landry's brands are Bubba Gump Shrimp Co., Rainforest Cafe, Chart House, Vic & Anthony's and Morton's The Steakhouse.
Players can access comp dollar, tier credit and slot point balances, tier level status, special offers across all Golden Nugget casinos, and mobile-only bonuses by using Golden Nugget's new mobile app.
Download the app with Google Play or the Apple App Store. Search Golden Nugget.
For more information visit GoldenNugget.com.
Recreational gambler Darryl D. McEwen, a former professional journalist, is president of his own consulting firm that manages several small national and international trade associations, and provides public relations and fundraising services for a number of charitable organizations. Have a comment on this or a question specifically related to an Atlantic City casino, players club or other promotion? Email Darryl at MrACCasino@gmail.com and he'll try to respond to you personally. Your question — without your name — may appear in a future column.
Tropicana boogies down with Beach Bash kick off
On Friday, Tropicana Atlantic City kicked off Beach Bash, a 48-day celebration of indoor summer fun. The event included summer treats, a six-foot sandcastle and a friendly match of corn hole between Tropicana's executives and the Boys and Girls Club of Atlantic City. The resort presented the non-profit organization with a $1,000 donation to continue to support its youth efforts in the city.