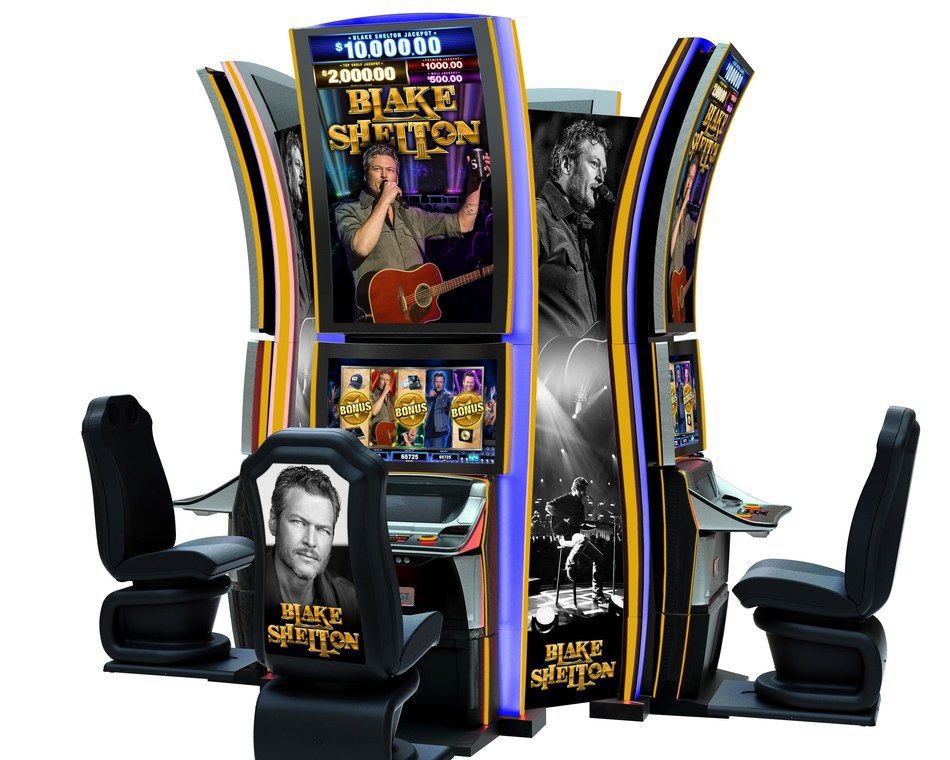 Slot machine jackpot comes with strings attached
A new slot machine has debuted exclusively at Golden Nugget Atlantic City, but it has a bonus feature that comes with some strings attached.
The Blake Shelton Video Slot, located in front Bill's Bar & Burger, features a bonus where players get the chance to win an official Blake Shelton-autographed guitar, as well as a cash jackpot.
Once this "BS's Bonus" is activated, players select bottle caps to fill spaces on a bingo-style board. After four horizontal or vertical spaces in a line are filled, the player wins the corresponding credit value associated with that row or column. To win the guitar a player needs to fill in the winning diagonal line.
The base game offers randomly scattered "Wild" symbols. If the last "Wild" awarded includes the word "Advance," an additional level with even more "Wild" symbols is activated. The game ends when the last "Wild" awarded doesn't include the word "Advance."
When three "Bonus" symbols land on reels one, three and five, the Jumbo Screen Bonus is initiated, spins and lands on one of three jackpot amounts or bonus games.
The "Light Up The Night Bonus" awards eight free games. As in the base game, if the last "Wild" has the word "Advance" the player moves to the next level of play. Players also may be randomly awarded two- or three-times multipliers. When the "Free Games" symbol appears on reels one, three and five, players get an additional eight games.
In the "I'll Be Your Honey Bee Bonus" players make picks to add credit amounts and multipliers to honey jars. Once jars are filled, they are covered and moved around. Players then are prompted to make the final pick to determine their prize amount.
In addition to these bonus features, a "jukebox" built into the machine offers players the opportunity to choose and listen to their favorites from among Shelton's 25 No. 1 radio singles and others.
The 40-payline penny game has a minimum bet of 75 credits, and a maximum of 375.
Other news you may
have missed You now can use your comp dollars at Hard Rock Atlantic City's Rocktane Gas & Wash. Comps are valued at 1:1 for X and Rock Royalty cardholders, and 2:1 for Premier and Elite. The station is located between Maryland and Virginia Avenues.
The renovated Trop Advantage VIP Lounge at Tropicana Atlantic City is now open and it's a stunner! However, the improvements in décor and menu come with a 10-comp dollar admission charge, up from five.
Speaking of increases, the resort fee at Golden Nugget has increased from $10 to $15 per night.
Have a comment on this or a question specifically related to an Atlantic City casino, players club or other promotion? Email Darryl at MrACCasino@gmail.com and he'll try to respond to you personally. Your question – without your name – may appear in a future column. Visit his website, MrACCasino.com, and follow him on Twitter @MrACCasino. Your question — without your name — may appear in a future column.
Be the first to know
Get local news delivered to your inbox!