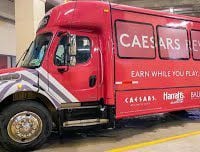 Pretty much everyone agrees they'll be glad when 2020 is over.
However, trying to decide the biggest news stories and trends in Atlantic City gambling this year, I found some positives among the negatives.
Certainly the COVID-19 pandemic has to rank No. 1. Not the pandemic itself, but what it meant for casinos, ordered to shut down on March 16 and remaining closed until early July.
With casinos closed, that opened the door to an increase in online gambling.
Sports betting — both online and in person — also saw a huge jump.
Then there was the purchase of Caesars Entertainment Corp. by Eldorado Gaming Inc., Bally's Atlantic City's sale to Bally's Corp. – formerly Twin River Worldwide Holdings Inc., and Twin River's purchase of the Bally's brand previously owned by Caesars Entertainment.
Add to that the dramatic turnaround at Ocean Casino Resort, and the increasing number of women in top casino management positions.
As Seth Meyers would say, let's take a closer look.
The coronavirus effect
Restrictions put into place affected everything from drinking, smoking and the number of players on the casino floor to restaurant capacities and dining hours. In addition, these resulted in a decline in the number of full-and part-time employees.
All of these can be factored in to a loss of more than $112 million in operating revenue.
This also meant less tax revenue. Through the first 10 months of 2020, casino gaming taxes declined by $12.7 million, or approximately 5.5 percent compared to the same period in 2019.
Online gaming, sports betting
The good news? That small decline can be attributed to online gaming. As of November, internet gambling provided nearly $92 million in revenue, an increase of nearly 87 percent from a year ago.
Another reason? Sports betting.
New Jersey bettors set a national record in November, wagering $931 million — nearly $30 million over the previous record in October, meaning the state is on pace to top last year's $4.6 billion bet on sports.
Ocean's turn around
Also on the plus side, Ocean Casino Resort — once at the bottom of the heap — showed a remarkable turnaround. In the quarter that ended Sept. 30, it was the only casino to show positive results.
Ocean reported an operating profit of $24.4 million — an increase of 139 percent compared to last year.
Women at the top
Ocean's CEO Terry Glebocki, who took over late last year, was joined by three more women serving in top casino management positions: Borgata Hotel Casino & Spa President and Chief Operating Officer Melonie Johnson, Tropicana Atlantic City Senior Vice President and General Manager Jacqueline Grace, and, though no longer with the company, for most of the year Karie Hall served as senior vice president and general manager of Bally's.
Buyer's market
And, while it was news not limited to Atlantic City, Eldorado's purchase of Caesars Entertainment certainly had an effect on the resort.
Tropicana joined Caesars Atlantic City and Harrah's Resort as part of the Caesars Rewards player loyalty program, and Bally's was sold to Bally's Corp.
While the Bally's sale was effective as of mid-November, Caesars Rewards cardholders still can use their Reward Credits and other benefits at Bally's through sometime in the first quarter of 2021.
Related to this was Twin River's purchase of the Bally's brand, partly to maintain the Bally's name for the Atlantic City property it bought, but also to allow the company to rebrand virtually all of its properties under the Bally's name and logo.
And in other news. . .
Person to watch — Borgata Hotel Casino & Spa President and Chief Operating Officer Melonie Johnson is among Global Gaming Business Magazine's 19th annual "25 People To Watch" list for 2021. Honorees are recognized for their past accomplishments and their upcoming potential actions that will have an impact on gaming in 2021 and beyond. The selections are made by the magazine's Editorial Advisory Board, a collection of knowledgeable and connected people in the gaming industry. Nominees came from all aspects of the gaming business — land-based and online operators and suppliers, regulators, attorneys, tribal government officials, public officials, academics, and more.
Changes to Wild Card Rewards — Hard Rock Hotel & Casino Atlantic City's Wild Card Rewards program has changed its earning period to a calendar year – Jan. 1 to Dec. 31. There also are changes to tier earning thresholds allowing players to accumulate tier points 20 times faster. To earn Rock Royalty and Elite status, players must now earn 4,000 and 15,000 tier points, respectively — up from 750 and 250 points. "Rest assured that we have made it easier for you to advance through our tiers, even though the tier point requirements have increased," according to an email players received. While players will begin earning toward their 2022 status on Friday, Jan. 1, they will keep their current status through Sunday, Feb. 28, 2021. Tier benefits for status earned through Dec. 31, 2020, will become available Monday, March 1, 2021. Also, beginning on March 1, Hard Rock will be partnering with its Seminole Hard Rock properties in Florida to offer new benefits for X Card and Rock Royalty cardholders.
Shuttle shuttered — Transportation on the Caesars Rewards Shuttle has been temporarily suspended until further notice.
Recreational gambler Darryl D. McEwen, a former professional journalist, is president of his own consulting firm that manages several small national and international trade associations, and provides public relations and fundraising services for a number of charitable organizations. Have a comment on this or a question specifically related to an Atlantic City casino, players club or other promotion? Email Darryl at MrACCasino@gmail.com and he'll try to respond to you personally. Your question — without your name — may appear in a future column. Visit his website, MrACCasino.com, and follow him on Twitter @MrACCasino. Your question — without your name — may appear in a future column.