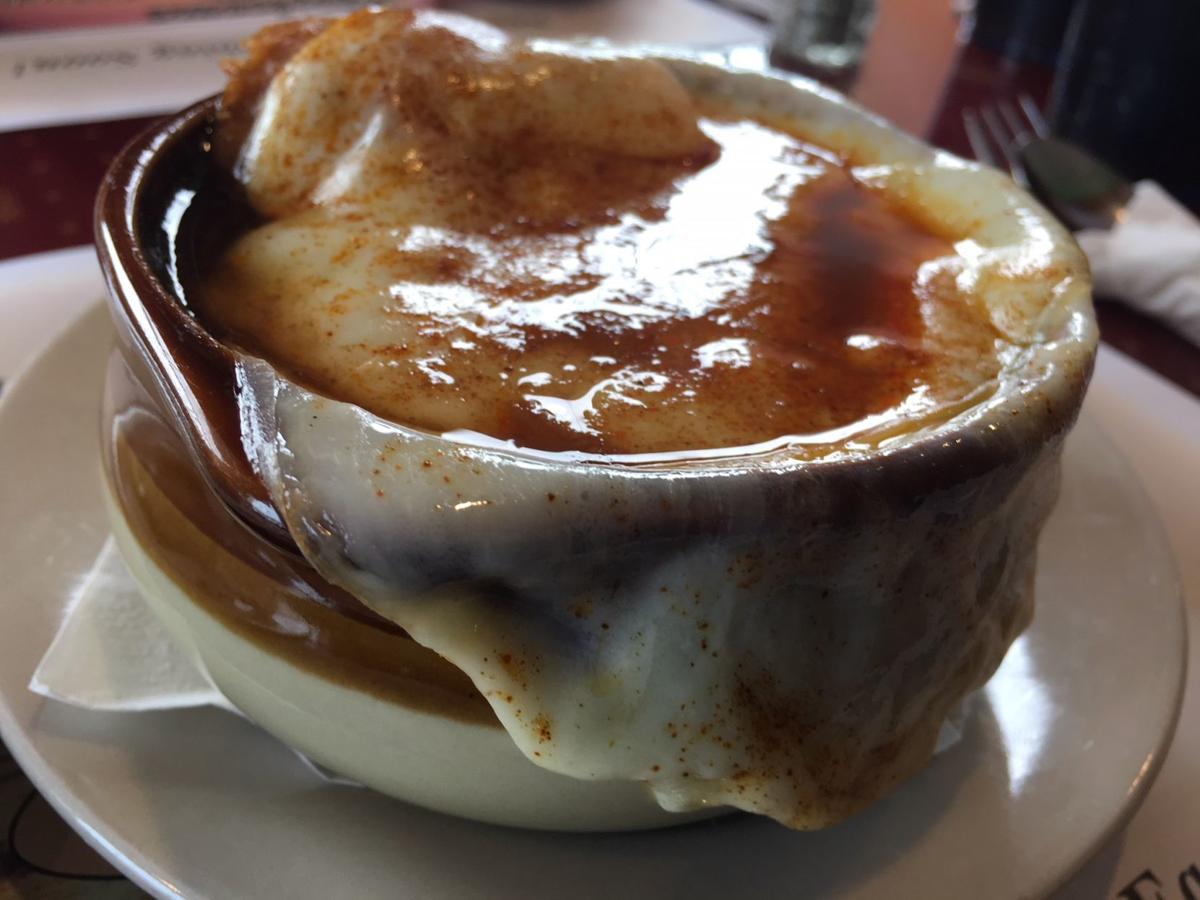 It had been a while since we did a Fat Boy Munch Club review, so when we noticed that the former site of Ref's Tap House in Egg Harbor Township was converted into the Golden Coast Diner, we figured we should check it out.
Just blocks away from our workplace, we headed in with open minds and empty stomachs, choosing to ignore the fact that its entire online presence consisted of a single Yelp review which awarded it a paltry one star.
Kiss Kiss Atlantic City recently underwent a management change, being passed from nightclub …
Curiosity fueled our interest. Ref's was a terrible place. So we needed to peek in and see if it was possible to turn around the reputation of this building and create a spot worth coming to.
Apparently, it is not possible.
Scott: The truth is we really wanted this place to be good. It's blocks away from our workplace, and there aren't exactly a bevy of good options in the Pleasantville area.
Our initial reaction was positive. Golden Shore screamed clean. With a new décor that is both kitschy classic diner — like the counter and oversized menu — and more contemporary restaurant. The colors are certainly a little over the top with its salmon-toned walls, but it's a spotless place that has seen some nice renovations.
Ryan: Our concerns started early when a simple "What's good here?" resulted in a series of blank stares and shoulder shrugs from both the hostess and the waitress. After much pushing from Scott, the waitress half-heartedly declared the burgers to be "really good," but I imagine if we were to administer a polygraph test, this supposed admiration of hers would prove to be a lie.
Since it is near our office, it get points for convenience. What does NOT get points for convenience is the menu. It reads more like a generic, all-encompassing list of foods available in the entire United States than an actual menu. No reasonable restaurant would stock this many items, nor ask their customers to sift through this many choices in order to find something to eat. I know, it's a diner menu, I get it, but come on — there were hundreds of items … 34 broiled seafood specialties alone. Most menus don't have 34 items in their entirety, much less in one subsection. This thing went on for pages and pages. I've owned phone books with fewer listings in them.
Scott: I think I counted 59 lunch specials. The menus alone must have cost a fortune. Hard plastic bound with rings, and both the breakfast and breakfast/lunch/dinner are six, eight or more pages. I've been to a lot of diners, but never to one that had this many items. It takes 10 minutes to just skim it. If you're an indecisive diner, this is not the place for you.
Holy Trinity Greek Orthodox Church's annual Greek Festival returns Thursday, June 7, and run…
But what it really means is that there is no way this place can stock that much fresh food. With that many items, frozen food is the only possible way to survive.
With so many options, we were surprised the appetizer menu was as uneventful as it was, so we decided to get a sampler ($10.99) that was frozen mediocrity. The chicken tenders were your typical breaded variety that were fine, and the out-of-the-jar honey mustard sufficed. The mozzarella sticks were neither fresh nor the high quality frozen ones you would expect at a decent restaurant. They were average at best. And the buffalo wings were not buffalo wings at all. They were simply wing dings, the breaded, fried chicken-like, frozen variety that are tasty but weren't served with or dipped in any buffalo sauce. So, needless to say, skip the apps.
Ryan: For some reason, I decided to give the waitress the benefit of the doubt and ordered one of the "really good" burgers. It came with a soup, and I opted to splurge and pay the extra $1.50 for French onion (why this soup requires an upcharge will forever remain a mystery as it contains inexpensive ingredients, but whatever). It was enjoyable. The broth tasted good and wasn't too salty, but the cheese — which would have been Gruyere in a proper bowl of French onion — was sliced mozzarella, a bland and puzzling choice to say the least.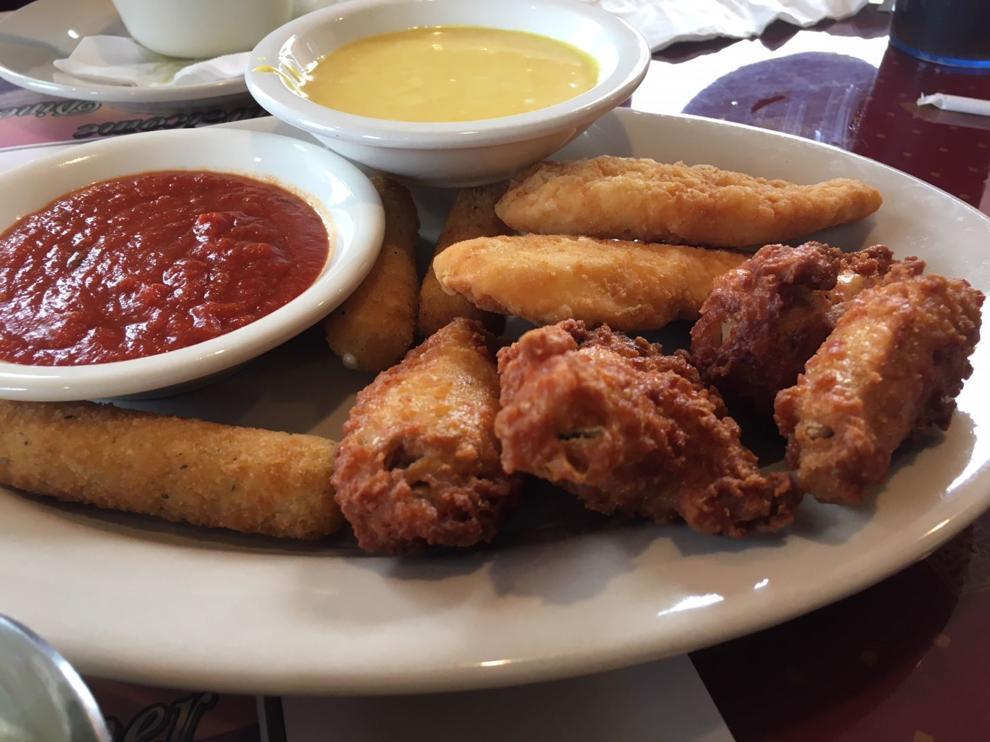 Scott: After looking over 39 salads, 14 paninis, 16 cheesesteaks, 15 wraps, 34 burgers and 30 specialty sandwiches — along with the previously noted 59 lunch specials — I thought about getting meatloaf, but after reading the description of the Meatloaf Eiffel — meatloaf with mushrooms, spinach, roasted peppers, and different types of cheese — it sound like Meatloaf Awful, so I went with my go-to diner order: the roast turkey platter ($12.99).
Generally, this is a no-brainer. It's always solid. The star was the thinly sliced turkey that was moist, had great flavor and would have made for a nice platter if it wasn't for the rest of the Thanksgiving sides. The stuffing was homemade and obviously layered in a baking pan and cut out in squares as needed. Full of apples and overwhelmingly sweet, it was more like dessert than a turkey side. The mashed potatoes were bland and unremarkable.
But the gravy is what was the offensive party here. And this entrée was smothered in it: thick, lumpy, packet gravy was disgusting, not just because it tasted like chicken-flavored flour, but the cook obviously used too much of something — maybe poultry seasoning?? — to create an off-putting fluorescent yellow-green color that was unlike any other gravy I have ever seen or tasted. The dish went untouched.
The chicken soup with shells that came with the dinner was awesome. A great, flavorful chicken broth was full of shell pasta, some veggies and chicken for a soup that I would be happy to order, especially if I had a cold.
Ryan: The burger I ordered was called the "Trenton Burger." It contained pork roll (Taylor Ham to us northerners), cheddar cheese and fried onions. I ordered it medium rare. What arrived at our table was a bone-dry, flavorless patty mercilessly frizzled beyond the point of well done. Suspicions were high that the burger was right out of the freezer and thus incapable of being prepared medium rare.
It came served on a bland roll that contained two slices of overly thick cut pork roll and a portion of shredded cheddar cheese (right out of a bag) small enough to disappoint just about anyone not on a starvation diet.
If it sounds like I am being harsh, keep in mind that this entree was the sole recommendation from the staff. Yup, this is their crown jewel, ladies and gentlemen. This is the show stopper. Shame on me for doubting the obvious culinary expertise of the waitress. Somebody call James Beard's people — we've got an award to give out.
Scott: I am sure there are some things worth eating at Golden Shore. We just didn't find any on our visit.
With spotty service, a staff that has no idea what they are serving, a kitchen pumping out bland, frozen dishes and a menu that is way too big to offer quality food dooms Golden Coast unless they make some major changes.
From a Northeast Pennsylvania boy who grew up eating in some of the best old-fashioned, Quaker diners that wouldn't be caught dead serving frozen food, the Golden Shore is on the opposite side of that spectrum.