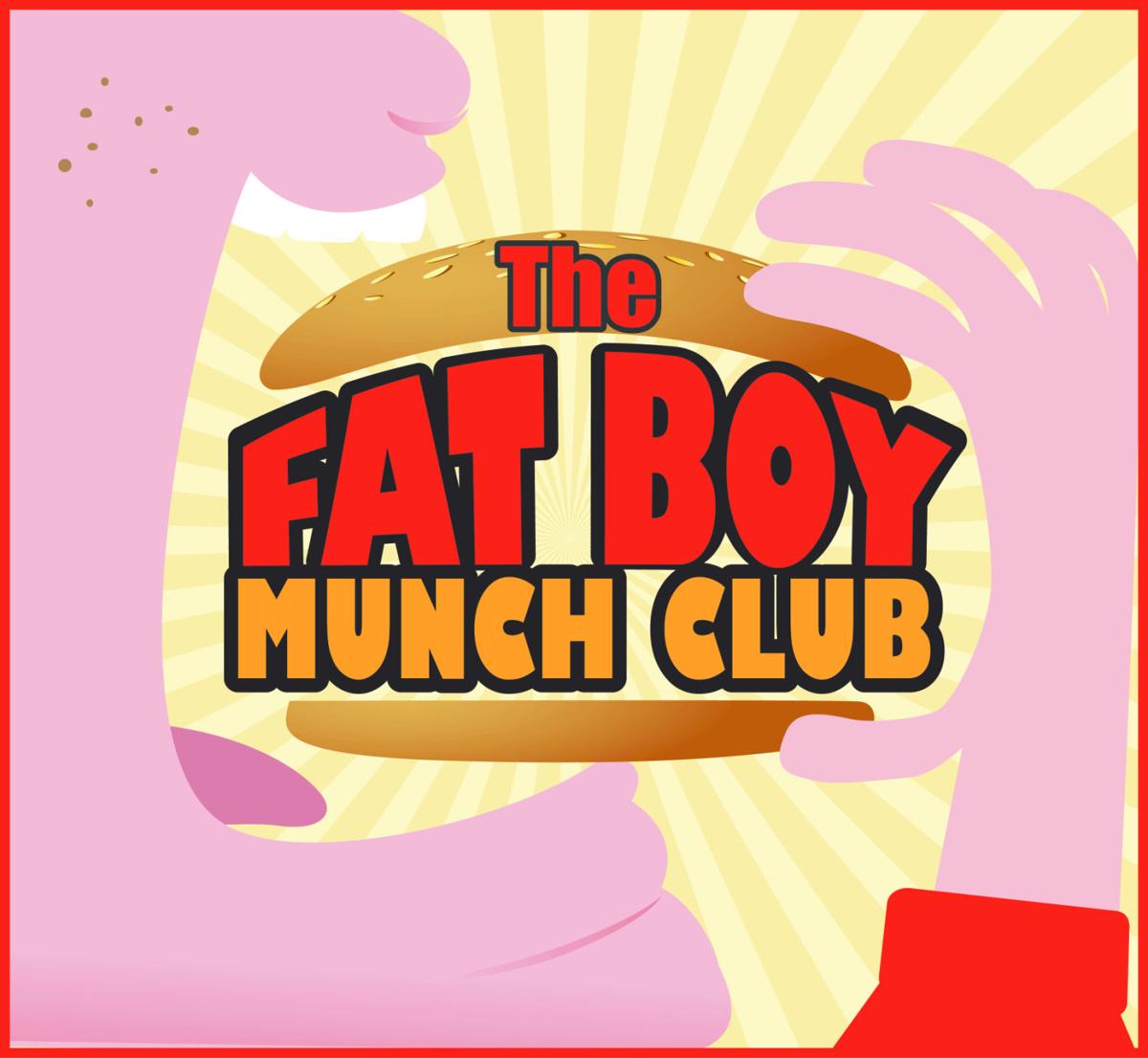 It's always fun to visit a place off the beaten path. While the swanky foodie spots in the casinos certainly have their place — and have been known to put out some of the most heavenly Fat Boy food around — there is something inherently satisfying about feeling like you discovered a hidden treasure. That's exactly how we felt just driving down the long, desolate road that led us to Mott's Creek Inn.
Let's be clear about something — when we say this place is "off the beaten path" we really mean it, as the road that takes you out to it is barely paved at times and the restaurant would be near impossible to find if you weren't looking for it. It's also located in the depths of Galloway's Pine Barrens — true Jersey Devil country. Once you take the turn off of Route 9 and begin descending deeper and deeper into the woods, you can't help but feel a bit creeped out.
And that's when the signs begin.
It seems the folks residing in the area around Mott's Creek Inn are keenly aware of how remote and potentially off-putting their little hideaway is, and they have a sense of humor about it. Signs warning you to "beware of the locals" and implying (or at times downright demanding) that you should turn back are all part of the fun, and probably serve to keep some of the less daring patrons away.
Luckily we are both well known for our lion-like courage as well as our rotund physiques, and thus we decided not to let any questionable road signs stand in the way of a potentially delicious lunch — no matter how foreboding they may have been.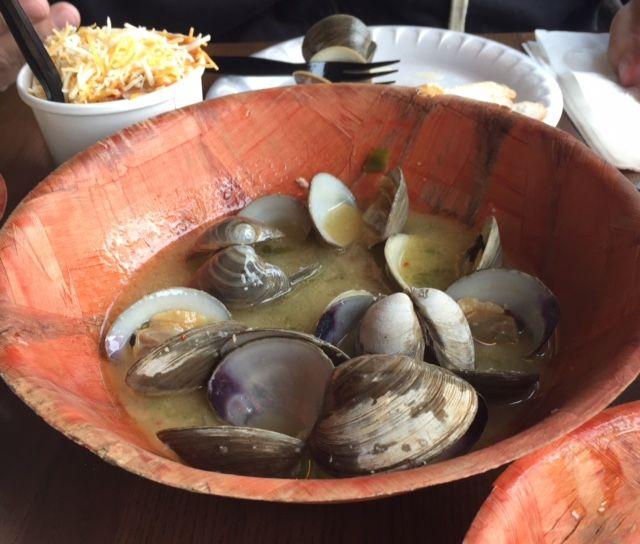 Ryan: The outside of Mott's Creek Inn is the ideal combination of scenic and rustic. Boats rock gently in their slips as the sun shimmers brightly over the marshland, while ducks spend their afternoon diving into the water in search of a free lunch in the form of the world's freshest fish. The gorgeous, newly built outdoor deck looms proud and optimistic, like a young, healthy son of the original building, itself still standing defiantly at waterside despite repeated battering from storms, its seemingly impenetrable coat of sea-shack armor bonded by years of roadhouse memories all held together by marsh mud and the aging threads of its well-weathered wooden facade.
Although the parking lot was empty to the point where we wondered if they were even open, a quick pull at the door revealed a scattering of locals seated around the bar, and a combination waitress/bartender who was friendly and willing to give us some suggestions on what to order.
Scott: This place is what dining at the shore is all about. With an awesome view of the water — we watched ducks float and dive underwater during our entire visit — and that's just the beginning of its coolness. Locals are drinking as soon as the doors open. The interior and exterior scream dive but in a seafood shanty-like way, as opposed to a biker dive … although plenty of bikers have been known to hang here. And if you ever hear the expression of eat where the cops eat, I can tell you as a biker and a true Fat Boy, eat where the bikers eat. They know good food.
Ryan: We started with the New England clam chowder ($5). Although it took quite a while to arrive, it was well-stocked with clams and the broth was flavorful, although at times a bit thin for my taste. Hints of bacon helped round out the flavor profile nicely though, and I'd order it again, but a dose or two of extra cream would bring this dish to a whole other level.
The chili ($5) was next. The fun thing about ordering chili is that no matter where you go, each chef seems to prepare it differently, and there are essentially no rules as to what goes in it. I've had it with ingredients as odd as peanut butter and cinnamon, and have loved every decadent spoonful, so as far as I am concerned it's a dish where creativity is most definitely welcome. The Motts Creek chili surprised us both by being a tomato-lover's dream. Topped generously with cheddar and well portioned, its tomato level was so high it was almost reminiscent of a thicker version of Manhattan clam chowder. I enjoyed it though, despite it not being what I would have expected. Scott seemed less thrilled.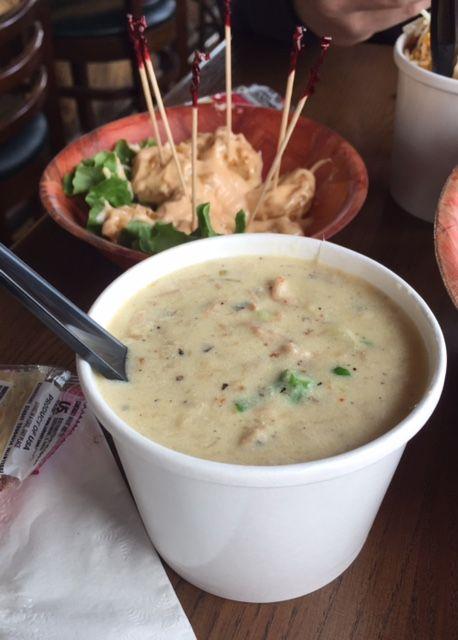 Scott: Yeah, this was more like a tomato stew than a chili. Although the flavor was nice, I prefer a meaty chili with a less thick broth. This was filled with more chunky tomatoes than meat. So not my thing.
The clam chowder was the superior of the two soups — but I totally agree about a little more heavy cream here to amp up the fat level here. But flavor wise, it was spot on.
Ryan: We ordered a round of seafood apps. The drunken clams ($12) were nice and briny with lots of garlic and white wine. Word has it they get pulled right from the water outside the Inn and they were fresh enough for me to buy that story. The biggest hit of the day for me was the dynamite shrimp ($8) which were perfectly fried and coated in a chipotle-lime aioli that had just the right ratio of spice to creaminess to make me and my portly cohort beam with gluttonous satisfaction.
Scott: I'm a steamer aficionado. If there are steamers on the menu, I probably order them. And these were mediocre at best. Too chewy and not enough garlic and salt … a missed opportunity here considering the setting.
The shrimp were appropriately named: dynamite. The thick chipotle aioli clung to the fried shrimp like a fat boy clings to a candy bar. Impressive.
Ryan: I ordered a burger again. This is the third outing in a row that I have done this, and I have decided that until I find a restaurant in the area that is willing to actually prepare me one the way that was promised (rare or medium rare, depending on my mood) I will continue to do so, and subsequently marvel in amazement as each place stumbles at this request. The good news is that so far Mott's Creek Inn has come the closest to getting it right. The Mott's burger ($8) was fresh and clearly homemade, with a soft, buttery bun that worked nicely with it. That said, it was still closer to "medium" and far from the "rare" that I ordered, but compared to the hockey puck that was served to me at The Spot in Northfield a few months back, it was a home run.
Scott: Ryan likes his burgers to come out mooing, but this was definitely prepared medium rare, and I thought it was the standout of the meal along with the shrimp. I can imagine myself taking my Harley for a ride here to get one of these meat puppies.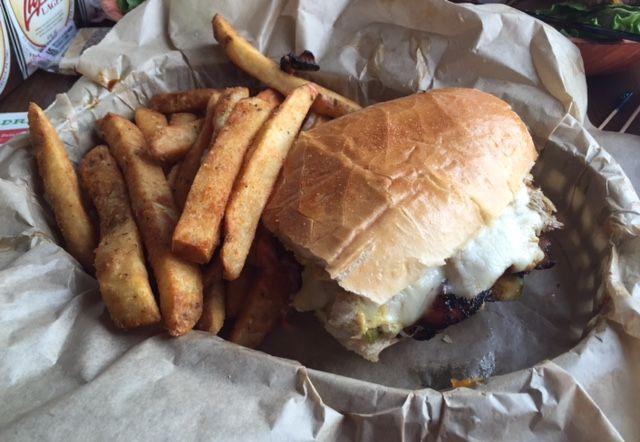 Ryan: The Cuban sandwich ($10) was satisfying, although I prefer the pressed panini-style version that some restaurants offer. The fries were an add-on well worth the extra few bucks, with a sort of steak fry-type thickness and an addicting quality that was helped along nicely by the smorgasbord of dipping sauces Scott requested. Choosing between the cheese sauce and the equally decadent Old Bay mayo was one of the hardest decisions we would face all afternoon.
Scott: The parts were better than the sum here. The pork, ham and cheese were all tasty and worked well together with the thinly-sliced pickle spears like any good Cuban should. But this was like a hearty Cuban — too thick with meat piled high and not pressed like the traditional Cuban should be. With some tweaking, a better choice of bread and less meat, this could be a winner.
Ryan: Overall I was happy with my lunch at Mott's Creek Inn. This is my second time here, and while I wouldn't call it Fat Boy heaven — a few things fell short — overall both trips have been filled with good times and good food along with a friendly staff. My only regret is that we did not wait until the weather warmed up a bit so we could fully take advantage of the outdoor dining options. Oh well, I guess that gives me another reason to come back again.
Scott: I will definitely return. This is the kind of place that is so cool to hang out at that even if the food was mediocre — and I would say it's a step above mediocre — it's worth returning.
MOTT'S CREEK INN
WHERE: 200 E. Motts Creek Road, Galloway
WHEN: Open 11 a.m. to 10 p.m. weeknights, 11 a.m. to midnight
or later on weekends.
HOW MUCH: Apps range in price from $2 to $12; soups and salads $5 to $14; sandwiches $7 to $12; seafood baskets $11 to $15; wings and tails $6 to $18.
SERVICES: Accepts all major credit cards, Full bar, waterfront dining, outdoor deck, live music, takeout available.
CONTACT: 609-652-1555; MottsCreekInn.net
Scott's Rating: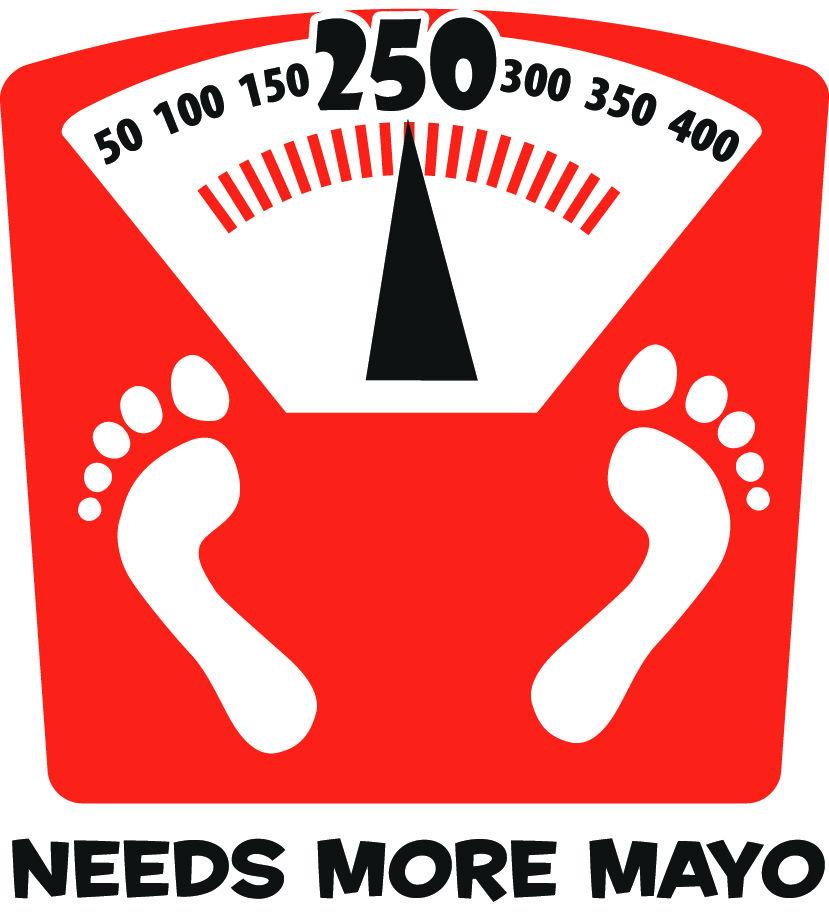 Ryan's Rating: