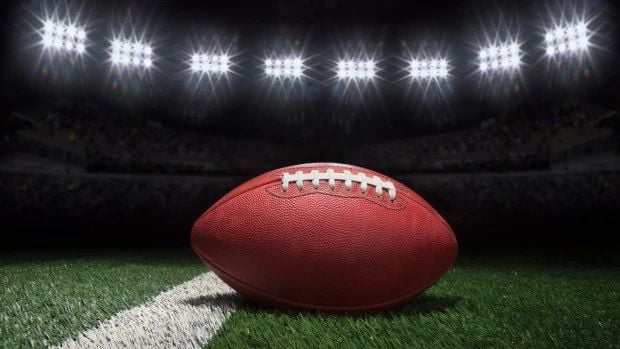 At any point back in the summer, the Philadelphia Eagles would have taken this: beat the New York Giants in the final week of the regular season and win the NFC East.
OK, so few thought they'd have a shot to be in this position at 8-7 but here they are, after three bizarre wins, knocking on the playoff door.
The Eagles are -4 on the road and getting 65 percent of the tickets at Play Sugar House, according to Matt Stetz, the COO of Rush St. Interactive, which operates Play Sugar House and Bet Rivers facilities in New Jersey, Pennsylvania and Indiana.
We know at least two degenerates, Scott Cronick and Dave Weinberg, who are not in that 65 percent department. More on Week 17 picks later.
It was against the Giants that the Eagles flipped their season three weeks ago. They trailed 17-3 and were about to go 5-8, but rallied for an overtime win, beat the Washington Redskins in the final minute and then subdued Dallas.
For the second straight week, the Eagles defense faces a team coming off 40 plus points. They beat the Cowboys, who had scored 44 one week earlier against the Los Angeles Rams, 17-9. And they face the Giants, who put a 41 spot on the Redskins last week. Washington's Swiss-cheese defense enabled Saquon Barkley to get 279 scrimmage yards.
Daniel Jones is back at quarterback for the Giants. He can look great and he can also cough up big plays.
The Cowboys, at 7-8, need to beat the Washington Redskins at home and have the Eagles lose in order to steal the NFC East. Strange stat: the Cowboys have as many wins since Oct. 1 – four - as the Miami Dolphins. And they are 4-8 after a 3-0 start. But the Cowboys, at -10.5 against the Redskins are getting two-thirds of the betting support at most of the books. Case Keenum replaces Dwayne Haskins at quarterback for Washington.
Around the league, it's interesting that all teams in the playoff hunt must play hard. There is no 1 p.m. game that will make a 4 p.m. game irrelevant. Magic scheduling quirk.
Who needs to come up big?
The Tennessee Titans are now 3.5-point favorites at Fan Duel against the host Houston Texans, who have nothing to play for. That's for the final AFC playoff spot.
Should they falter, the Pittsburgh Steelers would get in by defeating the, uh, red-hot Baltimore Ravens. But the Steelers are a 2-point favorite because the Ravens clinched home field for the entire AFC playoffs and won't start their regulars. Baltimore has won 11 in a row.
More news you can use: The Seattle Seahawks have lost three running backs in three weeks and re-signed Marshawn Lynch this week. They are a 3.5-point underdog at home against the San Francisco 49ers in the game that decides the NFC West championship. It's a big one, as the Niners will either get home-field edge throughout the playoffs or open them on the road. For them, one win is actually two.
The Green Bay Packers will start their regulars and can get a first-round bye with a win against the Detroit Lions. Green Bay is favored by 12-13 points at different books.
The New Orleans Saints will start their regulars and are a 13-point pick in Carolina. New Orleans needs a win and a loss by San Francisco or Green Bay to attain a first-round bye. Otherwise, it hosts a first-round playoff game.
Week 17 lines and over-unders
Courtesy of DraftKings)
Eagles -4 AT New York Giants, 45.5
Buffalo -2 vs New York Jets, 36
Green Bay -12 AT Detroit, 43
Kansas City -8 vs Los Angeles Chargers, 46.5
New England -6, Miami, 44.5
Minnesota -1 vs Chicago, 37
Tampa Bay -2 vs Atlanta, 48
Tennessee -3.5 AT Houston, 45
Dallas -10.5 vs Washington 45.5
Los Angeles Rams -5 vs Arizona, no total
Denver -3.5 vs Oakland Raiders, 41
Indianapolis -3.5 AT Jacksonville, 43
San Francisco -3.5 AT Seattle,47
New Orleans -13 AT Carolina, 45.5
Cleveland -3, AT Cincinnati 43.5
Pittsburgh -2 AT Baltimore,37
This week's selections, against the spread, excerpted from Beat the Degenerates, which I co-host with Brian Cahill and Scott Cronick, director of entertainment publications for The Press of Atlantic City. The show is usually 5 to 6 p.m. Wednesdays on Newstalk 1400-AM, WONDRadio.com and 92.5-FM. Catch the next one 5 p.m. Jan 2.
Cronick: Dallas
Cahill: Miami
Dan Skeldon, meteorologist: Tennessee
Tandem of Dave Weinberg, Press of Atlantic City Eagles writer and Warren Professor Prosser, producer: Giants
Tandem of Da Kipster, AKA Pickett Russell, general manager of Tennessee Ave. Beer Hall and Ky Carlin, WOND correspondent: Eagles
Tandem of Bontempo and Tom Sullivan, general manager of McCullough's Emerald Links: Seattle
Dan Skeldon, meteorologist:Tennesee
Last week's results
Winner: Bontempo, with Miami
Winner: Skeldon, with Oakland
Winner: Carlin with Denver
Winner: Listeners with Eagles
Losers: The Posse of Cronick, Weinberg and Prosser with Dallas, Da Kipster with Seattle, Cahill with Tennessee
Last week's takeaways
The Seahawks suddenly look vulnerable. Without a running game to protect quarterback Russell Wilson, they could have a tough time against the 49ers.
The lack of a quarterback finally caught up with the Pittsburgh Steelers last week. In a must-win game, they only gave up 16 points, but scored just 10. They will find a Ravens team resting their regulars in a game they must have this week, however.
Take a close look at the New England Patriots ground game against the Miami Dolphins this week. If they run effectively and cover 16 points, the defending Super Bowl champions may be able to advance deep into the post-season.
Best of luck to you in the regular-season finale.