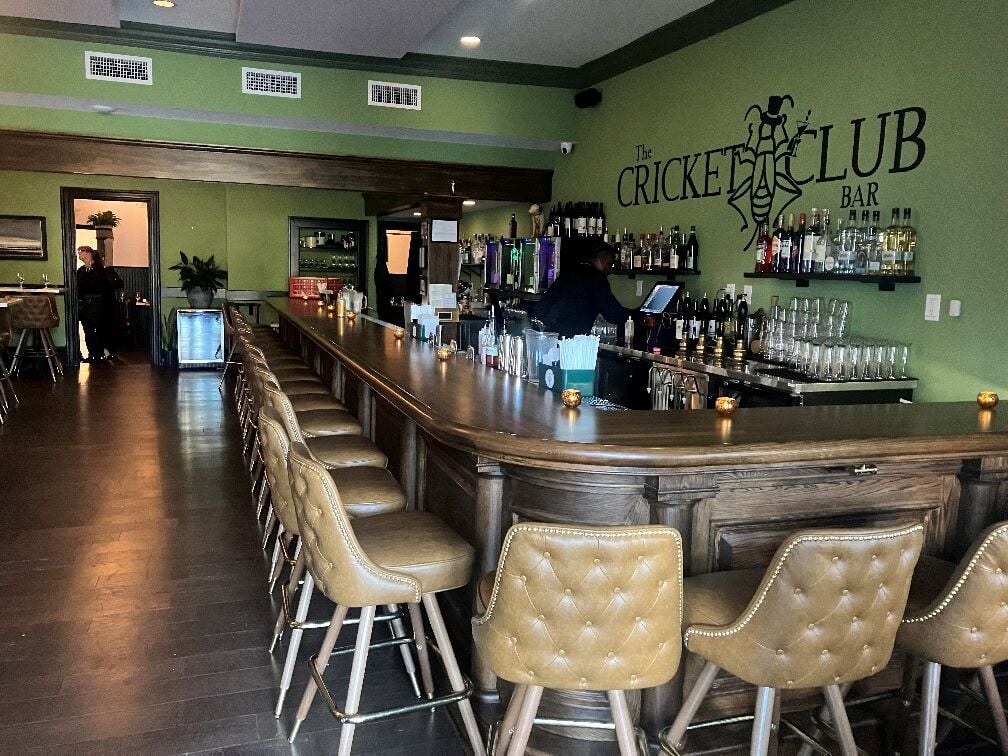 As a vacation destination, Cape May has plenty of drinking establishments, from swanky venues and hipster havens to beach bars and local dives. And while you can get yourself a decent drink at most of them, there's only one place where you can find local legend and bartender extraordinaire Matt Reeves — Cape May's Cricket Club.
Reeves fits in perfectly at the newly opened Cricket Club, where he is responsible for the cocktail program. Owned by the Kulkowitz family — who also own Cape May's iconic Mad Batter — The Cricket Club is Cape May's newest concept in contemporary American flair. Located in the space formerly occupied by the Merion Inn, the atmosphere flirts between casual and fine dining, landing somewhere around upscale casual; and the booze is sublime.
"The Station 51 is our most popular cocktail," says Reeves, who developed the drink with owner Kyle Kulkowitz in honor of the local fire department that extinguished two blazes that occurred in the building when it was the Merion Inn. "It's a sour, a margarita-esque type cocktail, but it's done with a reposado tequila which adds some vanilla notes to it. Then I do ancho chili and mango. Fresh lime juice just hugs and supports the whole thing."
Not only are they inventive and well-made, but each of the cocktails on the menu has a story. The NE @43MPH is a drink Reeves developed when he was playing around with Hurricane-style cocktails. South Jersey happened to experience a Nor'easter, which he can remember coming in at 43 miles per hour. The result? A crowd favorite made with Ketel One Peach & Orange Blossom vodka, passionfruit, lemon, Licor 43 (a Spanish spirit with a vanilla and orange profile), vanilla and bitters.
For those abstaining, The Cricket Club offers two creative mocktails that are every bit as good as their booze-filled counterparts: The Paloma, made with Bare Zero Proof Reposado, grapefruit, lime, and club soda; and the French 0.0, made with Bare Modern Classic Gin, lemon, and Fre Sparkling Brut.
And for the beer and wine crowd, The Cricket Club features a well-rounded, though not huge, wine list, covering most varietals. Even better? The majority of their list includes organic and unfiltered wines, so you can kiss that hangover goodbye. As for the beer, let's just say The Cricket Club is doing things distinctly differently. Sure, there are a few bottles and cans, and even a custom Cricket Club Pale Ale by Ludlam Island Brewery, but the real fun is in their beer system.
"We don't have a basement, so there's no room to put a keg system for draft beer," says Reeves. "Kyle has a great relationship with The Seed: A Living Beer Project in Atlantic City so we reached out to them to see if they wanted to do a cask system for us."
Unlike beer from a modern draft beer system, cask ale — also called "real ale"— is matured and served from a cask with no added nitrogen or CO2. Instead, CO2 builds up naturally from fermentation, and the result is a less carbonated sip. At The Cricket Club, The Seed provides a rotating selection of old-school English-style tavern beers. And Reeves taps them with an actual hammer and mallet.