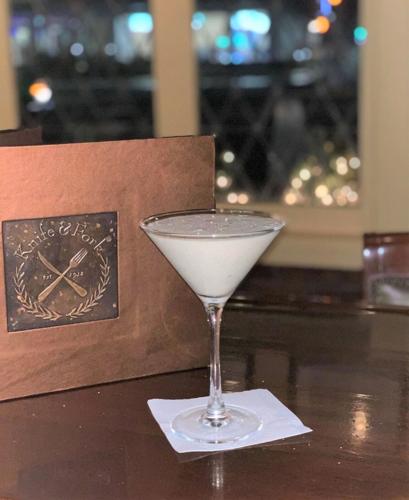 Frigid weather can be downright depressing, but curing the winter blues is often as easy as stepping inside a local pub or tavern where the staff, clientele and atmosphere are always warm and welcoming. Here are a handful of spots where that concept has been put into practice for decades.
Atlantic City's iconic Knife & Fork Inn has a history dating to 1912. Current ownership has only had it about 17 years, but the Dougherty family legacy in the A.C. hospitality industry dates to 1897, when patriarch Henry "Dock" Dougherty opened Dock's Oyster House a few blocks north. Fourth-generation restaurateur Frank Dougherty purchased the Knife & Fork in 2005 and completely overhauled everything, including the addition of a 27-seat wraparound bar adjacent to its first-floor dining room, the 40-seat Hearth Room, where the building's 1912 fireplace is located.
The K&F's bar does a 4 to 6 p.m. happy hour with half-priced appetizers. It has more than 7,000 bottles of wine on hand, kept in a temperature-controlled cellar (actually located on the third floor, which formerly served as an apartment for past ownership), and has some sensational specialty cocktails. Some of those special libations are ideal for this time of year, such as Frank's Famous Eggnog, which includes in its ingredients Bad Sweater whiskey and nutmeg; and the Nucky's Alibi, which includes locally produced Alibi Gin. The K&F is at 3600 Atlantic Ave., A.C. KnifeAndForkInn.com
Another inviting and iconic Atlantic City establishment that is a bit more on the casual side is the Irish Pub, which is a hallowed hangout that is open 24/7 and has been under current ownership since 1972. Its walls, like those of the Knife & Fork, are adorned with memories of a bygone era in A.C., and there is a Victorian-style inn above the pub that has been described by Travel magazine as "straight out of a James Joyce novel." The pub once operated as a speakeasy during the days of Prohibition. There is a wide selection of imported and domestic draft beers available, including, of course, Harp Lager, Bass Ale and Guinness Stout on tap, and lots of daily blackboard specials. The Irish Pub is at 164 St. James Place at the Boardwalk, A.C. TheIrishPub.com
The Smithville Inn dates to 1787, first opening as a one-room tavern/inn along a stagecoach route, and by 1874 had grown to six times its original size. In 1952, local couple Fred and Ethel Noyes purchased the Inn and the seven acres of property around it, which would ultimately become the Towne of Historic Smithville – boasting more than 60 shops on cobblestoned streets. The Smithville Inn itself has been placed on the National Register of Historic Places. The Inn has multiple wood-burning fireplaces, including one off its sizable bar area, the Baremore Tavern (named after original founder James Baremore), that is open during regular restaurant hours from 11:30 a.m. to 9 p.m. daily (until 8 p.m. Sundays). The Smithville Inn is at1 N. New York Road in Galloway. HistoricSmithvilleNJ.com.
A Prohibition-era cocktail lounge called the Brown Room underwent a complete overhaul about six years ago, in celebration of its 85th anniversary. The Brown Room is said to be the first legal post-Prohibition cocktail bar in Cape May, and is located inside what has been called the grande dame of Cape May hotels, Congress Hall, which dates to 1816. The Brown Room features fabulous artwork and a huge, iconic fireplace that, according to the establishment's website, "combine with a grand circular bar and a delicious list of cocktails, creating a unique and intimate vibe." The Brown Room offers an extensive wine list, including many champagnes and sparkling wines, as well as wines by the glass. There are also quite a few beers available on tap and in bottles, and a lite-bites menu available from 5 to 10 p.m. daily. Among the Brown Room's dozen specialty cocktails are four styles of martinis, and such concoctions as the Cherry Bourbon Sour, the Italian Margarita, and the Blackberry Bramble, each $16. Congress Hall and the Brown Room are at 200 Congress Place, Cape May. CapeResorts.com
The Anchorage Tavern is the oldest continuously operating business in Somers Point, having been built in 1874. It has been a warm and inviting local haunt for decades, and in the 1970s and '80s became somewhat famous (infamous?) for serving seven beers for a dollar, which sadly is no longer an option. The Anchorage was extensively renovated several times over its history, and has been owned by the Mahoney family since 1999. It has a vast selection of wines by the glass or bottle, domestic and imported beers in bottles or on tap, and a full list of cocktails to match an insanely extensive food menu. "The Anc" is located at 823 Bay Avenue in Somers Point, and constitutes the lower vertex of what has for years been called the Beermuda Triangle. The other two venerable establishments in the triangle are on the parallel-running Shore Road, and about 100 yards away from each other – Gregory's Bar and Charlie's Bar – each of which has been family-owned since the mid-1940s. AnchorageTavernRestaurant.com, CharliesBar.com, GregorysBar.com