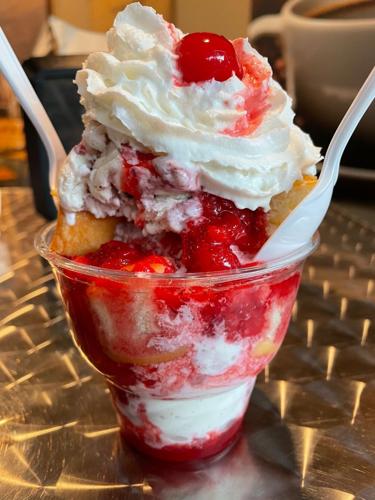 I have said it before, and I will say it again: I always love a great surprise. I had never heard of Anna Lee's Cookies and Cream and didn't know what to expect upon arrival, but a few friends strongly recommended it to me, and I decided to feature it here as the next stop in my Sundaes in the Summer column. I'm so glad I did.
The storefront is completely unassuming, located in a strip mall in Mays Landing among a scattering of other businesses. Once inside, there is a folksy charm to the store, enhanced by a seriously friendly and helpful staff, who really go out of their way to make sure your experience is a positive one. The woman who took my order spent at least five minutes with me discussing various tempting options until we ultimately settled on a berry shortcake sundae made with Raspberry Truffle ice cream, sponge cake pieces, strawberry sauce, whipped cream and a cherry. Here is what I thought of it:
The Concept: Strawberry shortcake is one of my favorite desserts on the planet, but I have never attempted an ice cream version of it. When it was suggested that I could create a mixed berry version by subbing out a raspberry ice cream in place of the strawberry, I was sold.
The Ice Cream: Anna Lee's uses Bassett's Ice Cream, which is one of the best, if not THE best local brands in existence. The high butterfat content gives it a lush mouthfeel of incredible creaminess, and you really can't go wrong with any of their flavors. That said, before deciding, we did a bit of sampling, and the Raspberry Truffle came out as the clear winner with its combo of vanilla ice cream swirled with raspberry sauce and mixed with raspberry-filled chocolate truffles. This laid the perfect berry-themed foundation for my sundae and the truffles, in particular, were just a superb addition.
The Cake: Soft, squishy vanilla sponge cake made for a great textural counterbalance, as even the best ice cream can get repetitive after a few spoonfuls. The cake had excellent flavor, too, and really added to the sundae overall.
The Sauce: Anna Lee's makes a lot of their toppings and baked goods in house, including the strawberry sauce that was absolutely divine. Featuring big chunks of strawberry in a sweet and decadent compote-like sauce, the combo of this with the raspberry ice cream made for a berry lover's dream-come-true.
The Whipped Cream: Any great strawberry shortcake has to come loaded up with whipped cream, and such was the case here. Homemade and delicious, blending strawberries and cream together has been a no brainer for years, and it's easy to see why.
The Bottom Line: I can't say enough good things about this sundae and Anna Lee's in general. The sundae was utterly fabulous, and if you are even vaguely a fan of strawberry shortcake or anything berry-flavored, I implore you to try it. It may just be the best-tasting ice cream sundae I have had so far in my travels. While we are on the subject of trying things at Anna Lee's, they gave me a sample of one of their peanut butter cookies, and I was stunned at how good it was. One can only imagine what kind of peanut butter sundae masterpiece could be concocted with these.
The Score: 9.7