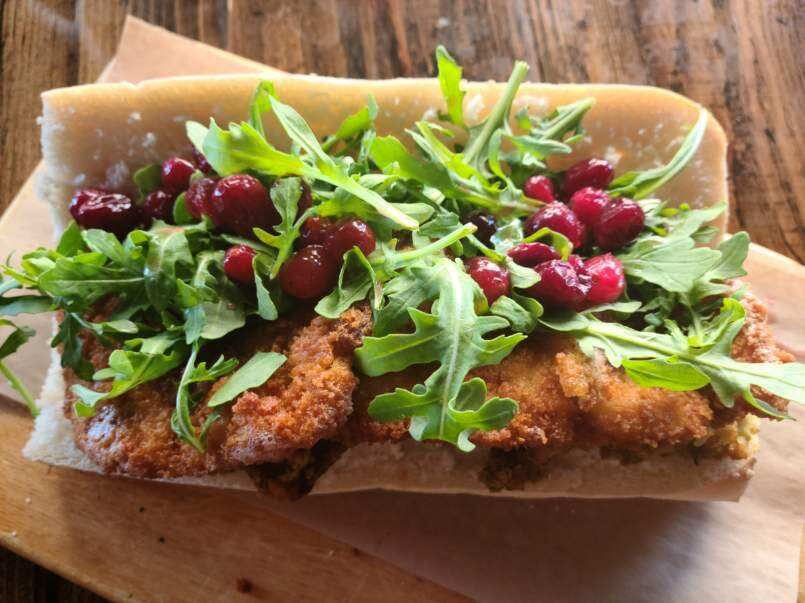 As a sandwich enthusiast, November is a month I look forward to greatly, as it signals the arrival of one of my all-time favorite culinary creations — the Thanksgiving sandwich.
If you've never had a Thanksgiving sandwich, I both pity you and question your place in society, but with that said, I still feel the need to inform you of what it's all about. A proper Thanksgiving sandwich – also known as a "gobbler" in some circles – is a delicious wonder made up of any number of your favorite Thanksgiving dinner all-stars, including turkey, stuffing, mashed potatoes, cranberries, gravy, sweet potatoes and any other staples of the holiday table. Vastly greater than the sum of its parts, many dining establishments begin serving this sandwich in November, with it usually disappearing once the holiday has passed.
One of the best versions I have ever had was prepared for me a few years ago at Wingcraft Kitchen & Beer Bar in Atlantic City. It consisted of perfectly seasoned white meat turkey, stuffing, mashed potatoes, gravy and cranberry sauce neatly piled between two of the most delicious pieces of grilled bread I've had the pleasure of biting into. The memory of it still remains strongly anchored in my mind.
But Wingcraft is all about creativity and breaking new ground, so, this year they put together an all new Turkey Milanese Thanksgiving Sandwich, consisting of breaded turkey, crispy stuffing, arugula and pickled cranberries on a long seeded baguette. I was more than a little excited to try it, and here is what I thought:
The Bread: This seeded baguette held the perfect middle ground between crispy and doughy, with a medium density that managed to keep all the ingredients together nicely, stopping the sandwich from becoming a sloppy mess. Though the bread was excellent overall, it didn't quite match the level of the one used on their 2017 Thanksgiving sandwich, which was honestly in a class all its own.
The Meat: OK, the brilliance of this sandwich really came through in the decision to use breaded turkey breasts as opposed to the usual roast version. A crispy exterior with a hint of brown butter on the bird, this execution was both unique and creative while also managing to be downright delicious.
The Condiments: As far as traditional condiments are concerned, there weren't any, but the pickled cranberries stepped into that void nicely, offering a delightful tartness that stood out clearly with each bite. Could it have used a little mayo or some type of aioli? Possibly … maybe next year.
The Veggies: I'm picky when it comes to greens on a sandwich. I can't stand leaf lettuce and many times I find myself picking off spinach and other varieties, but my all-time favorite is arugula, which was the green of choice on this day. Peppery and fresh, the arugula added actual flavor where most greens might serve only a textural purpose.
The Bonus: Hiding underneath all the other ingredients was an beautiful plank of stuffing – crispy on the outside and intensely flavorful thanks to a perfectly curated blend of herbs, it served as a killer secret weapon for this Thanksgiving sammy.
The Bottom Line: Score another Thanksgiving victory for Wingcraft! My expectations were high, and they were met. I urge you to head down and order one of these now as they will only be available through Thanksgiving.
The Score: 9.1
Wingcraft Kitchen & Beer Bar is located at 2010 Baltic Ave. in Atlantic City. Go to WIngcraftAC.com.