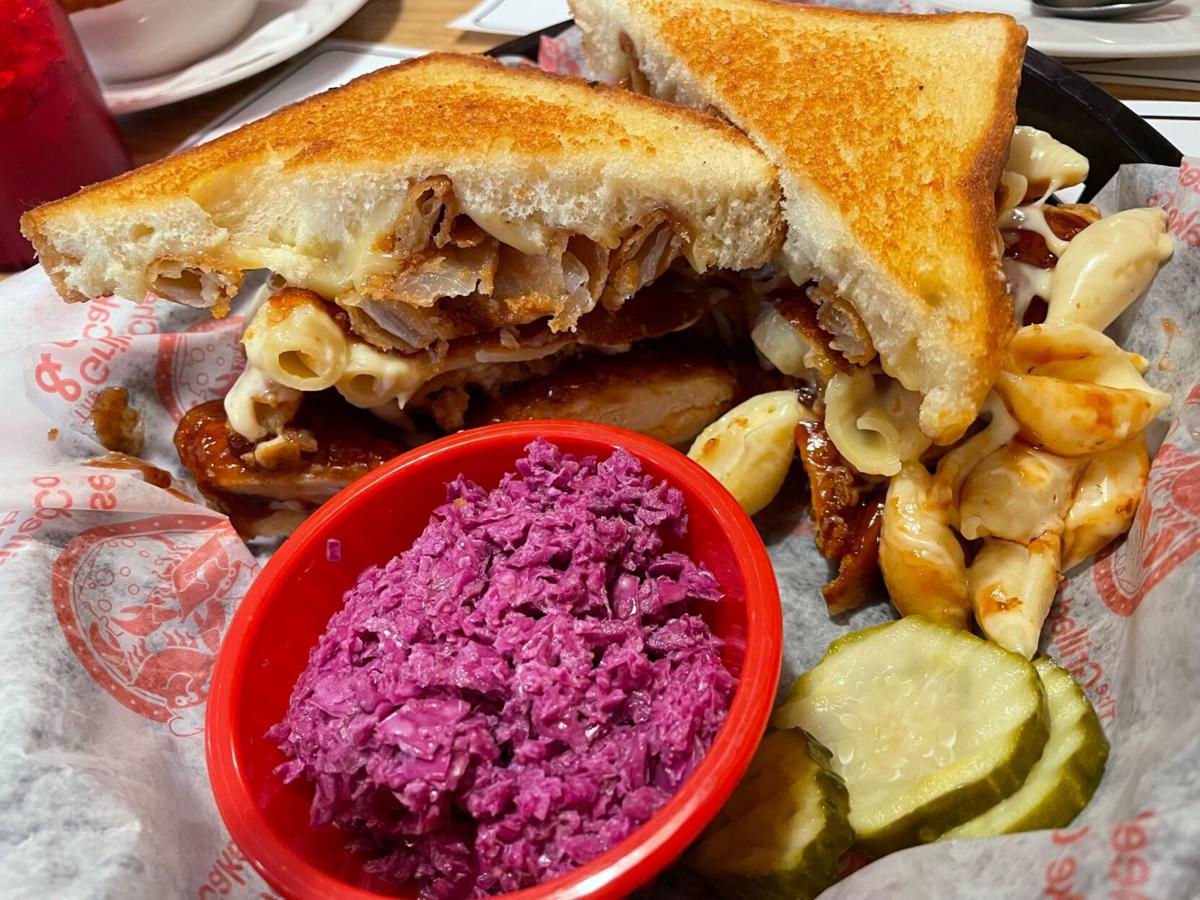 As soon as I walked in to the Grilled Cheese & Crab Cake Co. in Somers Point, I said to myself, "Boy, this feels like the kind of place Guy Fieri would love."
That thought barely had a split second to travel through my head before I glanced up at one of the TVs in the restaurant to find a permanent loop of Fieri grilling up a storm here on an episode of his flagship TV show "Diners, Drive-Ins and Dives." So needless to say, it's a fun place to eat, in the most American way possible.
But, for a place with a very specific sounding name, the Grilled Cheese & Crab Cake Co. sure has a lot of menu options. Everything from mac and cheese and bowls of chili to homemade soups, salads and even coconut- and almond-crusted shrimp somehow landed on the menu here, alongside the obvious selection of grilled cheeses and crab-based dishes.
Though I love a good crab cake, there are tons of spots in South Jersey where I can grab one. But a decadent gooey grilled cheese is a bit more of a rare treat. They had several signature versions listed on the menu here, all of which sounded tremendous, including one created by Fieri himself called "The Triple D Melt," which featured smoked gouda, smoked bratwurst, onion rings, fried egg, pepper jack cheese, jalapeños and sriracha.
That was tempting, but not as tempting as the opportunity to build my own grilled cheese masterpiece, which I did. The options are all but endless, which meant it took a while for me to select the correct additions, but in the end I went with a combo of smoked gouda and American cheeses, onion rings, BBQ chicken tenders and mac & Cheese all on Texas toast with a side of cole slaw. Here's what I thought of it:
The Bread: Thick, buttery and grilled just right, the Texas toast made for a brilliant outer layer for my giant mess of a sandwich.
The Meat: I often add a touch of BBQ sauce when I make mac and cheese at home, so I had a feeling these chicken tenders, which were coated in it, would play well with the cheesy goodness in this sandwich. I was right. And the sauce added a nice tang and a bit of sweetness to counter all the heaviness of the other ingredients.
The Cheeses: Smoked gouda and American were both tasty, and I figured they would be, as the best grilled cheese sandwiches always feature more than one cheese.
The Veggie: It is my opinion that vegetables of any kind have no place on a grilled cheese sandwich, and if you disagree with me, you are wrong. That said, I made an exception for onion rings, as they were obviously battered and deep fried, removing any traceable shred of nutrients of any kind and thus matching perfectly with the theme of a grilled cheese. They added a nice pop of crunch and flavor too.
The Extras: Mac and cheese may seem gratuitous on a sandwich that already has a starch and two cheeses on it to begin with, but these sort of irrelevant details don't faze me. The fact of the matter is that the mac & cheese here was all but perfect – creamy and rich and exactly what was needed to put this sandwich over the top. I also added a side of cole slaw that really did a nice job in providing a purple-colored break from the richness of the sandwich. Light and not too much mayo, I was happy to have added it at the last minute.
The Bottom Line: I didn't need Guy Fieri's help in order to welcome myself to Flavortown at The Grilled Cheese & Crab Cake Co. The fully customizable sandwich menu made it easy and fun to do just that, and in the end the sandwich I ordered was awesome.
But I will admit the one downfall of loading up your grilled cheese with miscellaneous ingredients is that it becomes less of a "grilled cheese" with each one you add and more of a simple "grilled sandwich" that happens to have cheese on it.
So yeah, the familiar tooth feel of biting down through grilled bread into a melty paradise of cheese is absent when you go this route, but it obviously was my own doing this time. I have a strong feeling that a straightforward grilled cheese here would be amazing, as well, but in a totally different way – and I will be back to try and prove this very soon.
The Score: 8.8
The Grilled Cheese and Crab Cake Co. is located at 55 W. Laurel Drive in Somers Point. Go to GrilledCheeseAndCrabCakeCo.com.