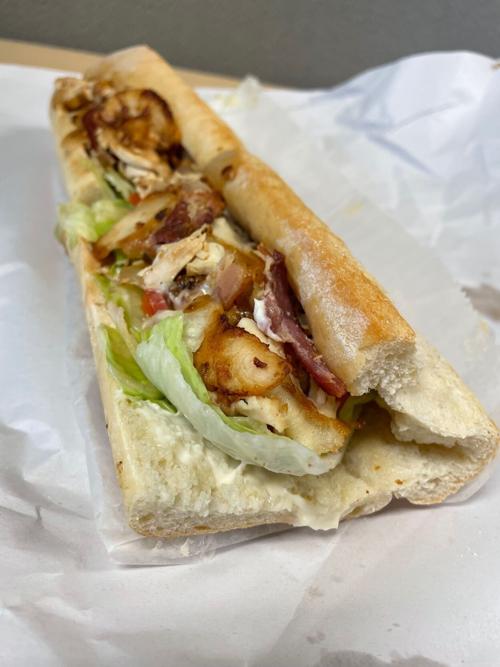 Welcome to my new column, 'On a Roll' (it's a play on words, get it?)
Each week I'll be heading out to delis, diners, sub shops, restaurants, food trucks, gastropubs and anywhere else I can think of in order to track down some of the tastiest sandwiches in all of South Jersey. We're talking subs, clubs, po' boys, grilled cheeses, double-deckers, triple-deckers, cheesesteaks and more. If you can stuff it between two pieces of bread, I'm in. So grab a few napkins and an Ice cold soda and let's hit the road! And if you have suggestions, email me at rloughlin@pressofac.com.
When it comes to unassuming restaurants, Rose's Garden Grill in Northfield is easily at the top of the list. Nothing about their simple storefront, which sits inside the mini-est of mini malls on Route 9, would indicate that there is anything special going on inside, yet the quality of Rose's food has become well known around the area, thanks to some solid word of mouth.
The menu is substantial, with over 45 varieties of sandwiches alone, covering everything from Italian subs to their famous chicken cutlets to cheesesteaks, cold subs and more. It took me at least 15 minutes to figure out what I wanted, but in the end I went with "The Pilone," a variant on a chicken cheesesteak featuring chicken, cheese, bacon, lettuce, tomato, fried onions and mayo. Here is what I thought:
The Bread: Things started strong as my sandwich came on a classic A.C. sub roll, which was clearly fresh and offered the perfect balance between a soft and hard roll. Sturdy enough to stand up to ingredients of various temperature and moisture levels, this was an excellent choice for the sandwich I ordered. I didn't specify what kind of roll I wanted, but I have seen seeded rolls here on past visits, so if you want something other than the A.C. sub roll, just ask.
The Meats: Tender chicken shredded cheesesteak-style on the grill, the main protein of the sandwich managed to not be overly dried out, as thinly shredded chicken can sometimes get when grilled. The white meat served as a perfect neutral base for which to pile toppings on.
The Cheese: Standard American, melted just right. You can use other cheeses on sandwiches, but there is something about the way American cheese melts that really can't be beat. Such was the case here.
The Veggies: I made the mistake of forgetting to tell them to hold the lettuce. Lettuce has no place on a hot sandwich as far as I am concerned. It adds little to no flavor, and leaf lettuce, in particular, when it gets warm manages to expertly mimic the consistency of a wet diaper. No thanks.
So needless to say I took the lettuce off of my sandwich and was much happier after doing so. The tomato was and is always allowed to stay. It was fresh, and its light sweetness played as a great counter to the richness of the cheese and mayo.
The standouts in the veggie department were the fried onions. The flavor that comes through when onions are cooked on a grill is unmatched, and when paired with bacon and chicken, the three tastes come together to form something greater than the sum of its parts.
The Condiments: A bit of mayo is the secret weapon that takes any great cheesesteak to the next level, and this was no exception. Nice touch.
The Bottom Line: I was thoroughly satisfied with "The Pilone" from Rose's. While they are more famous for their fried chicken cutlet subs, they proved that even without breading and the use of a deep fryer, they can more than hold their own in the chicken sandwich world. Next time I'll remember to tell them to hold the lettuce, though.
The Score: 7.6
Rose's Garden Grill is located at 2605 New Road in Northfield. Go to RosesGardenGrill.com.