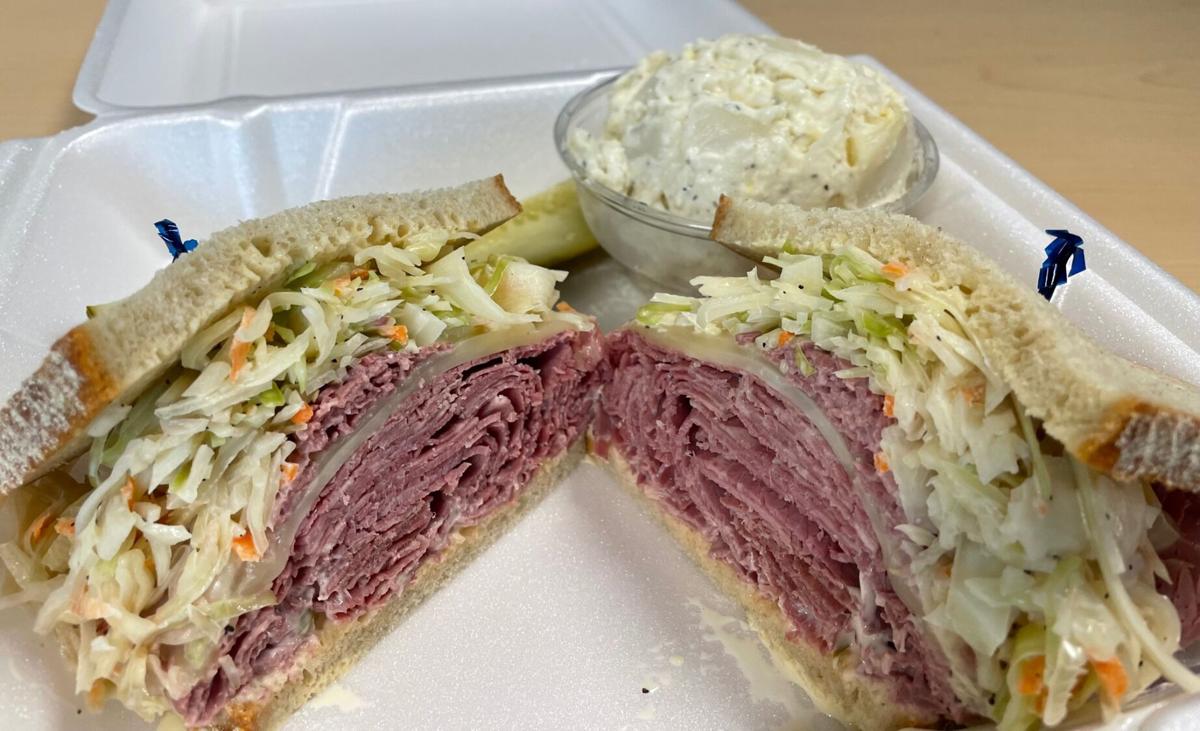 When I was in my 20s, I spent several years living in New York City. One of the great things about living there was that I had constant access to every possible type of restaurant known to man. There were fancy French bistros like Chez Napoleon, awesome hot dog joints like Papaya King and Crif Dogs and legendary steakhouses like Peter Luger's a stone's throw away, but some of my favorite spots to grab lunch were at the world famous Jewish delis like Katz's or the iconic 2nd Avenue Deli, where I would indulge in pastrami and corned beef sandwiches piled so high you needed to order extra bread and split them into several smaller sandwiches just to fit them in your mouth.
Places like that are few and far between in South Jersey, but Fitzpatrick's Deli & Steakhouse in Somers Point has a lunch menu that could easily fit in on the streets of Manhattan. After taking a quick look at it online, I ordered myself the Big Fitz Special — a New York-style deli sandwich with corned beef, coleslaw and Russian dressing on rye bread served with potato salad and a pickle spear. Here is what I thought of it:
The Bread: There really is only one option for bread on this type of sandwich, and that is rye. I was very happy to find that they used the seedless variety, as I detest caraway seeds, thus keeping me away from many a rye over the last 43 years. The bread on the Big Fitz was soft and tasty with enough structure to not turn to mush, despite having to contend with both coleslaw and Russian dressing.
The Meat: Corned beef is a wildly underrated lunch meat. And that fact always surprises me because almost everyone I know likes it, but at most delis, far blander options like turkey breast or questionable looking tuna salads always seem to outsell it by drastic margins – pure insanity. Anyway, the corned beef on this sandwich was stellar. Piled high — though not to the Matterhorn-esque level of Katz's version — these salt-cured slices of heaven were beautifully tender and so tasty that I kept pulling pieces off just to be able to enjoy the flavor on its own, without any interruption from the other components of the sandwich.
The Cheese: Normally there is no cheese on the Big Fitz, but I had them add some melted Swiss to mine, because sandwiches without cheese rarely get eaten by me. It was a wise move, and I would argue it has a right to be part of the standard lineup of ingredients on this.
The Veggies: Who needs veggies when you've got coleslaw? Not me.
The Condiments: A bit of Russian dressing added some subtle sweetness and a welcome hint of sour to the mix. Thumbs up.
The Sides: I love it when a simple deli sandwich comes with sides, as it's become somewhat rare these days. The potato salad was perfect — on the smoother side and not too bulked down with oversized chunks of potato, which can sometimes make it dry. The pickle spear was a nice touch, as well, and a staple of any great New York-style deli.
The Bottom Line: Though nothing can top the iconic delis of The Big Apple, Fitzpatrick's comes damn close. The sandwich was utterly delicious, and I can't wait to go back.
The Score: 8.6
Fitzpatrick's Deli & Steakhouse is located at 650 New Road in Somers Point. Go to FitzpatricksDeli.com.