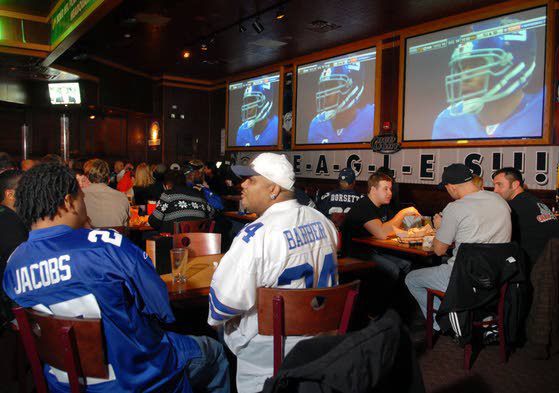 Enough crying about the end of summer. Week 1 of the NFL season kicks off this week, and frankly that is cause for major celebration. Watching the game at home is ok, but any true fan knows that the act of maniacally screaming and shouting at the TV with a roomful of strangers at a sports bar is just a whole lot more fun. Plus, the beer selection is almost always better, and you don't have to clean up the mess left by your sloppy friends. Here are three of our favorite spots to watch Week 1 of the NFL.
Tailgaters Sports Bar & Grille: South Jersey sports bars don't get much better than Tailgaters, with its homey vibe, awesome lineup of craft beers and plethora of framed jerseys and sports memorabilia which deck the walls. The menu is packed with a lineup of all of your favorites, including wings, bar pies, Wisconsin cheese curds, an out-of-this-world buffalo chicken dip and hands down the best burger in a 50 mile radius. The taps are plentiful and feature many local beers from breweries like Glasstown, Slack Tide and Garden State Beer Company, whose Blue Jersey is a must try. Tailgaters Sports Bar and Grille is located at 337 W. White Horse Pike in Galloway. Go to TailgatersNJ.com.
Chickie's & Pete's: This famous bar and grill has always been the go-to spot to cheer on your favorite Philly sports teams, and its Egg Harbor Township location continues that tradition to this day with its massive wall of TVs, impressive beer list and menu of killer pub grub, such as the ever-popular CrabFries as well as a bounty of seafood dishes that are far better than you would ever expect from a sports bar. Beer prices are on point as well with Bud and Bud Light drafts available for $3 along with $6 personal pitchers of domestic drafts. Chickie's & Pete's is located at 6055 E. Black Horse Pike, Egg Harbor Township. Go to ChickiesAndPetes.com.
Vagabond Kitchen & Tap House: With locations in both Atlantic City as well as Egg Harbor Township, Vagabond has always been one of the best spots in South Jersey to enjoy some outstanding American bar food. The A.C. location also features the "Mile Stretch Beer Garden" — a giant outdoor space packed with tables, TVs and craft beers, making it hard to come up with reasons to stay home for the game. And if your team is losing, you can quickly shift your focus to the fabulous menu, which includes burgers and wings — both of which have taken home trophies at Atlantic City Weekly's Burger Bash and Wing Wars events — as well as some of the best loaded fries you will have anywhere. They come topped with bacon, sour cream, melted jack-cheddar cheese and finished with scallions and spicy ranch aioli, but we like to add a side of their malt vinegar mayo to really take things to the next level. Vagabond Kitchen & Taphouse is located at 672 N. Trenton Ave. in Atlantic City. Go to VagabondAC.com. EHT Vagabond is located at 3016 Ocean Heights Ave. in Egg Harbor Township. Go to VagabondKitchenAndTap.com.