A lot of seaside resort towns put on big festivals throughout the year in order to bring people into town and to entertain the locals that are here year-round. Most of these festivals tend to include some sort of boozy element, be it a craft beer tent, a whiskey tasting room or an entire event devoted to such products. But with Ocean City being dry, events here have for years chosen to focus on quirky, offbeat, family-friendly concepts — a parade featuring hundreds of basset hounds … the Miss Crustacean Contest … the Quiet Festival etc.
Donuts aren't just a breakfast treat. As Danny DeVito says in "Other People's Money:" "Since when do you have to be hungry to have a donut?" B…
And for the last several decades, there was one reason for all the odd quirkiness: Ocean City Publicist Mark Soifer. Soifer always enjoyed celebrating things that most others would never even bother with, bringing a certain pride in being different to the town. But in 2016 Soifer finally decided to retire, leaving everyone in the area to wonder if the days of his trademark quirky festivals and events were over.
The Ocean City POPS are nothing if not versatile, with everything in its repertoire from Sin…
So, has Ocean City finally decided to lean more toward traditional beach town events?
According to Doug Bergen, public communications officer for Ocean City, the answer is no.
"Ocean City will sustain all of Mark's wacky, wonderful and inimitable creations," Bergen says.
That will come as a big relief to the thousands of locals and visitors who consider those events a part of the fabric of the town.
"It wouldn't be April in Ocean City without the bassets," says Margaret Costello. She and her husband Martin are a pair of dog lovers from North Jersey who make the trek down with their Pekinese JoCo each year to watch the hounds strut their stuff.
"We love dogs, and the bassets just look so funny," Costello says. "On the one hand, I wish that more towns had events like this, but then again it makes it special that it can only be found in Ocean City."
Of course the basset parade is but one of many events created by Soifer, a man who truly threw everything he had into making this town a special and fun place for families to enjoy.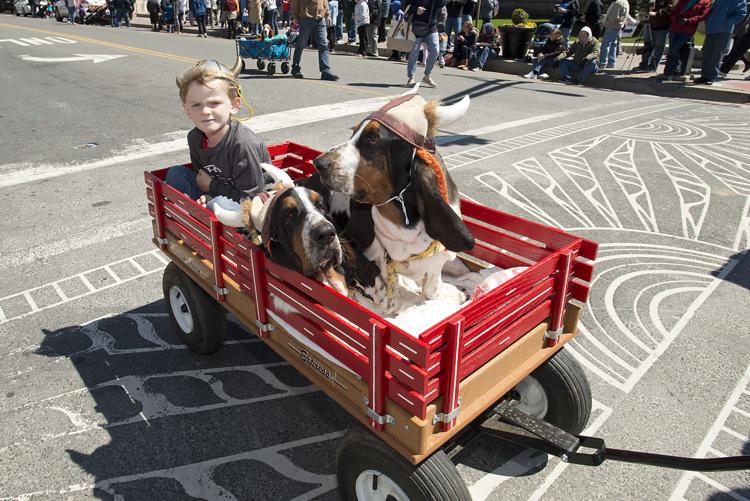 "Mark's legacy will live far beyond his years. He devoted more than 45 years to promoting family fun in Ocean City — with unfailing dedication and always with a sense of humor," Bergen says.
But what about this summer? If Soifer's legacy is to live on, surely there must be some odd events planned. Don't fret, although summer may be half in the bag, there is still plenty to get excited for.
"August alone will bring the annual Twins Contest, the Pamper Scamper baby-crawling races and, of course, the Miss Crustacean Hermit Crab Beauty Pageant," Bergen says.
While Soifer's legacy is untouchable, it seems the mark he left on this town is now used as an inspiration for new events as well as new formats for the already established ones.
"Mark will never be able to be replaced, but we are trying to keep the spirit of Soifer alive," Bergen notes. "An old-fashioned pie-eating contest we held on June 28 at the Ocean City Music Pier was a huge success. That was part of Wacky Wednesdays — a new weekly series of family-oriented contests that stretch through the summer. The contests used to be part of one "Weird Week" in August (and a "July Jubilee" earlier in the summer). The new format lets more families participate and includes the usual salt water taffy sculpting and French fry sculpting, along with some new themes like "Christmas in July" and "Mystery Bag Sculpting."
Of course, there are traditions in Ocean City that go back even farther than Soifer.
"We're maintaining older traditions like the 63rd annual Night in Venice and the 108th annual Baby Parade," (August 10), Bergen says.
With Soifer gone, someone had to assist, and Ocean City Events Coordinator Michael Hartman has been that man. Bergen seems to think the transition has been a smooth one.
Donuts aren't just a breakfast treat. As Danny DeVito says in "Other People's Money:" "Since when do you have to be hungry to have a donut?" B…
"Michael Hartman has been doing an exceptional job as events coordinator. In addition to fine tuning many of Mark's events, he's been working with Community Services Director Michael Allegretto to bring in a lot of great new entertainment — everything from a sold-out magic show by Philadelphia Eagles player and "America's Got Talent" sensation Jon Dorenbos to Regis Philbin for the Mr. Mature America Pageant to a season-opening KC and the Sunshine Band dance concert," Bergen states.
And while many of these events occur during the warmer months, there seems to always be something to look forward to in Ocean City no matter what time of year. Bergen seems particularly excited for this year's Quiet Festival which will sport some exciting new features this fall.
"Quiet Festival, our November celebration, will be expanded to include mimes, ballet, gallery tours and more, all at a central location at the Ocean City Community Center. This year's Car Show Weekend will include a Friday night "sock hop" on downtown Asbury Avenue on Sept. 8," he says.
And while the lion's share of Soifer-created events will return, there is one that will not make the cut, the annual King and Queen of Plop contest.
"That was somewhat a victim of its own success," says Bergen. "As participants became more and more bold in their dramatic falls to the beach (to welcome the coming fall season), the contest became more and more of a safety concern over recent years. That event will not be held this year.
One can only wonder what may be in its place.
The early 2000s live on at The Pool with appearances by Brody Jenner, O-Town and Ryan Cabrera
Reality star-turned-DJ Brody Jenner, along with MTV famed boy band O-Town and singer/songwriter Ryan Cabrera all performed at The Pool After Dark on Saturday.
Photo: Tom Briglia/PhotoGraphics 
Be the first to know
Get local news delivered to your inbox!