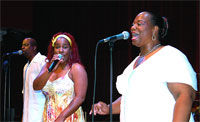 A meeting of such creative minds as those of Kenny Gamble and Leon Huff spawned an eminent, internationally recognized record label that launched the careers of several outstanding musicians in the 1960s and early '70s.
Similarly, two brothers and the offspring of a famous Philadelphia nightclub owner made their own mark on the industry by creating one of the best-known jazz clubs in that city's history, Zanzibar Blue, and two ensuing music venues of comparable acclaim.
When Robert and Benjamin Bynum collaborated with Gamble and Huff to establish The Sound of Philadelphia (TSOP) nightclub and restaurant in The Quarter at Tropicana, the result was, predictably, a striking accomplishment. TSOP is a beautiful, spacious, live-music venue featuring mostly R&B, funk and classic soul, and offering a variety of delectable cuisines prepared by master chefs.
"When The Quarter was in its planning stages we happened to be talking with [former president of resort operations for Aztar, Tropicana's parent company] Dennis Gomes about various concepts," says Gamble, who partnered with Huff to found Philadelphia International Records in 1971. "There were plans for Italian, Chinese, Irish, Russian and other establishments in the works, and we began talking about how Atlantic City used to be in the days of Club Harlem."
The club Gamble mentions was a renowned nightclub that existed on Kentucky Avenue from 1932-86.
"We decided to try to get something together based on the sound of Philadelphia and the musical influence of that area like soul, jazz, and rhythm and blues, and we wanted to combine that with great food and dancing," adds Gamble.
TSOP manager Jeff Lawry says the accolades from grateful enthusiasts of soul, funk and R&B have been constant since the club first opened its doors in December 2004.
"I hear people saying at least three or four times a day how wonderful it is to finally have a place to go to listen to live, authentic music and also have a nice dinner," says Lawry. "They're so excited about it. It's very refreshing, and I'm proud to be part of the first venue of this type."
Patrons enter the club through a long corridor leading into the main restaurant and bar area. Seeing for the first time the total space it encompasses can be somewhat startling. There is also an upstairs dining room and bar area open on Friday and Saturday nights overlooking the stage, or offering views of the band from the seating areas via a giant-screen TV and several flat-screen TVs. There really isn't a bad view in the house.
Bands perform three sets per day for an entire week at 8, 9:30 and 11pm, and there is no cover charge unless a national act is booked that week. On "Martini Mondays" all martinis are half price and only two live sets are performed (8 and 9:30pm) before DJ Top Choice begins spinning records at 11pm.
The first Wednesday of each month (appropriately called "First Wednesdays") offers a deluxe, three-course meal plus dessert for $30. Meals are prepared under the supervision of master chefs Al Paris and George Penagos. A sampling of several dishes all earned the designation of "celestial" from a certain writer who did not show up particularly hungry, yet could not stop stuffing his face. The lobster bisque is served with a thin pastry cup filled with lobster meat floating in the bowl. A dish called Shrimp with Grits may sound like an unusual combination (unless, perhaps, you're from the Deep South) but it is scrumptious, as are the crab cakes and an appetizer with a Philly flare called cheese steak spring rolls.
"We want to be known not only as a live-entertainment venue but also for our food, as is the case with Zanzibar Blue," says TSOP director of operations Harry Hayman.
Sunday evening, July 10, marked the end of a third appearance since TSOP opened by the CTO Park Central Big Band - a Philadelphia-based R&B/soul group fronted by saxophonist/vocalist Roy Richardson, and performing under bandleader John Coley, one of two percussionists. The band also includes a guitar, bass, trombone, trumpet, and two female vocalists.
"I was born in the '60s, but I grew up listening to the music of the '70s, and that sound has made a resurgence in recent years," says Richardson, 41, of Trenton. "There's been a lot of hip-hop going on throughout the '80s and '90s, but now you've got the neo-soul groups who are kind of bringing back a lot of the old flavor. They're taking the real music and putting it back into the mix, and that's a good thing."
Richardson says CTO loves the atmosphere at TSOP and anticipates another return because "it's a wonderful place to play. They've got a banging sound system and it's easy to reach the people. I grab the microphone and I'm all over the place. I love that. It's more personal that way."
Upcoming musical acts at TSOP include Cecil Parker (through July 24) and Grace Little (July 25-31).
TSOP (The Sound of Philadelphia) is located inside The Quarter at Tropicana. It is open daily and features three sets of live music most nights at 8, 9:30 and 11pm with no cover charge. Special events include Martini Mondays and First Wednesdays. Call 887-2222 or visit www.tsoplive.com.
---
Nightlife Spotlights
Brothers Teague and Ian Alexy's musical paths have rarely crossed, until recently that is. The two just released their first joint effort, The Hobo Nephews of Uncle Frank. They will be returning to their roots by playing several dates in the Jersey Shore area this summer.
Local bar scene devotees may recognize Teague as a member of the soul/hip-hop group Spilled Milk, which will be playing a reunion show on July 29 at the Bubba Mac Shack in Somers Point.
Spilled Milk originated in Somers Point when Angelo DeRosa and Teague Alexy met at the age of 12. After releasing a demo and a debut album, Jive Ass Turkey, in San Diego, the pair returned to Jersey to recruit new members for the group.
Soon, BJ Capelli was on drums and Rich Nehmad was on bass. Michael Carter later joined as vocalist and trumpet player.
Before long, "The Milk" was packing venues from Somers Point to Sea Isle City. They were eventually selected to play at the Philadelphia Music Conference, played CBGB's in New York and were invited by 102.7 to be the opening act for Smash Mouth when the band played Atlantic City.
However, only a few months after playing the Smash Mouth gig, things looked bleak for the band and following their next recording, Small Town Epidemic, Spilled Milk broke up.
Meanwhile, Teague teamed up with brother Ian to form the Hobo Nephews, which will take the stage of Somers Point's The Point on Thursday, July 28, and the Bubba Mac Shack, opening for The Milk on that Friday, July 29. The next night, Saturday, July 30, the Nephews move to Shore Road in Somers Point for a show at Gregory's. And if you haven't had enough of these guys by August 4, they return to The Point (formerly Schooners).
-Stef Gordon
---
Getting The Point? For decades, the Point (as in Somers Point) has been known as a South Jersey music mecca. Now, The Point, a new Somers Point club, aims to continue that tradition. Some might even say that rock 'n' roll developed in the Somers Point (and Wildwood) clubs in the early '50s when musicians such as Bill Haley and the Comets performed there and called the music "house rockin'." Many of them, including Levon and the Hawks (aka the Band), the Brooklyn Bridge, the Skyliners, Mitch Ryder and the Detroit Wheels and Conway Twitty, performed at Tony Marts from the end of World War II until September, 1982 when that club closed. Earlier that year, Eddie and the Cruisers was filmed at the club and in the Somers Point area.
The Bubba Mac Shack and Schooners did their best to resuscitate the music scene over the past few years and now another club will play its part in this strong musical tradition. The Point (not to be confused with the Philadelphia area music club also called "The Point") intends to be a contributor to the local music scene.
"My goal with the music is to put Somers Point and The Point on the map for live band performances - classic rock and modern rock," says Michael Morra who, along with his cousin, Richard Iorio, owns the club at the Route 9 site where Schooners once stood.
As part of their quest, the cousins have presented such acts as Jody Joseph, Gordon Carmen and Phoenix, as well as a battle of the bands. On Wednesday, July 27 at 9pm, they'll present Johnny Neel (formerly of the Allman Brothers Band), along with Revolver and the Seymour Baggs Band. Tickets are only $5.
"We would also like to help some of the local bands get themselves organized and be better promoted by helping prepare e-mail lists, interviews and promotional campaigns," says Morra. "Let's make the music, the musicians and the people who love music the celebration."
- Steve Angelucci
The Point is located on Route 9 in Somers Point. Call 927-7012 or visit www.thepointseafoodrestaurant.com.